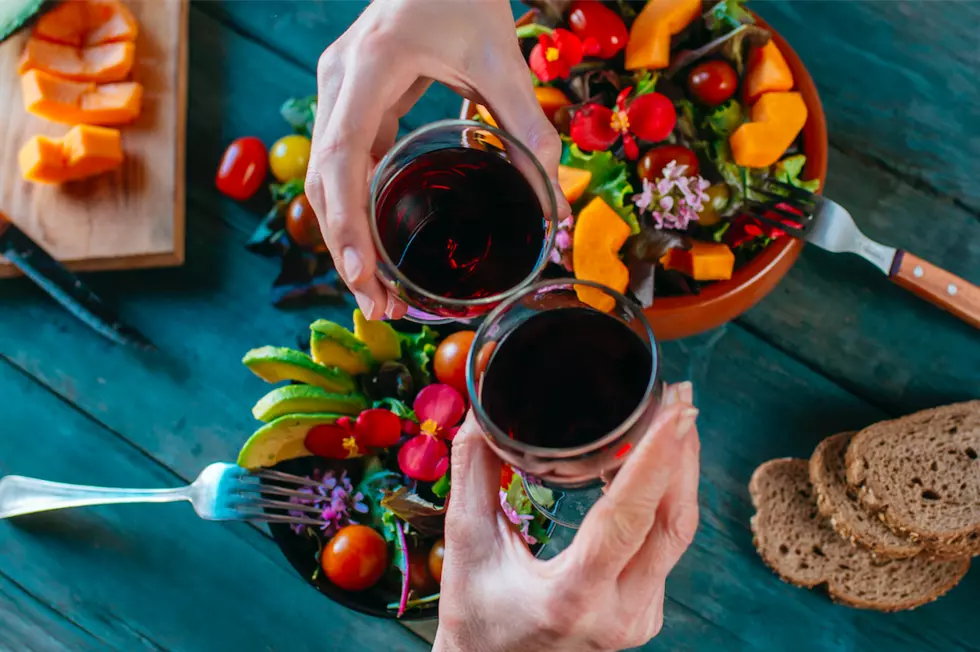 Your Sample Week of Plant-Based Eating & Progress Tracker
Wondering what a week of meals actually looks like? We've got you. An ideal day's worth of food will feature a good balance of proteins, fats, and carbs (all from plants, and ideally from whole food sources) every time you sit down to eat (yes, snacks, too!).
In order to maximize your energy and the immune- and brain-boosting effects that come with following a plant-based diet, you'll want to stick with foods that are as close to their natural source as possible. (I.e. roasted, unpeeled potatoes rather than French fries-- though certainly order the fries every once in a while!).
Fill your grocery cart with whole grains, leafy greens, veggies, legumes, beans, nuts, and seeds, and then lean on conveniently packaged products like meat substitutes, nut cheeses, and dairy-free ice cream for a treat. For more help stoking your plant-based pantry, see The Beet's guide. And if you want to see our picks for the best tasting and healthiest plant-based milks, yogurts, cheeses, butters, cream cheeses, pizzas and more, check out our Product Reviews and the Beet Meters. Then add your ratings to your favorites!
Aim for Abundance
When switching to a new healthy eating plan, it's sometimes tempting to focus on what you're trying to avoid. However, this type of thinking can backfire, making you feel too limited and stuck following rigid "rules." Instead, frame your thinking around all the foods you can eat, and starting with those first, not just trying to avoid meat, cheese, and poultry.
Approaching your new lifestyle from a place of abundance and rather than one of sacrifice (tip: use statements like "I get to eat more greens and berries" instead of "I can't eat eggs and dairy") will help position your changes in a more positive light and keep you on the right track for the foreseeable future.
Remember—it takes time to make big, sweeping changes in your diet. Have patience with yourself, and start small. Maybe that's swapping your usual half-and-half for oat milk in your morning coffee, or using hummus rather than mayo for a sandwich spread. Give yourself kudos for small wins and forgive any slip-ups. You can keep track of how you're doing on the weekly calendar and tracker below. Print it out (three times) and you can track your progress for the entire 21 days of the challenge!
Your Sample 7-Day Menu
Here is an example of how to help you visualize a week's worth of that healthy plant-based approach to eating. As far as calorie and nutrient goals go, everybody is different, and this program is not designed around a strict caloric intake. As a guideline, on this program, 40-60% of your calories will come from plant-based carbs, 10-30% from plant-based protein and 25-35% from plant-based fat. You can decide whether to shift some of this depending on your weight-loss goals.
A note on protein: Most research shows that adults need only about 46 to 56 grams, but that may increase another 10 grams if you're more active. Ask your doctor or a nutritionist what's ideal for you.
Let's Talk About Calories
Most experts are moving away from thinking about healthy eating in terms of simply counting calories. Because not all calories are equal (i.e. the calories from a double cheeseburger aren't nutritionally the same as the calories from a broccoli salad, your priority should be instead to focus on quality, not quantity. That means seeking out nutrient-dense whole foods that are high in fiber to fill you up and fuel you up. If you do want to track your caloric intake, you can do so through an app or web service like cronometer.com. The Mayo Clinic has a simple calorie calculator for your size, age, gender, and activity level, so you can determine the right amount for you—everybody is different.
Our 21-day guide is focused not on calories but on how to eat healthy for yourself and the planet via a plant-based diet for three weeks. It's designed to switch you over from animal protein to plant protein to feel better, and weight loss is likely if you keep portions in check. But this is not strictly a weight-loss plan. It's a healthy-eating plan to feel healthier, by simply changing the way you think about food.
This sample one-week plan is meant to be a helpful guide. You can mix and match the meals in the 21 Day Plant-Based Challenge recipe lineup as you please. Just aim for mostly plant-based eating for the next three weeks. Start here:
All nutrition data ℅ Cronometer.com.
Here's a handy tracking chart you can print out each week to help you plan your weekly meals: