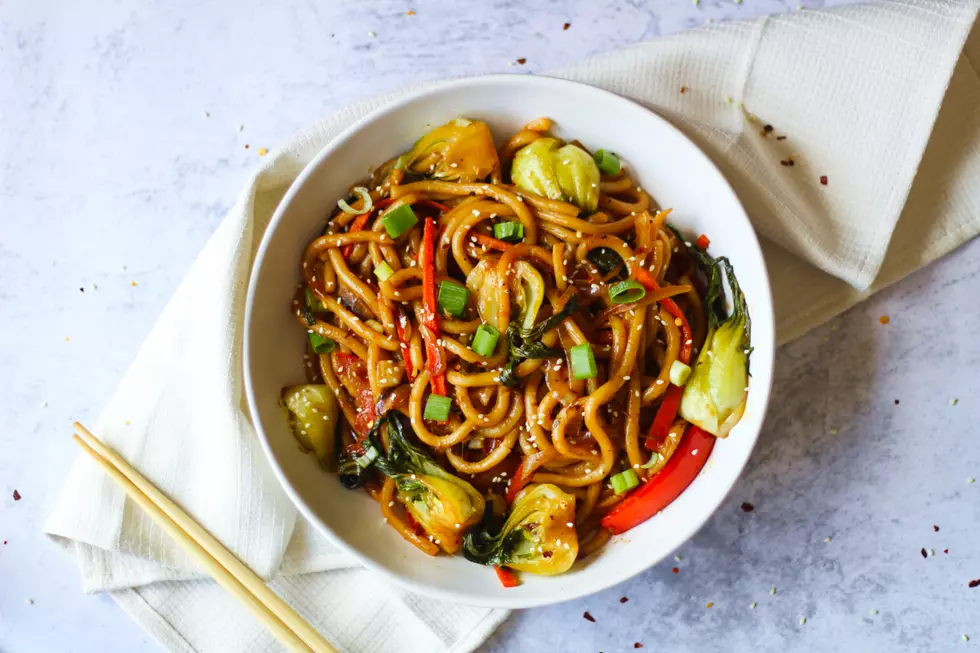 What We're Cooking This Weekend: Vegan Yaki Udon
If you need to cook up a delicious dinner but you're strapped for time, this noodle dish has got you covered. The best thing about this recipe is that you can adjust it to your own liking and clear out your fridge by adding whatever vegetables you have on hand to make it your own! For a lower-calorie meal, use fewer noodles and more veggies. For a high-protein meal, add some tofu or tempeh.
This Vegan Yaki Udon takes only 15-25 minutes, maybe 30 minutes maximum. Either way, you can have a delicious Yaki Udon ready in less than an hour, proving you don't have to sacrifice flavor for simple and quick meals. This recipe has definitely been added to my list of go-to dinners and I hope it makes it to yours as well. Just follow the recipe down below and enjoy!
Prep Time: 10 Min
Cook Time: 15 Min
Total Time: 25 Min
Servings: 3 - 4 People
Vegan Yaki Udon
Yields 3 - 4 servings
Ingredients
Sauce:
3 Tbsp Vegan Oyster Sauce
2 Tbsp Soy Sauce, or Tamari
3 Tbsp Rice Wine Vinegar
2 Tsp Sesame Oil
1 Tsp Garlic Powder
½ Tsp Ginger Powder
1 Tbsp Brown Sugar, or coconut sugar
Yaki Udon:
2 Tbsp Avocado Oil
3 Cloves Minced Garlic
2 Cups Shiitake Mushrooms
1 Large Onion, sliced
½ Carrot, cut in thin sticks
½ Red Bell Pepper, sliced
6 Oz Baby Bok Choy
14 Oz Udon Noodles, cooked
3 Green Onions, chopped
Salt and Pepper, to taste
Instructions
To make the sauce, add all the ingredients to a bowl and mix until combined. Set aside as you prep the rest of the ingredients.
In a large non-stick pan or wok, heat up 2 tbsp of avocado oil over medium heat. Once hot, add your minced garlic and mushrooms. Saute for 3-5 minutes or until mushrooms soften. Add your onions, carrots, red bell pepper, and baby bok choy. Saute for 5-8 minutes.
Add your sauce to the veggies and mix until well combined. Add your udon noodles and mix until noodles and veggies are well mixed and fully coated in the sauce. Mix in your green onions. Add salt and pepper to taste. Garnish with extra sesame oil, toasted sesame seeds, and extra green onions. Enjoy!
31 Delicious, Plant-Based Recipes to Make on Repeat
Want fresh ideas for meals that are healthy, plant-based, and delicious? This free newsletter is for you. Sign up to get a recipe of the day delivered to your inbox every morning.