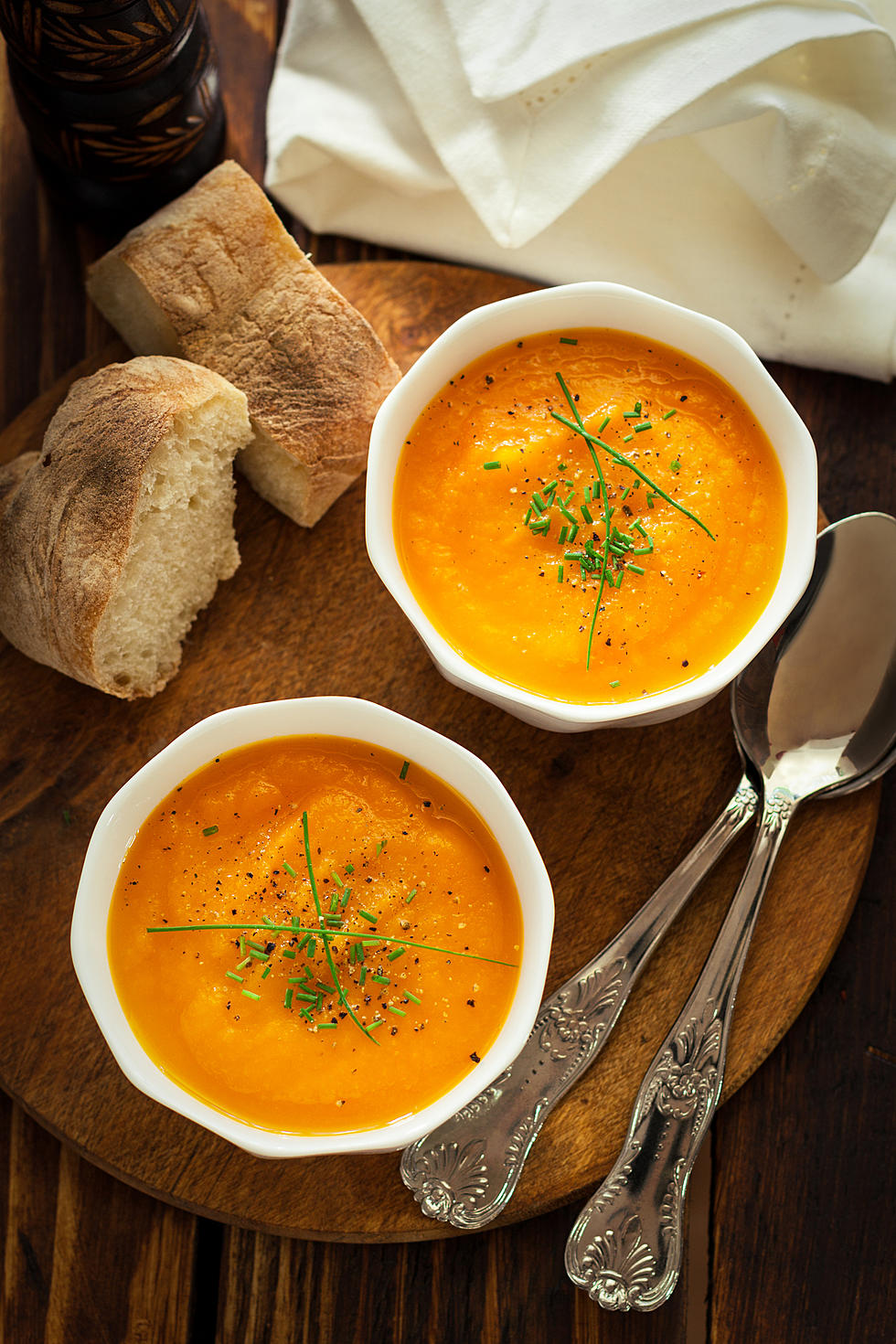 The Beet's Plant-Based Diet Recipe: Roasted Carrot and White Bean Soup
Getty Images
Reach your goals by choosing a healthier option for lunch like this Vegan Creamy Roasted Carrot and White Bean Soup, a recipe included in The Beet's Healthy Plant-Based Diet Cooking Course. This course is a two-week plan created by registered dietitian Nicole Osinga, where you'll learn to meal prep and cook healthy and delicious plant-based meals.
We're offering a Winter Special: Sign up today and you'll get the course for $19.99 – 50% off the original price of $39.99.
To give you a taste of a recipe on the cooking course, we have unlocked this Roasted Carrot and White Bean Soup just for you. This dish also happens to be one of our most popular recipes on TikTok with more than 1.1 million views!
Why This Roasted Carrot and White Bean Soup is Healthy:
Carrots and celery are packed with vitamins and turmeric is a powerful anti-inflammatory spice and can help with reducing inflammation and aid in digestive concerns.
Why It Works for Weight Loss:
One serving of navy beans provides 19 grams of fiber, which is more than half of the recommended daily value of fiber for women (which is 25 grams according to the USDA) and exactly half of what men need (38 grams a day for men according to the USDA).

Roasted Carrot & White Bean Soup
Serves 4
Total Time: 1 hour
Ingredients
18 Carrot (medium, peeled, and roughly chopped)
1 tbsp Extra Virgin Olive Oil (divided)
Yellow Onion (medium, diced)
3 stalks of Celery (chopped)
4 Garlic (cloves, minced)
4 cups Organic Vegetable Broth
2 1/2 cups White Navy Beans (cooked, drained, and rinsed)
1 tsp Turmeric
1/4 cup Tahini
1/2 Lemon (juiced)
Instructions
Preheat your oven to 375oF (191oC) and line a baking sheet with parchment paper.
In a large bowl, toss the chopped carrots with half of the olive oil. Spread them over the baking sheet and roast for 40 minutes, tossing halfway through cooking.
In a large pot, heat the rest of the olive oil. Add the onion and celery, cook for 7-10 minutes or until softened. Then add the garlic and cook for 2 to 3 more minutes.
Add the roasted carrots, vegetable broth, white beans, turmeric, and tahini into the pot. Use an immersion blender to puree until completely smooth. Add lemon juice and salt and pepper to taste.
Divide between bowls and enjoy!
Notes: 
Leftovers: Refrigerate in an airtight container for up to 4 days, or freeze for up to 6 months.
Serving Size: One serving is approximately 2 cups.
No Immersion Blender:  Use a regular blender instead, ensuring there is a place in the lid for the steam to escape.
Carrot Tip:  If using different-sized carrots, aim for about 0.5 lb. of carrots per serving.
No Carrots: Use sweet potato instead.
Add Toppings: Greek yogurt, avocado, roasted vegetables, pumpkin seeds, sesame seeds, hemp seeds, cinnamon, or extra turmeric.
Nutrition: Calories 426; Fat 13; Carbs 67g; Fiber 23g; Sugar 18g; Protein 16g; Cholesterol 0mg; Sodium 887mg; Vitamin A 46529IU; Vitamin C 22mg; Calcium 269mg; Iron 7mg