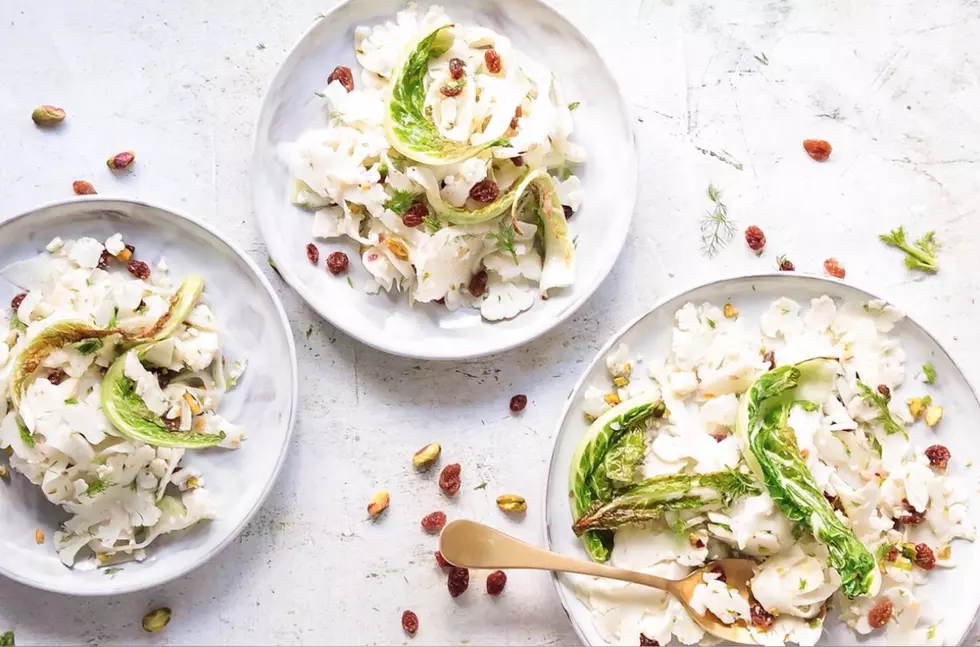 Sweet and Sour Shaved Cauliflower and Fennel Salad
@natalie.naturally
Today's recipe of the day is a sweet and sour shaved cauliflower and fennel salad that has the perfect combination of acid, sweetness, and savory flavors, with fresh lemon, fruit, and salty pistachios. The dressing includes a touch of maple syrup to counter the bitter fennel. It's a spring delight. Why it's healthy: Cauliflower is a great source of plant-based fiber that helps you feel fuller longer.
Cauliflower and fennel pair well together because fennel has a subtle licorice flavor that adds a tart edge. If you love citrus, this recipe calls for optional toppings such as wafer-thin pear slices, pomegranate seeds, and sliced oranges.
This salad will only take you about 15 minutes to make; prep in advance, by slicing the head of cauliflower and fennel roots and keep in the fridge. Enjoy this salad for lunch or as a delicious side to compliment your dinner.
Recipe Developer: Natalie Penney, @natalie.naturally
Message from the recipe developer: "Very simple light and fresh, this lovely on its own or with the addition fruits. Perfect as a side salad, light starter or compliment to a bigger meal. Roasted or grilled green vegetables such as tender stem broccoli, asparagus, or courgettes are also lovely served along side."
Sweet and Sour Shaved Cauliflower Salad
Serves 2-4 people
Ingredients
½ head of cauliflower shaved with a mandolin or very thinly sliced
1 fennel bulb shaved
½ cup sultanas
Juice 1 lemon
½ cup roughly chopped pistachio nuts
1 tbsp. maple syrup
1 tsp light olive oil
Leaves from the cauliflower removed
Optional fruits- Wafer-thin pear slices, Pomegranate seeds, sliced oranges
Instructions
In a large bowl add the shaved fennel and cauliflower. I use a mandolin to thinly slice them, breaking them into florets first. For the fennel remove the woody ends before shaving but be sure to reserve the sprogs.
Add the fennel sprogs, sultanas, and nuts to the bowl along with the juice of a lemon and stir to combine. Finally add rice syrup, olive oil, and a little salt and pepper and stir again.
Allow to sit and for the flavors to mingle.
Preheat the oven to 180°C, line a baking tray, and add the reserved cauliflower leaves, rub a little oil onto the leaves and sprinkle with salt. Cook for about 10 minutes or until the leaves are just starting to crisp and slightly char.
Serve in small bowls or plate with the crispy leaves on top, or in the center of the table as a side salad or compliment.