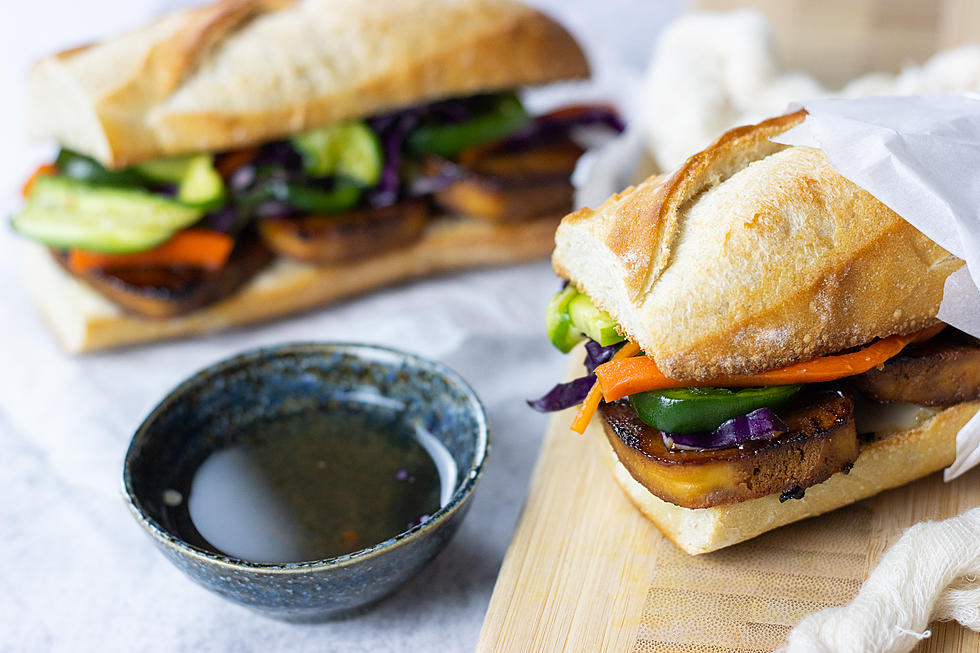 What We're Cooking This Weekend: Vegan Teriyaki Banh Mi Sandwich
If you're in the mood to mix things up and try something new, Banh Mi Sandwiches are the way to go. This isn't your average sandwich, this is a high-protein, flavor-packed sandwich that I'm sure you will love as much as I do. If you've never had a Banh Mi sandwich before, they're a classic Vietnamese sandwich with a protein and slightly sweet pickled veggies all between a toasted baguette.
For this vegan version of a Banh Mi Sandwich, we are going to be using marinated teriyaki tofu and a mix of cucumbers, purple cabbage, carrots, and jalapenos. You get a perfect combination of sweet, tart, and spicy that makes every bite just as addicting as the last. This is a very easy recipe to make where most of the time spent is marinating the tofu and veggies for a minimum of 30 minutes, but you can even prepare this the day before and have your tofu and veggies marinated overnight for maximum flavor.
Prep Time: 15 Min
Cook Time: 25 Min
Passive Time: 30 Min
Total Time: 1 Hour, 10 Min 
Servings: 4 Sandwiches
Ingredients:
Tofu Teriyaki
14 oz Extra Firm Tofu

 

¼ Cup Soy Sauce
2 Tbsp Brown Sugar
½ Tsp Garlic Powder
1 Tbsp Maple Syrup

 

1 Tsp Sesame Oil
3 Tbsp Rice Wine Vinegar
3 Tbsp Cornstarch
Pickled Veggies
⅓ Cup Rice Wine Vinegar
2 Tbsp Maple Syrup, or liquid sweetener of choice
¼ Tsp Salt
1 Large Cucumber, thinly sliced

 

1 Carrot, thinly sliced
1 cup Purple Cabbage, chopped
1-2 Jalapenos, sliced

 
Sandwich
Instructions:
Cut your tofu into ½ Inch thick slices and set aside. In a bowl add the rest of the teriyaki ingredients and whisk until combined. Add your tofu to a container and pour your teriyaki sauce over the tofu, cover with a lid and gently give it a shake to cover each tofu piece. Marinate in the fridge for 30 minutes minimum or overnight.

 

In a separate bowl, add your rice wine vinegar, maple syrup, and salt. Whisk until combined. Add your cucumbers, carrots, purple cabbage, and jalapenos to the bowl and give it a toss until evenly mixed and veggies are coated. Marinate this in the fridge as well for 30 minutes or overnight.

 

Once your tofu is finished marinating, preheat your oven to 400F and line a baking tray with parchment paper. Lay your tofu pieces onto your baking tray and bake in the oven for 25 minutes, flipping halfway through.

 

When your tofu is almost done baking, start cutting your baguette equally into 4 sections and then cut it in half. Toast your baguettes to get them ready for assembly.

 

Once the tofu is finished baking, assemble your sandwich by adding your vegan mayo to the baguette, then your tofu teriyaki, and your pickled veggies on top. Close your sandwich up and enjoy!

 
31 Delicious, Plant-Based Recipes to Make on Repeat
Want fresh ideas for meals that are healthy, plant-based, and delicious? This free newsletter is for you. Sign up to get a recipe of the day delivered to your inbox every morning.