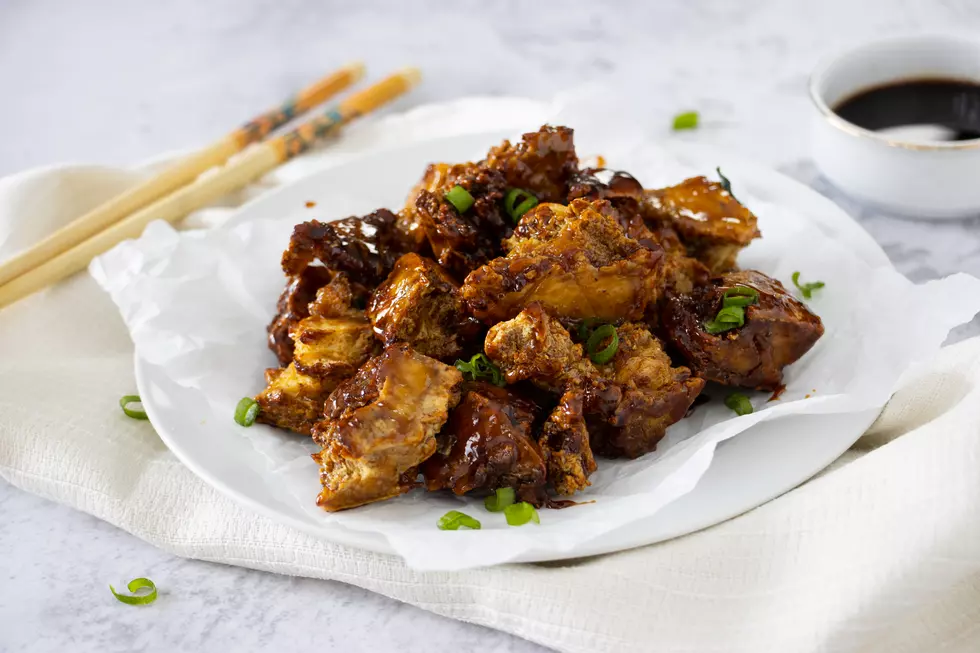 Sweet & Sticky Crispy Tofu "Chicken"
Tofu has such a bad reputation of being bland, but there are so many ways to cook flavorful and satisfying tofu. One trick: By freezing and thawing your tofu (not once but twice), you end up with a meat-like texture, perfect for making this Sweet & Sticky Tofu  Crispy "Chicken."
Why do you need to freeze and thaw tofu twice? By freezing your tofu, the water in your tofu expands, creating little pockets when it thaws. This is great for absorbing flavor and gives it that meat-like texture. By freezing and thawing it a second time, it firms the tofu up even more, so when you go and squeeze your tofu, you are able to squeeze out more water without your tofu breaking.
Prep Time: 10 Min
Cook Time: 20 Min
Total Time: 30 Min
Yields 1-2 servings
Ingredients
400g Extra Firm Tofu, frozen and thawed twice
1 Tbsp Soy Sauce
¼ Cup Corn Starch
¼ Tsp Black Pepper
½ Tsp Salt
For the Sticky Sauce
¼ Cup Sesame Oil
3 Cloves Garlic, minced
1 Tsp Ginger, minced
¼ Cup Soy Sauce
¼ Cup Rice Wine Vinegar
3 Tbsp Brown Sugar, can be replaced with Maple Syrup or Agave
Handful Fresh Basil
Instructions
Preheat your oven to 425F and line a baking tray with parchment paper. Set aside. Prep your tofu by pressing out as much water as possible.
In a bowl, break your tofu into chunks. They don't need to be exactly the same size. Add your soy sauce, corn starch, black pepper, and salt. Give it a toss around until all your tofu pieces are coated. Transfer to your baking tray and bake in the oven for 20 minutes. Flip halfway through.
When your tofu is about 10 minutes away from finishing. Heat up a large pan over medium heat. Add your sesame oil to the pan then add your garlic and ginger. Cook for 2-3 minutes or until the garlic is slightly browned.
Add in your soy sauce, rice wine vinegar, and brown sugar. Stir it around until combined. Keep on stirring until your sauce is reduced, about 3-5 minutes. Remove from the heat.
Your tofu should almost be done cooking by now. Once it's finished baking, carefully add your tofu to your sauce along with a handful of basil. Stir it around until your tofu pieces are coated. If you find your sauce is too thick, stir a splash of water to loosen it up a bit before adding in your tofu.
Plate up your tofu and garnish with some extra basil or chopped green onions. Enjoy!
31 Delicious, Plant-Based Recipes to Make on Repeat
Want fresh ideas for meals that are healthy, plant-based, and delicious? This free newsletter is for you. Sign up to get a recipe of the day delivered to your inbox every morning.