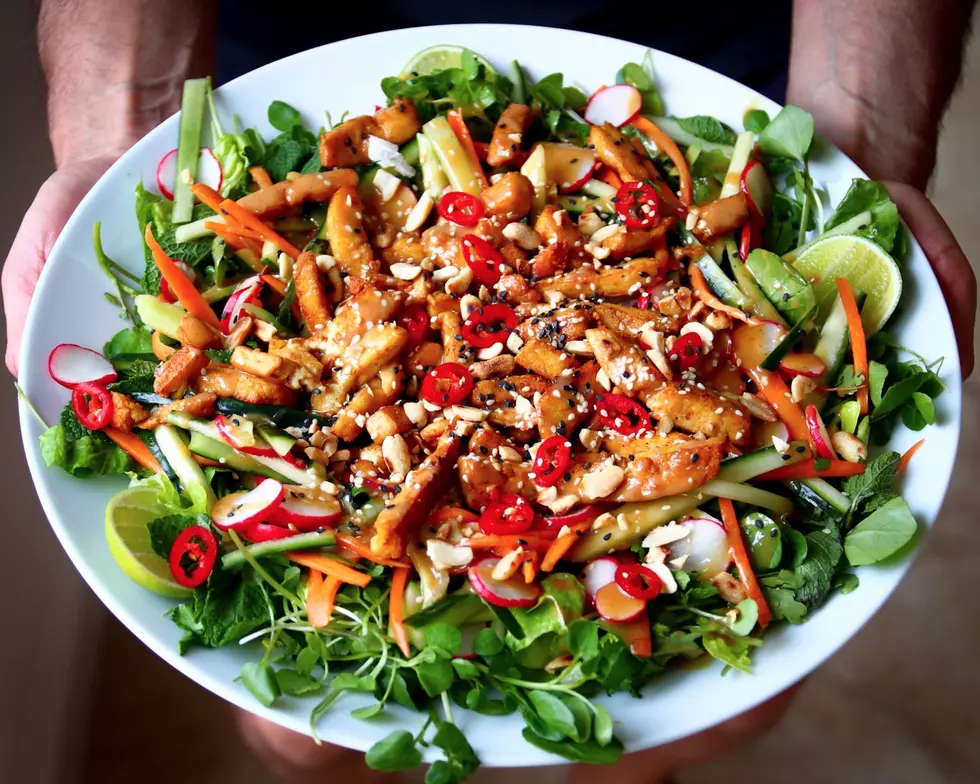 Make This Bang Bang Asian Salad With Crispy Tofu and Crunchy Peanuts
@natalie.naturally
Switch up your go-to salad and add an Asian twist with crispy tofu and crunchy peanuts. This salad is full of fresh raw vegetables topped with a silky smooth peanut dressing made with soy sauce for the perfect balance of sweet and savory. This salad makes for a delicious side dish with a veggie burger and fresh lime. Serve this salad on a platter and sprinkle sesame seeds on top for presentation. Be sure to keep the dressing on the side and do not combine them together until ready to eat, because the salad will taste fresher and last longer.
Recipe Developer: Natalie Penny, @natalie.naturally 
Why we love it:  It's nice to switch up a traditional Ceaser or greek salad and give your taste buds new flavors. This Asian style salad is tasty and full of healthy plant-based protein like tofu, peanuts, peanut butter, and sesame seeds.
Make it for: A healthy lunch, dinner, or a side dish to go with your meal. Most of these ingredients you probably already have stored in your pantry, use them up!
Bang Bang Tofu Salad
Serves 4 people
Ingredients
Sauce
2/3 cups of smooth peanut butter
2 tbsp tamari/soy sauce
1 tbs sweet chili sauce or 1 tbs maple and ¼ tsp chili flakes
1tbs sesame oil
Little knob of ginger grated
Small garlic clove grated
6 tbs veg stock
Juice of 1 lime
Salad
4 cups of blocks firm tofu
2 cups of a bag of mixed salad of your choice, I like steves leaves pea shoot & baby leaves
1 medium carrot chopped into matchsticks
1 small cucumber or half a large one, sliced into matchsticks
1/2 cups of radishes thinly sliced
1 red, orange or yellow pepper cut into thin strips
Small handful fresh mint leaves roughly chopped
Small handful coriander leaves roughly chopped
1 mango chopped into thin strips
1 tbs of sesame seed black or white or a mix
1 mild red chili sliced
1 lime cut into 1/4
½ cup of roasted peanuts
1tsp salt
1tsp pepper
Instructions
First place all the ingredients for the sauce except the stock, into a bowl, and whisk till combined. Add the stock 1 tbs at a time till you get the consistency you like. Taste and adjust seasoning. If it's a little thick you can add a splash of water or more stock.
Drain the tofu and cut into cubes or thick 2cm thick fingers. Season with the salt and pepper and set aside.
Gentle toast the roasted peanuts in a dry frying pan and set aside to cool. Once cooled a little, roughly chop.
prepare all the vegetables and mango and combine together in a bowl. Place the salad onto a large serving dish and sprinkle with the mint and coriander leaves. Gentle spread the chopped vegetables on top and set aside.
Heat a large frying pan to medium-high and add 1 tbsp groundnut or neutral-tasting oil. Once the pan is hot add the tofu in batches and fry till crisp, remove and drain on kitchen paper whilst you fry the next batch.
Once all the tofu has been cooked pile on top of the salad, drizzle with the peanut sauce (hold some back to serve in a small bowl alongside the salad), sprinkle with the chopped nuts, sesame, chili and garnish with lime wedges.
31 Delicious, Plant-Based Recipes to Make on Repeat
Want fresh ideas for meals that are healthy, plant-based, and delicious? This free newsletter is for you. Sign up to get a recipe of the day delivered to your inbox every morning.