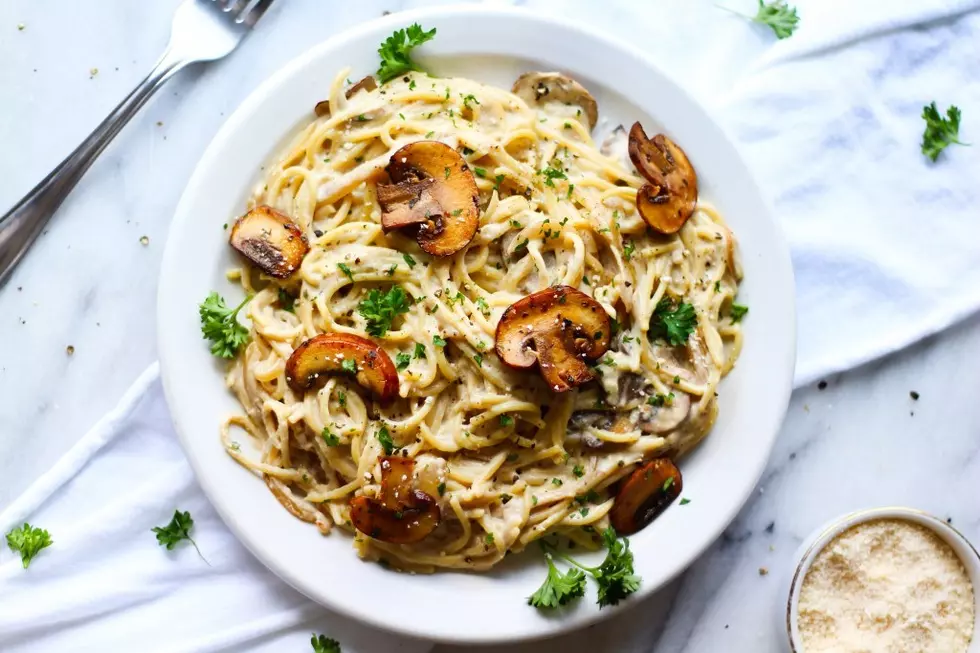 Easy "Creamy" Vegan Mushroom Garlic Pasta
This simple and delicious vegan pasta recipe is the perfect dish for whenever you need a quick meal that's hearty and healthy. The mushrooms are full of flavor when paired with a creamy garlic sauce. But of course, we are using plant-based milk to keep it vegan and free of animal fat. It' so rich and creamy, your guests won't have a clue it's vegan.
Why it's healthier: Mushrooms are high in selenium, an antioxidant that helps protect the body against cancer and heart disease as well as boost the immune system.
Healthy ingredients: Selenium, beta-glucan, copper, potassium, B vitamins including riboflavin, niacin and pantothenic acid.
Creamy Mushroom Garlic Pasta
Ingredients
Linguine Pasta
2 Tbsp Olive Oil
2-3 Cloves Crushed Garlic
1/4 Cup Raw Cashews
1 1/2 Cup Non-Dairy Milk
3 Tbsp Nutritional yeast
2 Cups Cremini Mushrooms, sliced
2 Tbsp Tamari
1 Tsp Dried Basil
1 Tsp Dried Oregano
1 Tsp Salt
1/2 Tsp Pepper
1/2 Cup Onions, chopped
Fresh Parsley, chopped for garnish
Instructions
Cook your linguine pasta as instructed on the box. Drain and set aside.
To make the sauce, add the crushed garlic, raw cashews, non-dairy milk, and nutritional yeast into a blender. Blend until completely smooth. If you don't have a high-speed blender, soak your cashews in hot water for 30 minutes. It's okay if your sauce isn't too thick, it will thicken up when you add it to the pan.
In a pan, heat up your oil over medium-high heat. Add your chopped mushrooms and cook in the pan for 5 minutes. Add your tamari to the pan along with the dried herbs, salt, and pepper. Cook for an additional 1-2 minutes. You can set aside some of the mushrooms to garnish for later.
Add in your onions, and cook until it starts to become translucent. Use a splash of water to deglaze the bottom of your pan and cook your onions and mushrooms for 1 more minute.
Add in your sauce to the pan, and stir around until it slightly thickens up. Let sauce simmer in the pan for 1-2 minutes. If it gets too thick, you can always add a Tbsp of water or non-dairy milk to loosen it up.
Once your sauce is evenly mixed and has the consistency of your liking, add your linguine to the sauce and mix until pasta is evenly coated.
Garnish your pasta with freshly cracked black pepper, fresh parsley, vegan parmesan, and any cooked mushrooms you set aside. Enjoy!
Nutrition Info: Nutrition information is a rough estimate.
Calories 752 Total Fat 37 g Total Carbs 105 g Fiber 14 g Sugars 25 g
31 Delicious, Plant-Based Recipes to Make on Repeat
Want fresh ideas for meals that are healthy, plant-based, and delicious? This free newsletter is for you. Sign up to get a recipe of the day delivered to your inbox every morning.