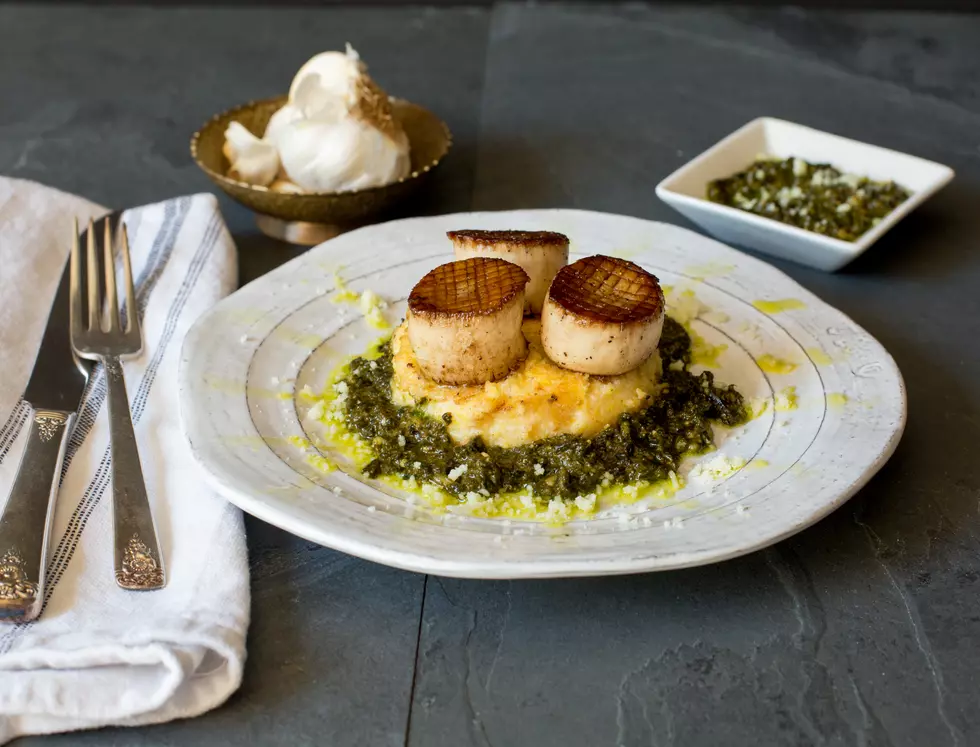 Date Night Recipe: Seared King Oyster Mushrooms over Polenta in Pesto
These seared king oyster mushrooms are great "vegan scallops" because they're similar in shape, firm on the outside, and softer in the middle, sort of like the texture of a scallop. Mushrooms hold a lot of moisture, which is why they have a soft consistency when you bite into the middle. These mushrooms are served over a warm, flavorful polenta with fresh pesto. The mushrooms are seared with oil, dairy-free butter, salt, and pepper, the easiest and simplest touch that makes all the difference.
So before your mouth starts to water, grab your apron, make this delicious masterpiece, set the table, light a candle, and enjoy a dinner date night with this sophisticated yet easy-to-make oyster mushroom and polenta recipe.
This recipe is created by Chef Ko, the chef of RollinGreens, a popular convenience food brand based in Colorado. RollinGreens is known for its "Milet Tots,' a wholegrain version of tater tots that are healthier than the real thing and incredibly tasty. Chef Ko knows how to elevate any plant-based dish and adds his own unique touch of flavor to each recipe.
Seared King Oyster Mushrooms over Polenta in Pesto
2 Servings
Ingredients:
2 cups cornmeal
5 cups of water
¼ cup milk of choice
2 Large Oyster Mushroom Trumpets
2 cloves Garlic
1 bunch fresh basil
1/4 cup favorite nut or seed
4 tbsp Olive Oil
1 tbsp butter or oil (for mushrooms)
2 tbsp butter or oil (for polenta)
1 tbsp Salt
¼ cup Parmesan
Instructions:
Polenta:
In a large pot, add 5 cups of water and bring to a boil. Add cornmeal and 1 teaspoon of salt. Stir consistently for 5-10 minutes or until corn is almost cooked. Once thickened, add two tablespoons of butter and ¼ cup milk.
Pesto:
In a blender add olive oil, cut garlic, nuts or seeds, washed & dried basil, and salt. Blend until all basil is incorporated into the oil.
Mushrooms:
Cut stock of mushroom into 2-inch cylinders. Make a hatch pattern on each flat end of the mushroom piece. Salt and pepper all oysters. In a hot cast iron skillet, add butter or oil. Place each mushroom piece hatch sides down. Sear on each side until brown, just past golden. Turn as needed to each piece. Remove from the pan, turn off the burner.
Assembly:
On your favorite serving bowls, place a large scoop of polenta in the center. Place pesto all around the polenta. Top each dish with five seared oyster mushroom pieces. Finish by taking some green oil from the pesto and drizzling it all over the dish.
Nutrionals Serves 2
Calories 1052 | Total 61.6g | Saturated Fat 7.7g | Sodium 3748mg | Total Carbohydrates 108g | Dietary Fiber 10.7g | Total Sugars 3.4g | Protein 22.9g | Vitamin D 13mcg | Calcium 191mg | Iron 8mg | Potassium 511mg |
31 Delicious, Plant-Based Recipes to Make on Repeat
Want fresh ideas for meals that are healthy, plant-based, and delicious? This free newsletter is for you. Sign up to get a recipe of the day delivered to your inbox every morning.