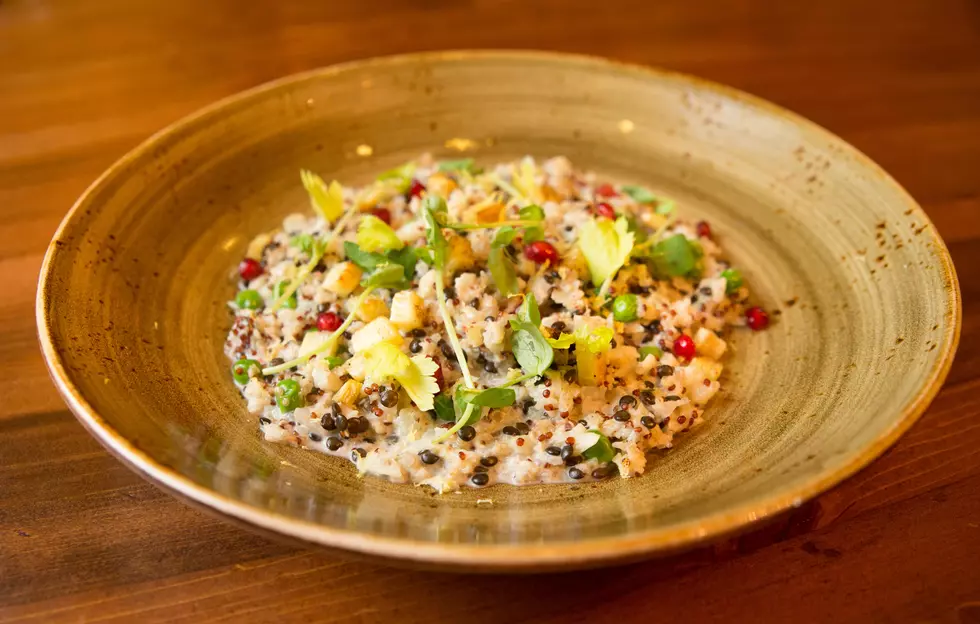 The Perfect Plant-Based Dinner: Cauliflower and Red Quinoa Risotto
If you're in the mood for an upscale and healthy vegan dinner, this cauliflower risotto will hit the spot. This recipe is made by Honey Salt, a healthy restaurant located in Las Vegas. Cauliflower and quinoa risotto is the perfect pair for a light and healthy dinner. Normally, risotto is made with heavy cream and cheese, but this recipe calls for fresh vegetables and vegetable stock. The recipe will only take you 20 minutes to make and tastes like restaurant quality. Pair this dish with a glass of red wine and enjoy every bite.
Recipe Developer: Honey Salt
Why we love it: Risotto is normally high in calories, but this dish is made with vegetables, quinoa, and vegetable stock--the perfect meal for plant-based eaters and anyone who is watching their diet.
Make it for: Lunch or dinner! Make sure to save the leftovers and enjoy them the next day.
Vegan Cauliflower and Red Quinoa Risotto
Serves 2 people
Ingredients
5 oz. cauliflower, medium box-graded, raw
1 oz. onion, small diced
1 tbsp olive oil½ tsp garlic, minced
¼ tsp thyme, fresh, chopped
4 oz. vegetable stock, hot
2 oz. red quinoa, cooked, cooled
1 tbsp zucchini
Small diced
1 tsp vegan parmesan Kosher salt, to taste
Black peppercorn, to taste
Pomegranate seeds, cleaned, to garnish
Pea shoots, green & yellow, to garnish
Celery leaves, picked, to garnish
Peppercorn mix, to garnish
Sea salt, to garnish
Instructions
Heat sauté pan over medium-high heat.
Add olive oil, cauliflower, onion, garlic, thyme, salt, and pepper.
Sauté for 2 minutes to cook cauliflower
Add zucchini and color for 30 seconds.
Taste for balance then turns off the heat.
Add vegetable stock, vegan parmesan, red quinoa, and taste for flavor and consistency. Adjust as necessary.
Plate and garnish with pomegranate seeds cleaned pea shoots and celery leaves. Finish with freshly ground peppercorn mix and sea salt.
31 Delicious, Plant-Based Recipes to Make on Repeat
Want fresh ideas for meals that are healthy, plant-based, and delicious? This free newsletter is for you. Sign up to get a recipe of the day delivered to your inbox every morning.