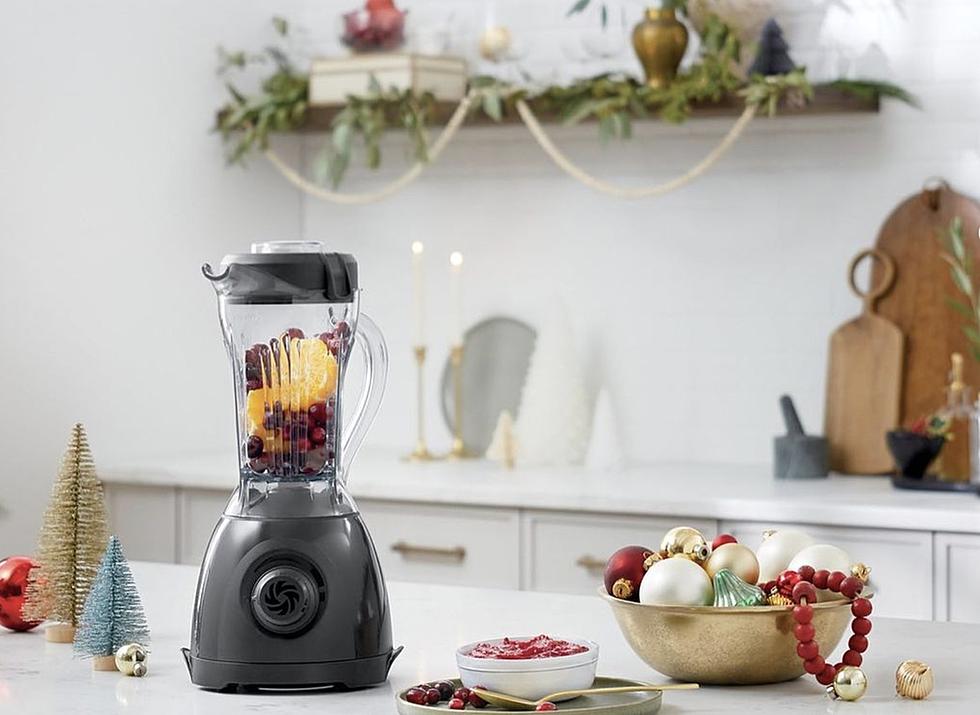 The Beet Editors' Favorite Plant-Based Products of The Year 2021
Instagram/@vitamix
What a year. As we send 2021 packing and get ready to ring in 2022, it feels like a good time to reflect on the products we love and use all the time, and recommend to others! Here are the favorite products of the editors of The Beet that we think "what would I have done without...." as the effort to get and stay healthy became an even higher priority than ever.
As we look forward to reaching, maintaining, or setting new health goals for the year ahead, these are the products that we think will e most helpful to us, you, and others. Wherever you are on your plant-based journey (starting out, happily flexitarian, or determined to go or stay fully vegan) these products are going to help.
Our message to you this holiday: We hope The Beet has been by your side and will continue to be a voice and resource for you, to help you live your healthiest life.
Here are the editors' favorites of the year! Enjoy, and stay healthy out there!
Want to see what we've written up in the past? Check out our favorite products each week.
What's your current favorite plant-based product? Let us know on our Facebook page.
Lucy's Favorite Plant-Based Product of 2021
JUST Egg Plant-Based Scramble Liquid
Everyone obsessed with finding the best plant-based patty is missing the point. There are so many choices, you don't need to worry about where your next burger will come from. But when it comes to breakfast, I grew up on a steady Saturday diet of scrambled eggs and whole-wheat toast, where you eat the eggs on little slices of toast, so when I went plant-based the one and only thing I really missed was this Saturday ritual. That is... Until I found JUST Egg.
Here's the amazing news: JUST Egg is the absolute perfect substitute for eggs made from chickens, and because it's made from plant ingredients (specifically mung beans) you can have your eggs and skip the cholesterol and most of the saturated fat too. I love the way they scramble, and even better how they work in an omelet, and you can use them for amazing French Toast, or pretty much any other egg-centric dish. (My kids love it, too.)
We just finished creating three JUST Egg recipes for our upcoming diet program and each one is more delicious than the next. For inspiration, try the JUST Egg Classic Omelet, the JUST Egg Mini Frittata Bites, and even Fried Rice made with their folded product, which comes pre-cooked so all you need to do is heat it up. For my favorite product of the year, JUST Egg wins, hands down. Buy several bottles and the folded JUST Egg, and keep it on hand for all your plant-based healthy diet needs.
To find a retailer of JUST Egg, visit the brand's store locator. 
Stephanie's Favorite Plant-Based Product of 2021
Violife Epic Smoked Cheddar Flavored Block
In a world of subpar, plastic-y vegan cheese alternatives, there is one holy grail product that will turn any dismisser of dairy-free offerings into a devotee: Violife Epic Smoked Cheddar Flavored Block. Let me emphasize that all of Violife's vegan cheese options are delicious, but if you are searching for a product that will convert any non-vegan into a lover of vegan cheese, the Epic Smoked Block is failproof.
Rich, creamy, and flavor-wise very similar to a Gouda cheese, Violife's Epic Block tastes indistinguishable from real cheese and offers people with allergies or dietary restrictions a way to indulge without any dairy.
My favorite way to enjoy this vegan cheese is melted inside a sourdough grilled cheese with tomatoes, or the old-fashioned way, eating plain slices as I squat in front of my fridge like a goblin foraging for sustenance during the wee hours of the night.
All jokes aside, you will likely never find a cheese alternative as delicious as Violife's Epic Smoked Cheddar Flavored Block, and I thought it was only right to christen this product my ultimate favorite of the year 2021 because of how often I have enjoyed it on sandwiches, on charcuterie boards, in pasta, and on its own.
To find a retailer near you, check out Violife's store locator. 
Hailey's Favorite Plant-Based Product of 2021
Vitamix
When thinking about the product I used all year round, a couple came to mind but then I narrowed it down to how often I use it/them a week, and the winner was my Vitamix.
I get it – every year there seems to always be a Vitamix on some kind of holiday gift guide which might make this appear to be a cliché option, but it's one of the best gifts I ever received because it simply makes healthy eating easier, faster, and delicious, and after all, it's that the best investment in yourself?
I make everything from soups, juices, smoothies, salad dressings, dips, and sauces in my Vitamix all-year thing. And, this winter, I've made some of the most amazing soups by simply roasting veggies and herbs and blending them in my Vitamix and about two weeks ago I made a homemade red sauce with roasted tomatoes, garlic, and water in the blender and it was actually one of the best sauces I've tasted.
I love this product so much I gifted my grandma a Vitamix last year and now I'm giving one to my sister this year...shhhhh. These products tend to be on the pricey side of gift-giving but even the smaller and more affordable blenders are just as good as the big and expensive blenders. Either way, the Vitamix is an investment in health and can guarantee to work for many many years and can blend even the hardest-to-snap carrot into liquid. It's hard to use just any ol' blender after using the Vitamix.
To purchase Vitamix, visit the brand's website.
Caitlin's Favorite Plant-Based Product of 2021
Elmhurst Plant-Based Milks
Out of all the plant-based products I have tried this year, my absolute favorite are the Elmhurst Plant-Based Milks. Elmhurst has become that one product that I just can't leave the store without. You can find a variety of flavors including oat milk, hazelnut milk, cashew milk, almond milk and walnut milk. My go-to's include unsweetened almond milk, cashew milk and walnut milk.
Whether you're looking to cut dairy or are looking to clean up your diet, Elmhurst is the perfect choice for its fresh taste as well as clean and simple ingredients. No matter which flavor you choose, all Elmhurst plant-based milks have a smooth and light consistency. I use Elmhurst in just about everything from smoothies to mac and cheese sauce to cappuccinos. You can also drink it all by itself it's that good.
If you want to try Elmhurst Plant-Based Milks for yourself, you can find them at Whole Foods, Publix, Wegmans and ShopRite. To find the closest one to you, click here.
Max's Favorite Plant-Based Product of 2021
daring. Original Breaded Pieces 
It is nearly impossible to keep up with the vegan chicken craze that mesmerized people during 2021. From Beyond Meat to Alpha Foods, new plant-based chicken products flooded the market, but my absolute favorite product is from Daring Foods. The company initially focused on perfecting the grilled chicken substitutes, perfecting the taste, texture, and nutritional content of their products. Daring developed a plant-based chicken that exceeds across the board, propelling itself to the forefront of the highly competitive plant-based meat category.
But there's so much more to say about the Original Breaded Pieces. This innovative chicken nugget would trick any flexitarian and meat-eater into thinking it's the real deal. The Original Breaded Pieces feature a crunchy exterior and a juicy delicious interior. The sustainable chicken is also pushing the market into a more inclusive space. By providing all the taste and nearly none of the worry, Daring's Original Breaded Pieces have nothing against them. The plant-based chicken contains high protein, low-calories, and is an excellent source of fiber made from simple ingredients.
The plant-based chicken is delicious enough but perfectly accented by a variety of vegan sauces. The Daring Instagram features several suggestions for store-bought and homemade sauces to coat your delicious nuggets with.
To buy Daring's plant-based products or find a store that stocks the Daring selection, check out the company's website.