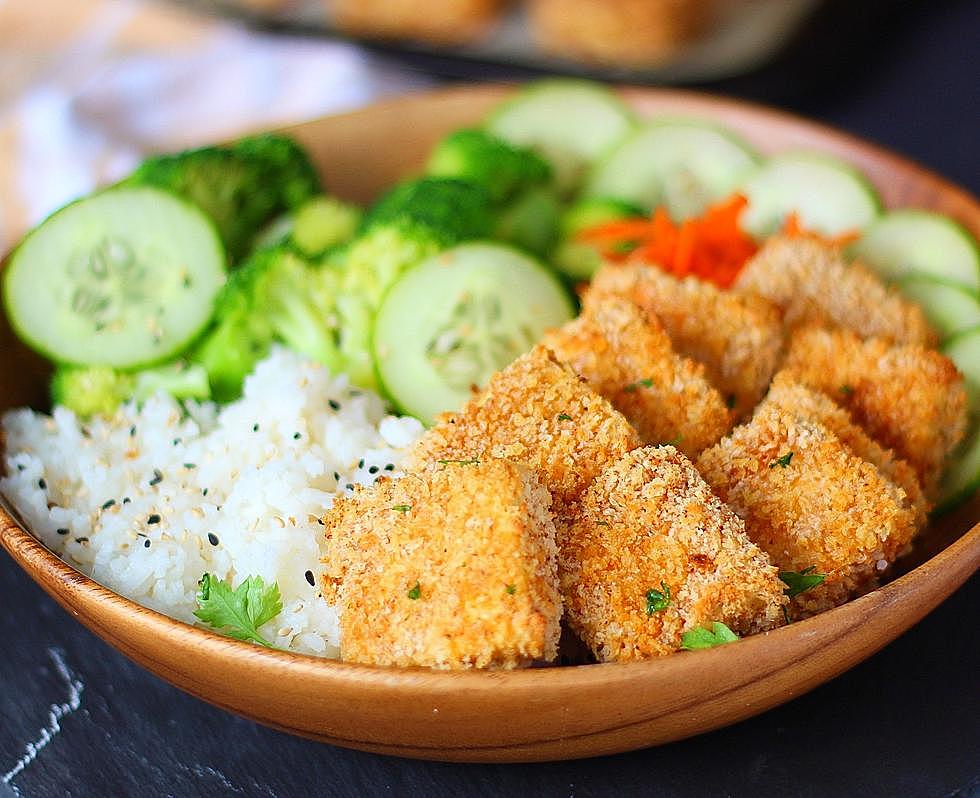 Day 13 of Recipes For Your 21 Day Plant-Based Challenge
These Recipes are designed to fill you up and energize you all through the day. We have compiled a breakfast, lunch, dinner, and two snacks -- and for your pick of desserts check out the recipe carousel at the bottom of the 21 Day Plant-Based Challenge homepage.
Try this easy Chia Pudding recipe, or if busy, you can buy a really good store-bought version, Chia Pod, which is carried at Whole Foods and other major retailers. Make this recipe with your favorite dairy-free almond milk, such as the one from Blue Diamond.
There's just something about cauliflower soup that is just so wholesome: It's really simple and light in taste but that's what we love about it so much. No crazy burst of flavours, nothing too overwhelming, just something nice and comforting. Which is exactly what I you need on a cold winter day, garnished with some paprika, olive oil, and green onions with a side of toasted sliced baguette.
Trying to find a way to add more veggies into your diet? This might be the best way! This Vegan Bang Bang Broccoli is so tasty and that sauce is just magical. The best part of this recipe, besides that it tastes amazing, is how easy it is to make.
These tofu slices are crispy on the outside and soft on the inside. This is a very easy recipe to make and is delicious on its own and even better when paired with your favorite dipping sauce.
You can easily make this gluten-free by subbing out the breadcrumbs for gluten-free breadcrumbs and the flour for any kind of gluten-free flour! Also, as these sit out they will lose their crisp. So, if you have any leftovers, simply pop it in the oven at 400 degrees Fahrenheit for 10 minutes to warm them up and give them their crisp back!
Breakfast:
Dairy-free milk of choice (we like using almond milk) 

Chia seeds

Agave nectar or maple syrup to taste

Vanilla extract
TOPPINGS:
Fresh fruit
Granola
Dried coconut
Almonds
Hemp seeds
Lunch:
1/2 Head Cauliflower
Onion
1 Yellow Potato
3 Cloves Garlic
Dried Thyme
Salt
Vegetable Broth
Snack:
1 Head Broccoli
All-Purpose Flour
Salt
Non-Dairy Milk
Hot Sauce
Panko Bread Crumbs
Bang Bang Sauce
Vegan Mayo
Chili Paste or Sriracha
Maple Syrup
Dinner:
1-2 14oz Block Extra Firm Tofu
Batter
Non-Dairy Milk, unsweetened
All-Purpose Flour
Flaxseeds
Salt
Coating
Breadcrumbs
Garlic Powder
Onion Powder
Smoked Paprika
All-Spice
Salt
Dessert:
Sliced green apples
Chocolate Hummus (Trader Joe's)
Optional: fresh fruit or nuts