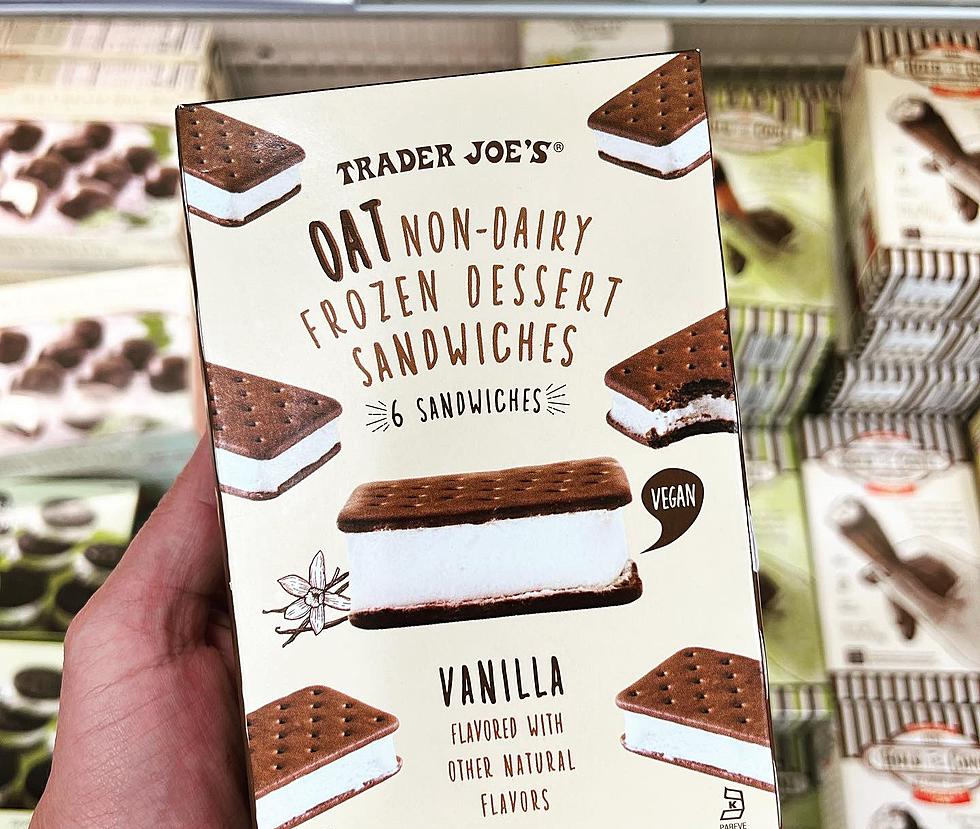 New at Trader Joe's: Non-Dairy Oat Milk Ice Cream Sandwiches
Instagram / @bigboxvegan
Trader Joe's is constantly elevating its plant-based portfolio, breaking ground in untapped food categories including vegan seafood, soups, and especially dessert. The grocery store houses some of the most exciting, inventive vegan desserts on the market. Now, Trader Joe's is adding to this already impressive collection with its new Vanilla Oat Non-Dairy Frozen Dessert Sandwiches.
"Each sandwich is made with sweetened, vanilla-flavored, frozen oat beverage that's nestled between two sumptuously soft chocolate wafer cookies to deliver that satisfying, long-day-salvaging sensation with every bite," Trader Joe's describes the new oat milk-based ice cream sandwich.
The new dairy-free dessert contains 330 calories per serving, which is two sandwiches, meaning each single vegan ice cream sandwich has 165 calories. The product package comes with six sandwiches and rings in at $3.49 per box, according to vegan watchdog Instagram account @BigBoxVegan who spotted the treat at a local Trader Joe's.
The vegan sandwiches use an oat base supplemented by pea protein, cane sugar, coconut oil, and natural flavors to create creamy dairy-free ice cream. The plant-based ice cream is then sandwiched between two vegan chocolate wafers made from brown rice syrup and soybeans. The delicious vegan dessert replicates classic ice cream sandwich brands including Blue Bunny and Good Humor without any animal products.
Now more than ever, customers want vegan ice cream as dairy falls farther out of favor. The global vegan ice cream market was valued at $520 million in 2019 and is expected to surpass $805 million by 2027. Another study found that North America dominated the sale of dairy-free ice cream, carving out 38.4 percent of the vegan ice cream market. The report found that alongside Trader Joe's, Unilever, General Mills, Tofuffuti, and Van Leeuwen rank as the biggest market players.
Trader Joe's Vegan Development
Trader Joe's is constantly expanding its vegan product selection. The beloved grocery store stocks its shelves with vegan foods and pre-made meals fit for any palette and any meal of the day. Alongside the new oat milk ice cream sandwiches, the company recently released Hold the Dairy! Mini Coconut Non-Dairy Frozen Dessert Cones. The bite-sized ice cream cones feature a vegan ice cream blended with coconut milk and chocolate on top of a plant-based waffle cone coated in chocolate.
The company has doubled its plant-based efforts following an episode of the "Inside Trader Joe's" podcast where company executives revealed that Trader Joe's has big vegan plans in development. Alongside the dairy-free mini cones, Trader Joe's released five new items including Vegan Meatless Meat Eater's Pizza, Vegan Cream Cheese Alternative, Organic Coconut & Avocado Oil Vegan Ghee Blend, Organic Vegetarian Chili, and a Tofu Scramble with Soy Chorizo.
Trader Joe's also explored oat-based desserts once previously, introducing a Chocolate Fudge Oat Bar last summer. The vegan fudgesicles recreated a classic summertime dessert with absolutely no dairy or gluten ingredients. Since then, the company has been developing more vegan dessert options including Vegan Cookies & Creme Vanilla Bean Bon Bons and Non-Dairy Mint & Chip Bon Bons.
The Ultimate Vegan and Dairy-Free Ice Cream Taste Test