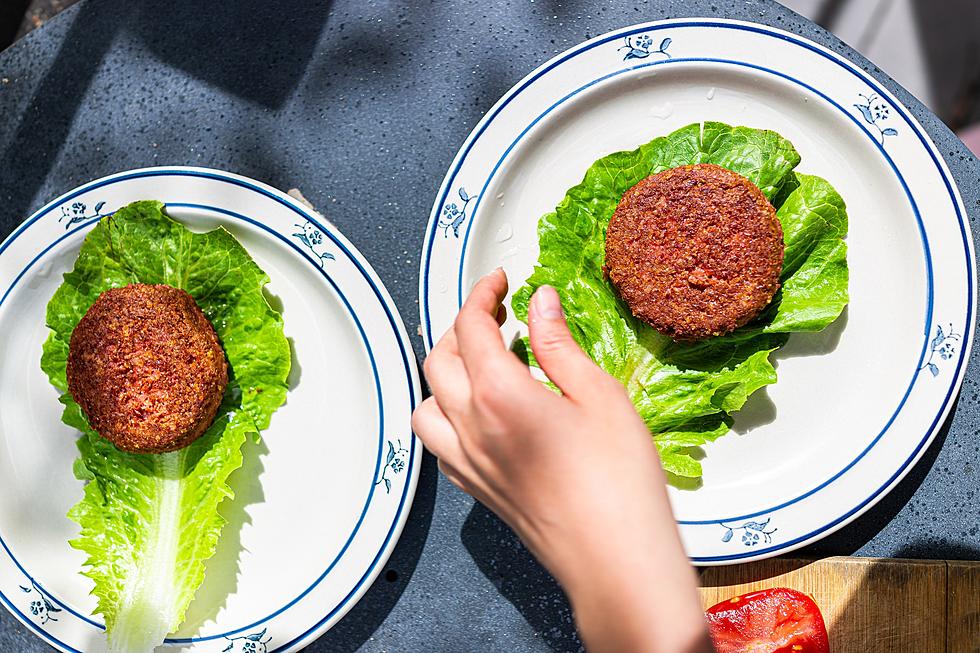 The Beet's Plant-Based Diet Recipe: Lettuce Wrapped Veggie Burger for Lunch
Getty Images/iStockphoto
Why This Lettuce Wrapped Veggie Burger Healthy:
This veggie burger is high in fiber and potassium thanks to the seeds, beans and prunes in the mix. One cup of prunes alone has 12 grams of fiber. A homemade veggie burger also ensures you cut out all the processed ingredients in a prepackaged burger.
Why It Works for Weight Loss:
Using lettuce instead of a bun cuts out the refined carbohydrates of the bread and you save 120 calories that would be in a burger bun. The veggie burger is made up of high fiber foods, which helps regulate your digestive system.
Lettuce Wrapped Veggie Burger
Serves 6
Total Time: 30 minutes
Ingredients
1/2 cup Prunes
 2 tbsp Ground Flax Seed
1 tbsp Avocado Oil
1/2 cup Red Onion (chopped)
2 Garlic (cloves, chopped)
1/4 cup Pumpkin Seeds (chopped)
2 1/2 cups Red Kidney Beans (cooked)
1 Carrot (grated )
1 tbsp Dried Basil
1 1/2 tsp Chili Powder
1 tbsp Sesame Seeds (for topping)
1 head Boston Lettuce
Instructions
Make a flax egg by mixing 1 tbsp flax seed with 3 tbsp of water. Add to bowl and leave in fridge for ~ 5 minutes.
In a blender, blend prunes with flax egg to make a purée.
In a fry pan, heat oil and cook onions and garlic for 2 mins. Add pumpkin seeds and cook for 1 more min.
In a large bowl mash beans with a potato masher.
Add remaining ingredients (except oil and sesame seeds) and combine thoroughly using a metal spoon.
Divide mixture and shape into 7- 8 patties.
Place sesame seeds in a small dish and place each pattie into dish coating each side; set aside.
On a hot oiled grill, cook burgers over medium heat for 4 to 5 minutes per side. Burgers should be crispy on the outside and cooked through. Wrap in lettuce and enjoy!
Nutrition: Calories 246; Fat 6g; Carbs 41g; Fiber 9g; Sugar 1g; Protein 10g; Cholesterol 0mg; Sodium 32mg; Vitamin A 2330IU; Vitamin C 3mg; Calcium 105mg; Iron 5mg