The Beet's Plant-Based Diet Recipe: Berry Baked Oatmeal for Breakfast
Getty Images/iStockphoto
Why This Berry Baked Oatmeal is Healthy:
Chia Seeds are a great source of Omega-3 fatty acids and combined with oats and berries make this breakfast rich in antioxidants.
Why It Works for Weight Loss:
Oatmeal leaves you satisfied longer, so you'll eat less and be full until lunch, due to the high fiber content. One cup of oatmeal has 4 grams of fiber.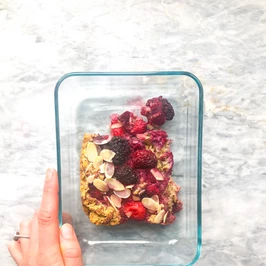 Berry Baked Oatmeal
Ingredients
2 cups Oats (quick or traditional)
2 cups Unsweetened Almond Milk
2 tbsp Maple Syrup
1/2 cup Unsweetened Applesauce
1 tsp Cinnamon
2 tbsp Chia Seeds
2 cups Frozen Berries
1/2 cup Vanilla Protein Powder
1/4 cup Sliced Almonds
Instructions
Preheat oven to 350oF (177oC). Grease a baking pan with avocado oil.
Add all ingredients except the sliced almonds to a mixing bowl and stir until thoroughly combined.
Transfer to baking pan and bake for about 45 minutes or until a toothpick comes out clean. Sprinkle with sliced almonds before serving. Enjoy!
Notes: 
Leftovers: Refrigerate in an air-tight container up to 3-5 days. Freeze if longer.
No applesauce: Use mashed banana instead.
No almonds: Replace with pecans, walnuts, pumpkin seeds or sunflower seeds.
Nutrition: Calories 374; Fat 11g ; Carbs 54g ; Fiber 11g; Sugar 17g; Protein 19g; Cholesterol 2mg; Sodium 104mg; Vitamin A 260IU; Vitamin C 20mg; Calcium 390mg; Iron 4mg