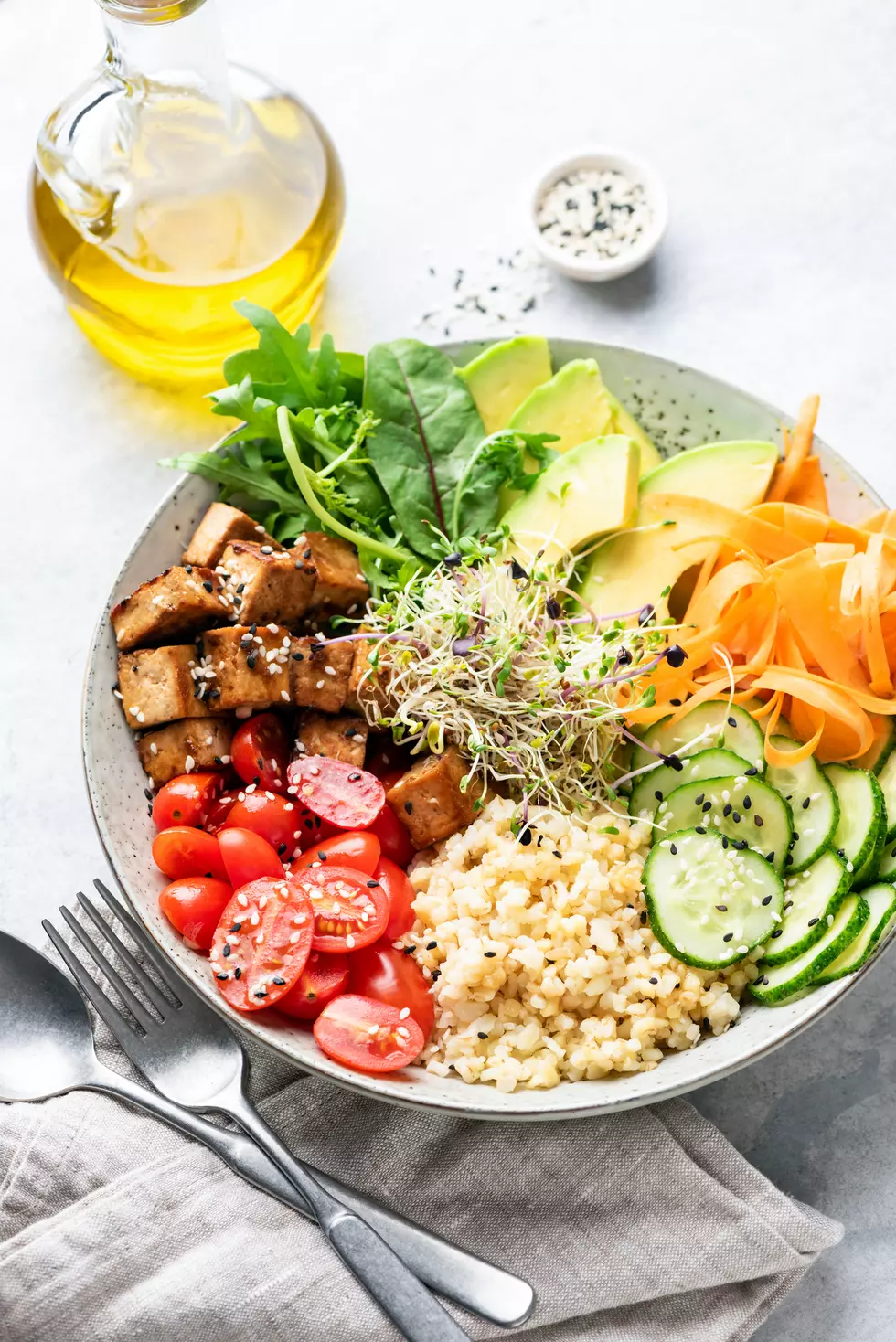 The Beet's Plant-Based Diet Recipe: Quinoa Tofu Burrito Bowl Recipe for Lunch or Dinner
Getty Images/iStockphoto
Why This Quinoa Tofu Burrito Bowl is Healthy:
Quinoa contains all nine essential amino acids. Tofu has more protein than beef for each 100 calorie serving. Tofu has 11 grams of protein per 100 calories and ground beef has 9 grams of protein per 100 calorie serving.
Why It Works for Weight Loss:
Quinoa is a gluten-free grain that has 8 grams of protein and 5 grams of fiber so you'll stay full longer.
Quinoa Tofu Burrito Bowl
Serves 1
Total Time: 35 Minutes
Ingredients
1/4 cup Quinoa (uncooked)
2 oz Tofu (extra firm, crumbled)
1 1/2 tsp Extra Virgin Olive Oil
1 1/4 tsp Chili Powder
3/4 tsp Cumin
1/2 tsp Oregano
1/2 tsp Garlic Powder
1/4 tsp Sea Salt
1/2 cup Organic Salsa (divided)
1 1/2 tsp Lime Juice
1/2 tsp Nutritional Yeast
1/2 Red Bell Pepper (sliced)
1/4 head Romaine Hearts (chopped)
1/2 cup Black Beans (cooked)
1/4 Avocado (diced)
Instructions
Cook quinoa according to package directions.
Meanwhile, in a dry non-stick skillet over medium heat add the crumbled tofu. Cook, stirring often, until just golden brown, about 8 to 10 minutes. Transfer the tofu to a dish and set aside.
Add the oil to the pan followed by the cooked quinoa, chili powder, cumin, oregano, garlic powder and salt. Stir to combine. Add to tofu and quinoa mixture.
Spread the quinoa and tofu mixture into a flat even layer in the pan and let caramelize for 3 to 4 minutes before stirring and flattening again until quinoa is slightly crispy. Season with additional salt or lime juice if needed. Transfer the quinoa mixture to a dish and set aside.
To assemble the burrito bowl, divide the quinoa mixture, red peppers, romaine, black beans, and avocado between bowls. Top with remaining salsa and enjoy!
Notes:
Leftovers: Refrigerate in an airtight container for up to five days. To keep avocado from browning, dice just before serving.
Additional Toppings: Add cilantro, sliced jalapenos, cheese, sour cream, diced tomatoes or lime wedges.
Nutrition: Calories 541; Fat 21g; Carbs 70g; Fiber 20g; Sugar 9g; Protein 25g; Cholesterol 0mg; Sodium 1631mg; Vitamin A 4189IU; Vitamin C 86mg; Calcium 292mg; Iron 8mg