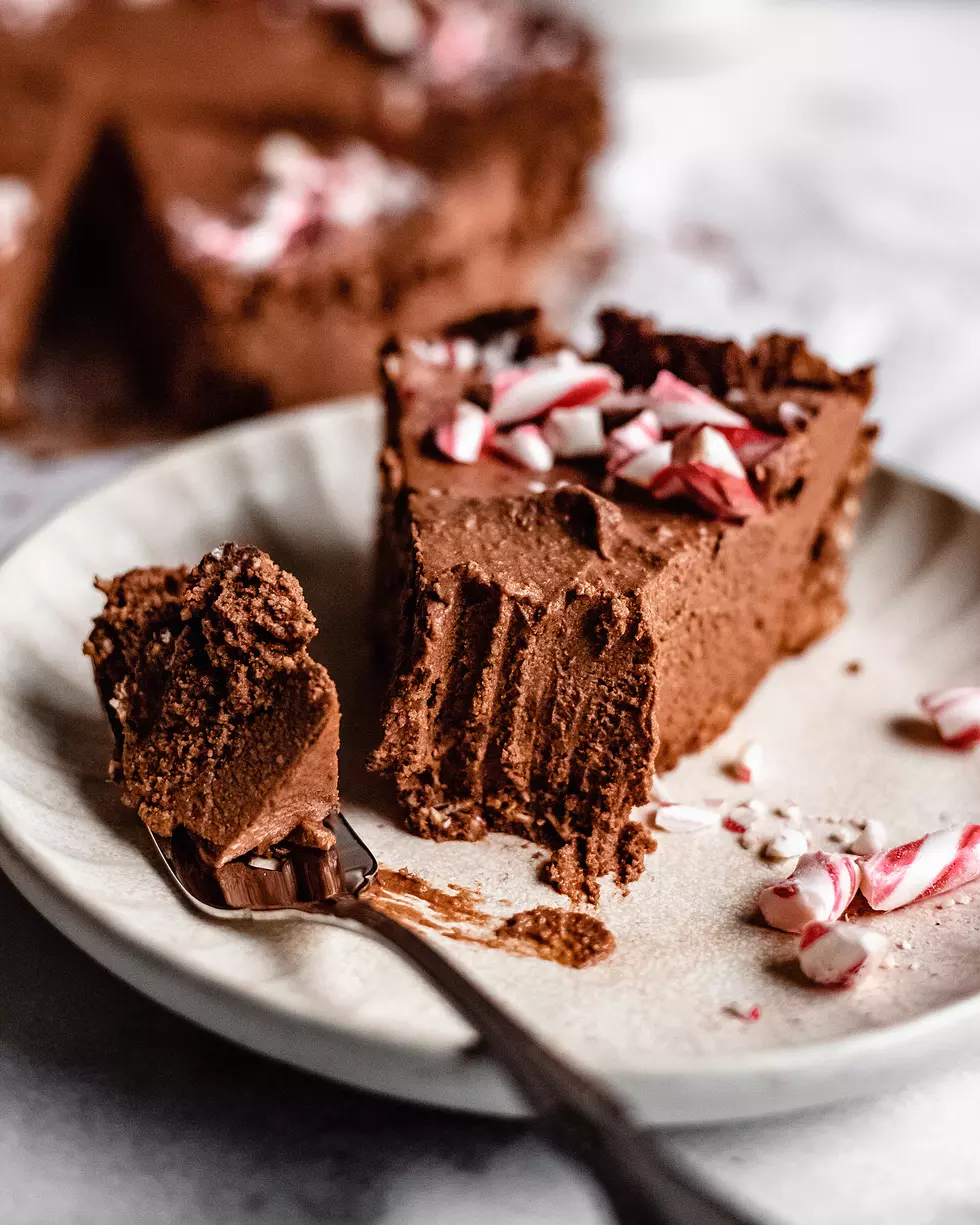 No-Bake, Vegan, Gluten-Free Chocolate Peppermint Cake
The holiday countdown has begun! Every day, for 25 days, we'll share a festive holiday recipe: A sweet dessert, like this no-bake vegan chocolate peppermint cake, or a savory side or festive appetizer – so you'll have the perfect dish to bring to all your holiday celebrations.
Drum roll, please: To kick off the first day is this chocolate peppermint cake recipe made by the talented vegan baker, Britt Berlin, also known as @the_bananadiaires.
The best part about this recipe is that there is no baking required. All you will need is 15 minutes to prep your cake and the rest of the time, the cake will chill in the fridge before it's ready for the first slice.
This festive recipe is completely vegan, gluten-free, and healthier than most traditional chocolate cake recipes because it's made with whole-food, natural ingredients. The crust is made with oats, dates, cacao powder, and nut milk, and the filling is made with raw cashews, coconut cream, cacao powder, lemon, and peppermint candies for a holiday garnish.
Stay tuned tomorrow for a savory side dish to complement this cake and complete your ultimate holiday menu with all the recipes that are coming soon.
Raw Vegan Chocolate Peppermint Cheesecake
Serves 10
Prep time: 15 minutes
Chill time: 120 minutes
Ingredients
Crust
1 cup pitted Medjool dates (soaked for 4–6 hours)
2 cups gluten-free rolled oats
3/4 cup cacao powder
1 tsp vanilla extract
1/4 tsp sea salt
1/3 cup coconut milk, nut milk, or water
Cheesecake Filling
2 cup raw cashews (soaked for 3+ hours)
1 cup coconut cream
1 cup cacao powder
½ cup vegan peppermint candies
1/2–1 large lemon (squeezed)
Instructions
Line an 8″ springform pan with parchment paper (trick: to get the parchment paper to stick, grease the cake pan first with coconut oil and then place the parchment paper on top).
In a large food processor, add in all of the crust ingredients and blend until it forms a sticky dough.
Press the dough into the bottom of the cake pan evenly. Set aside.
In a large food processor, pulse the cashews and coconut cream until smooth.
Add in cacao powder, peppermint candies, and lemon juice. Blend until smooth and creamy (there shouldn't be any clumps of cashews).
Pour cheesecake batter into the pan and place on an even surface in your freezer.
Freeze for at least 2 hours, or until set.
When removing from the freezer to slice, allow the vegan chocolate cheesecake to come to room temperature for 15-20 minutes. Use a knife to wedge between the crust and the sides of the pan, then remove the springform pan sides.
Serve with more crushed vegan peppermint candies and enjoy!
Nutritionals
Calories 377 | Total Fat 23g | Saturated Fat 10g | Sodium 57mg | Total Carbohydrate 42g | Dietary Fiber 6.9g | Total Sugars 14.9g | Protein 9.4g | Calcium 40mg | Iron 4mg | Potassium 364mg |