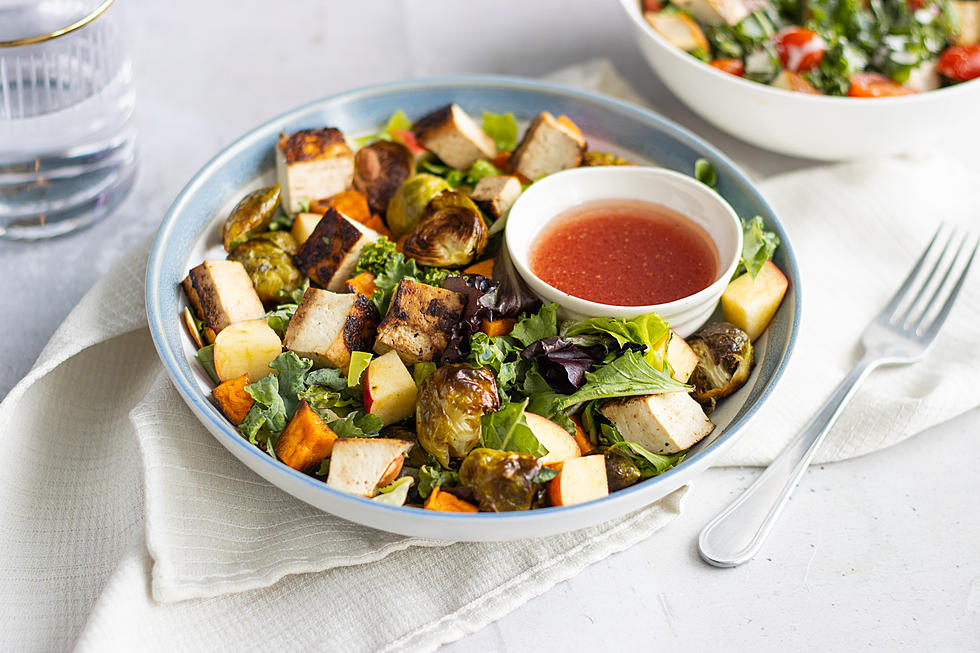 How to Make Sweetgreen's Chicken + Brussels Salad Vegan
Ask any salad lover for their favorite fast-casual chain restaurant, and Sweetgreen is bound to be in their top choices. Sweetgreen makes healthy eating so easy with the option for a custom salad or a signature salad like this "Chicken" + Brussels Salad which we made vegan, and extra healthy.
We took Sweetgreen's most popular salads and made them all meat-and-dairy-free by replacing chicken with roasted or blacked tofu (depending on the recipe) and dairy dressings or cheese with the plant-based alternative. For this recipe, the original ingredients call for mesclun, romaine, walnuts, apples, roasted sweet potato, roasted chicken, two roasted Brussels sprouts, and cranberry maple dressing. Our version adds blackened tofu into the equation and eliminates chicken. For the tofu, you will use soy sauce, avocado oil, maple syrup, liquid smoke, garlic, pepper, and salt to mimic the same taste and texture of the animal product.
In addition to this recipe, we also made Sweetgreen's Kale Caesar Salad and the Guacamole Greens Salad both vegan so make them at home and enjoy eating healthy, plant-based meals for lunch or dinner.
Vegan Chicken & Brussels Sprouts
Serves 2 
Ingredients
Cranberry Maple Vinaigrette
2 Tbsp Canned Cranberry Sauce
2 Tbsp Maple Syrup
2 Tbsp Apple Cider Vinegar
1 Tsp Dijon Mustard
¼ Tsp Salt
¼ Tsp Pepper
¼ Cup Extra Virgin Olive Oil
Roasted Brussels
½ Lb Brussel Sprouts, cut in half
2 Tbsp Avocado Oil
1 Tsp Salt
½ Tsp Pepper
Roasted Sweet Potato
2 Large Sweet Potatoes, peeled & cut into cubes
2 Tbsp Avocado Oil
1 Tsp Salt
½ Tsp Pepper
Blackened Tofu
1 Block Extra Firm Tofu
¼ Cup Soy Sauce
2 Tbsp Avocado Oil
1 Tbsp Maple Syrup
¼ Tsp Liquid Smoke
1 Tsp Garlic Powder
1 Tsp Pepper
½ tsp Salt
Salad
Spring Mix
Romaine Lettuce
1 Apple, cut into cubes
Sliced Almonds
Instructions
Preheat your oven to 425F and line a baking pan with parchment paper. Press your tofu. While the oven is preheating, prep your cranberry maple vinaigrette by adding each ingredient into a blender and blend until completely smooth. Set aside.
In a large bowl, add your cut in half Brussels sprouts with avocado oil, salt, and pepper. Toss until combined. Transfer to a baking pan leaving some room for the roasted sweet potato.
Add your peeled and cubed sweet potato to a bowl with oil, salt, and pepper. Toss until combined. Add on the baking pan with the Brussels sprouts. Bake in the oven for 30-40 minutes.
While veggies are baking, cook your tofu by adding the soy sauce, avocado oil, maple syrup, liquid smoke, garlic powder, pepper, and salt into a bowl. Mix until combined. Add your tofu and marinade into a shallow bowl and marinate for 10-15 minutes.
Grill in a pan over medium-high heat for 6-8 minutes on each side or until it slightly chars. Brush your tofu with extra marinade and cut it into thick slices.
Once your veggies are done roasting, let it cool down for 15-20 minutes before assembling your salad. Assemble your salad by adding your spring mix, romaine lettuce, cubed apples, sliced almonds, roasted Brussels, roasted sweet potatoes, and vinaigrette. Toss until combined, add your tofu and enjoy!
Nutritionals
Calories 661 | Total Fat 34g | Saturated Fat 5.1g | Sodium 4235mg | Total Carbohydrate 87g | Dietary Fiber 13.9g | Total Sugars 40.6g | Protein 13.6g | Calcium 176mg | Iron 5mg | Potassium 948mg