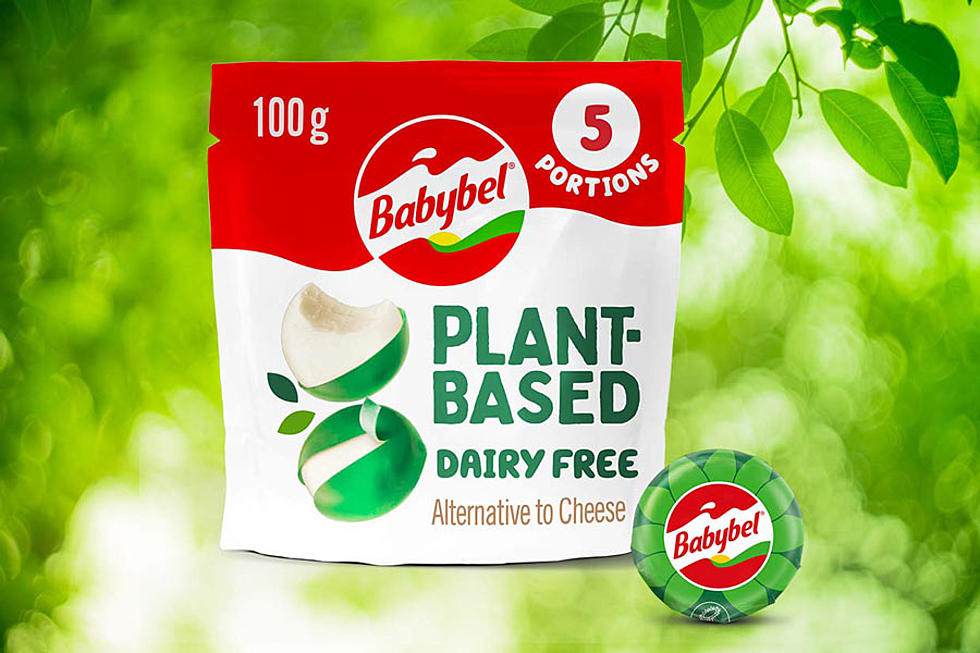 Babybel's Vegan Cheese Wheels Are Coming to the US Next Month
Babybel
Babybel's popular lunchbox-size cheese wheels are getting a plant-based makeover. The brand's new Babybel Plant-Based rounds will replicate the texture and flavor of the traditional mini-cheese wheels, giving consumers a dairy-free cheese option. Bel Brands – the company responsible for Babybel, Nurishh, and The Laughing Cow – just announced that it plans to develop its plant-based portfolio companywide, starting as soon as next month.
"At Bel Brands USA, we believe we can set the tone for the future of the cheese industry through a consumer and customer-centric approach to innovation that focuses on products that meet evolving demands, even as those demands continue to shift," Chief Marketing Officer at Bel Brands USA Shannon Maher said. "To get plant-based cheese right, you need to know what makes cheese cheese. And that's exactly what you've trusted us to do for over 150 years."
Babybel's signature red wax will be redesigned with a green coat, signaling the new dairy-free cheese's planet-friendly recipe. The certified vegan snack is meant to replicate the traditional mozzarella cheese and features a blend of starch and coconut oil, supplemented by vitamin B12 and calcium to maximize its nutritional value.
The iconic snack cheese will debut at US retailers in March, following closely after the products the UK release on January 1. The company's plant-based innovation is an effort to meet the changing consumer demands, which in recent years leaned towards plant-based foods. Approximately 53 percent of consumers in America have started incorporating plant-based products into their regular diets, motivating companies like Bel Brands to reinvent their dairy portfolios.
"It's no secret in the dairy industry that cheese is one of the most technically challenging spaces for dairy alternatives because of its complexity," Babybel Development Platform Manager at Bel Brands USA Katie Halgerson said. "And the plant-based cheese category has largely struggled to deliver offerings that are delicious, accessible, and meet consumers' expectations of cheese – until now. We're proud to give every cheese-lover an opportunity to enjoy the melty texture, creamy goodness, and rich mouthfeel of their favorite Bel cheeses, including expanding our line-up of product offerings to Babybel, bringing our delicious flavor and palm-sized playfulness to the plant-based world."
Reinventing Bel Brands' Portfolio
Babybel is certainly the most recognizable product from Bel Brands, but the company has been working to develop plant-based alternatives to its dairy selections for years. Bel Brands initially entered the dairy-free cheese space when it revealed an alternative to its iconic Boursin cheese spread. The Boursin Dairy-Free Cheese Spread Alternative debuted in late 2020, partnering with the vegan giant Follow Your Heart.
The cheese giant realized the potential of the dairy-free space, claiming that the widespread positive response to the Boursin cheese encourages its plant-based development across other brands. The company aims to recreate beloved products while meeting new standards of sustainability, health, and ethical implications.
"For many consumers, our products' iconic taste is a powerful memory back to their childhoods, and continues to be part of their snacking routine today, so taste and texture were hugely important as we developed dairy-free versions," Plant-Based Acceleration Director at Bel Brands USA Florian Decaux said to VegNews. "It was critical we delivered on that same creamy, delicious flavor our fans grew up with and continue to love today by holding the plant-based offerings to the same quality and taste standards as our dairy-based varieties."
Bel Brands' second most popular brand is The Laughing Cow, known for its spreadable cheese wedges. The company revealed alongside the Babybel launch that US consumers will not wait long before they can purchase a full dairy-free version of the iconic soft cheese wedges. The Laughing Cow Plant-Based is slated to hit retailers by 2023.
"The dairy-free snacking category is very limited when it comes to quality, spreadable cheese alternatives, and we're looking forward to offering consumers this option that provides the familiar taste from The Laughing Cow cheese," Decaux said. "For The Laughing Cow, developing the right creamy deliciousness and spreadability our fans expect from this brand has been a priority. We're spending a bit more time on this one, so you'll have to wait a little longer, but we know the wait will be worth it."
Bel Brands Bets On Plant-Based
Bel Brands is determined to enter the plant-based market by reinventing its signature products to appeal to the growing plant-based consumer base. But that is not enough. The cheese giant revealed its first dairy-free product line last year, Nurishh, and now plans to accelerate its product development. With the plant-based dairy market projected to hit $32 billion by 2031, Bel Brands intends on capitalizing on its growth.
"For nearly a decade, we've closely monitored the plant-based conversation and innovation, especially when involving dairy products, like cheese. We saw the changes in consumer behaviors, and more people shifting to follow an increasingly flexitarian diet and weaving plant-based products into their everyday lives," Decaux said. "Their demand highlighted what was missing, which quickly started our multi-phased approach across our portfolio to perfect the recipes we're rolling out now."
Nurishh's portfolio expansion will provide customers with plant-based cheese that exceeds across all categories. The company claims that its recipe development has perfected taste, texture, meltability, and more, breathing new life into the plant-based cheese category. The new spring products will include a Cream Cheese style spread, Cheddar cubes, Parmesan Shreds, Hot Pepper Slices, and cheese slice variety packs. Soon, Bel Brands will help stock the dairy-free shelves to a level that rivals the conventional dairy section.
The 12 Best Non-Dairy Coffee Creamers For That Real Cream Taste