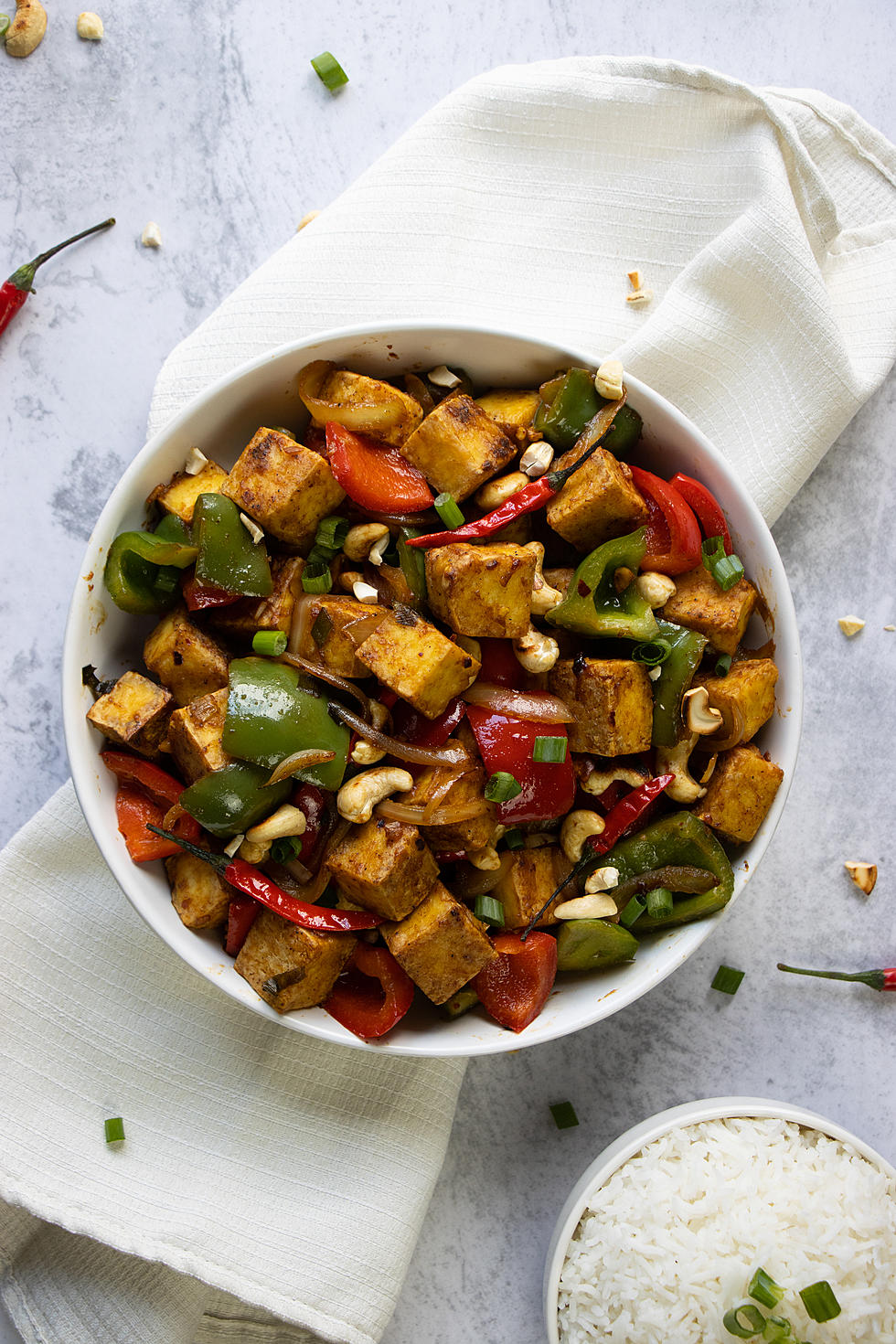 If you're craving a dish packed with veggies with a bit of a kick then we've got you covered with this Vegan Kung Pao Tofu. This is an easy recipe to make whether you want to make dinner for the whole family or meal prep dinner for the next few days. This recipe is loaded with veggies like bell peppers which are a great source of vitamin C, and tofu which is a great source of protein, calcium, and iron. For an even meatier texture to your tofu, try freezing your tofu overnight and then thawing it out a few hours before cooking. 
This recipe has three main components: Veggies, crispy baked tofu, and sauce. Having all of these prepared beforehand will make things a lot easier when it's time to cook. If you aren't a fan of baking your tofu, you can also fry these in the pan as well. If you're frying, just heat up 2-3 Tbsp of oil over medium heat and fry your tofu for 2-3 minutes on each side. Kung Pao Tofu usually has roasted peanuts in it, however, if you have a peanut allergy you can easily substitute cashews.
Prep Time: 10 Min
Cook Time: 25 Min
Total Time: 35 Min 
Servings: 4-5 People 
Mushroom & Kung Pao Tofu
Ingredients
2 Blocks Extra Firm Tofu (14oz)
2-3 Tbsp Avocado Oil

 

¼ Cup Cornstarch

 

1 Tsp Onion Powder
1 Tsp Garlic Powder

 

½ Tsp Salt

 

½ Tsp Pepper

 
For the Sauce
3 Tbsp Tamari or Soy Sauce
1 Tbsp Rice Wine Vinegar

 

1 Tbsp Sesame Oil

 

1 Tbsp Maple Syrup

 
For the Veggies
2 Bell Peppers Red and Green, chopped
1 Small Onion, sliced

 

2 Cloves Garlic, minced
1 Stalk of Green Onion, chopped
10 Chilli Peppers, whole
¼ Tsp Chilli Flakes

 

Pinch of Salt and Pepper to taste
¼ Cup Roasted Cashews
Instructions
Preheat your oven to 400F and line a baking tray with parchment paper. Drain and press your tofu to squeeze out as much water as you can. Cut into 1-inch cubes and set aside.
In a small bowl, add your cornstarch, onion powder, garlic powder, salt, and pepper. Whisk until combined. Add your tofu into a large bowl, and drizzle over 2-3 Tbsp of your oil. Mix it around until each tofu piece is coated in oil. Add your cornstarch mixture to your tofu and toss around until evenly coated.
Add your tofu onto your baking tray and bake in the oven for 20-24 minutes flipping your tofu halfway through.
While your tofu is baking, prep your sauce by adding each ingredient into a small bowl and giving it a whisk. Once the tofu is finished baking, remove it from the oven and set it aside along with the sauce.
Heat up about 2 Tbsp of oil in a large pan over medium heat. Once hot, add your bell peppers and onions and saute for 2-3 minutes. Add your garlic cloves, green onions, and chilli peppers, chilli flakes, salt, and pepper and continue to saute for another 2-3 minutes.
Add your sauce to the pan and continue to saute your veggies in the sauce for 2 minutes. Add your tofu pieces to the pan and stir them around until evenly mixed. Stir in your roasted cashews, serve with some rice, garnish with some extra green onions, and enjoy!