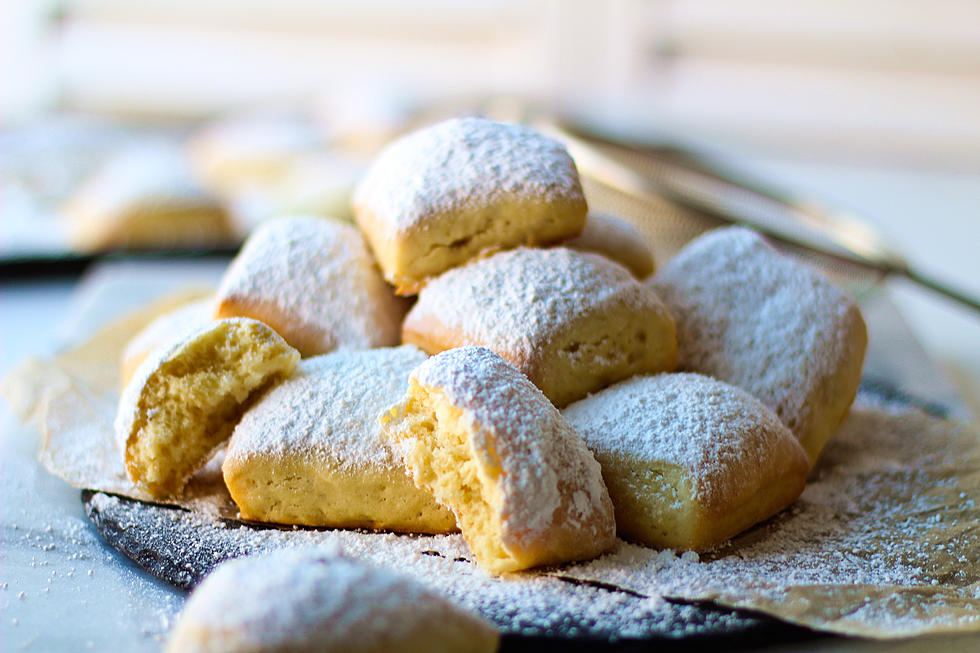 What We're Cooking This Weekend: Vegan Baked Beignets
Vegan Baked Beignets
There's no better way to celebrate Mardi Gras than with a batch of light, fluffy, and sweet beignets. Even if you don't celebrate Mardi Gras, you don't want to miss out on making these Vegan Baked Beignets. That's right, baked. Traditional Beignets are typically deep-fried, but baking is much easier! Not everyone has a deep fryer and deep-frying in a pot or pan can be too much of a task.
Now, because these are baked they won't be as rich as their deep-fried counterpart. But if you want to indulge in some deep-fried dough (I don't blame you if you do), then don't worry; I've got you covered! You can still use the same recipe to fry these up. If you are going to fry it, just be sure to do it batches and not all at once!
INGREDIENTS
¼ Cup Warm Water, 105F – 115F
1 Package of Active Dry Yeast
1 Tsp Granulated Sugar
1 Cup Non-Dairy Milk
1 Tbsp Apple Cider Vinegar
3 Cups All-Purpose Flour
½ Cup Granulated Sugar
1 ½ Tsp Baking Powder
½ Tsp Baking Soda
½ Tsp Salt
½ Cup Non-Dairy Butter, cold
¼ - ½ Cup Powdered Sugar
INSTRUCTIONS
In a bowl, add your warm water, dry yeast, and 1 tsp of sugar. Mix and set aside for 5 minutes to bloom your yeast. In a separate smaller bowl, whisk your non-dairy milk and apple cider vinegar together. Set aside.
In a large bowl, add your flour, ½ Cup sugar, baking powder, baking soda, and salt. Mix until evenly combined.
Add your cold vegan butter to the flour, and using a fork, pastry cutter, or your hands. Cut the butter in with flour until you get fine crumbs.
Pour your non-dairy milk/apple cider vinegar mix into the bowl with the yeast mixture. Stir until combined. Create well in your dry mixture and pour your wet mixture into the dry and mix using a rubber spatula or your hands.
Once a dough is formed, transfer your dough onto a floured surface. If your dough mixture is very sticky, lightly flour your dough and your hands. Knead your dough until it becomes smooth. Lightly oil a large bowl, transfer your dough into the bowl, and cover with a tea towel. Let it sit somewhere warm for 1 hour to let your dough rise.
Once your dough has risen for 1-hour, preheat your oven to 375F and line a baking tray with parchment paper.
Transfer your dough to a lightly floured surface and roll your dough out into a rough square about ½ inch thick. Don't worry; it doesn't have to be perfect! Using a pizza cutter cut your dough as evenly as possible into squares.
Transfer your dough squares onto the baking tray and bake for 10-12 minutes, or until golden brown. Feel free to brush on a bit of melted butter or non-dairy milk on top before baking to help it brown.
Remove your beignets from the oven and dust with powdered sugar. Enjoy while it's still fresh!
*** If you want to fry your beignets, fill up a pot or deep pan a few inches high and heat it up to 350F. Fry for 1-2 minutes on one side, flip it and fry again for 1-2 minutes. Transfer to a wire rack or a tray lined with a paper towel.***