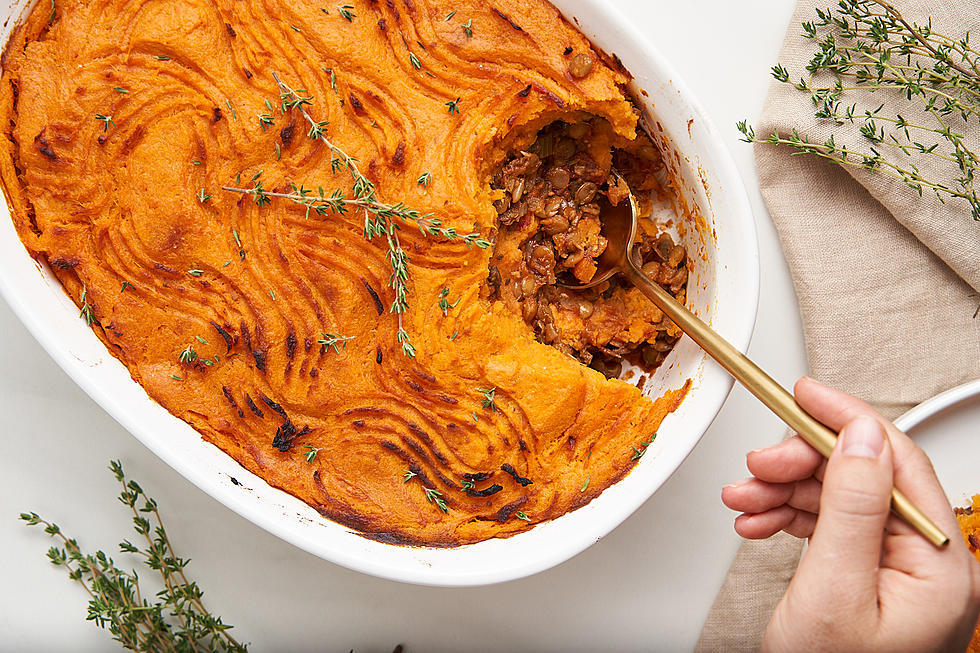 Vegan Sweet Potato Shepherd's Pie for Under $1 a Serving
This vibrant sweet potato and lentil Shepherd's pie is packed with hearty vegetables and savory spices like thyme and rosemary. It's guaranteed to fill your kitchen with warm and cozy aromas that will put you in a festive mood.
Lentils make the perfect plant-based protein source to use in this recipe, pairing well with vegetables like carrots, celery, mushrooms, and tomatoes. You'll already be thinking about seconds after your first bite!
If you need to feed a large crowd, look no further! This budget-friendly dish is ideal for all dietary preferences since it's dairy-free and can easily be made gluten-free.
Try incorporating more plants this holiday season to start reaping health benefits like disease prevention and memory protection. So, what do you say?
Prep time: 15 minutes
Cook time: 60 minutes
Total time: 75 minutes
Cost: $6.30 recipe | $0.78 serving
Vegan Sweet Potato Shepherd's Pie
Serves 8 
Ingredients
Mashed Sweet Potatoes:
2 ½ pounds (~3 large) sweet potatoes ($3.08)
¾ cup plant milk ($0.33)
2 teaspoons garlic powder ($0.04)
Salt & pepper to taste ($0.02)
¼ cup tasteless coconut oil or vegan butter (optional)
For the Filling:
1 ½ tablespoon olive oil ($0.17)
1 medium white onion, diced ($0.24)
6 cremini mushrooms, diced ($0.17)
3 small stalks celery, diced ($0.15)
2 large carrots, diced ($0.28)
3 cloves garlic, minced ($0.12)
3 tablespoons tamari ($0.54)
2 ½ tablespoons tomato paste ($0.20)
1 400-gram can diced tomatoes ($0.37)
1 ½ cups dry green or brown lentils, soaked overnight ($0.30)
3 cups vegetable broth, divided ($0.14)
1 bay leaf ($0.01)
1 tablespoon corn starch ($0.02)
2 teaspoons fresh rosemary, minced ($0.05)
2 teaspoons fresh thyme, minced ($0.05)
Salt & pepper to taste ($0.02)
Instructions
Mashed sweet potatoes
Bring a large stockpot of salted water to boil. In the meantime, peel your sweet potatoes and roughly chop them into 2 or 3-inch chunks. Once the water is boiling, add the potatoes in and simmer for 15-20 minutes, or until very tender when pierced with a knife.
Drain the potatoes and transfer them back into the pot. Add plant milk, garlic powder, salt, pepper, and vegan butter or tasteless coconut oil (optional for a richer texture).
Mash until smooth, adding more plant milk as needed. Taste and adjust seasonings to your liking.
For the filling
Heat olive oil in a very large skillet over medium. Add in diced onions, mushrooms, celery, and carrots, sautéing for 6-7 minutes to soften.
Next, add garlic, tamari, tomato paste, diced tomatoes, soaked lentils, 2 ¾ cups vegetable broth, and bay leaf. Stir to combine, then cover and lower the heat to simmer for 20 minutes.
In the meantime, preheat your oven to 400 degrees F. Combine 1 tablespoon cornstarch with the other ¼ cup vegetable broth. Finely mince the fresh thyme and rosemary.
When the lentils are tender, add in the cornstarch mixture, the fresh herbs, and salt and pepper to taste. Simmer for another couple of minutes, then transfer to a large casserole dish. A 9x13 is ideal, or you can divide the mixture between a few smaller oven-safe dishes.
Dollop the mashed sweet potatoes over the top, then spread out evenly. Use a fork to make divots and peaks in the potatoes for extra crispiness.
Bake uncovered for 20-25 minutes, or until the top is browned to your liking. To add even more crispy textures, turn your oven to broil for the last few minutes of baking.
Enjoy!
Notes
For an oil-free version, simply water-fry the vegetables and omit the vegan butter or coconut oil (you may have to add more plant milk to the potatoes).
If you forget to soak the lentils overnight, try par-cooking them before adding to the rest of the mixture. This recipe is meant to be made with green or brown lentils. If you only have red, the liquid ratios will need to be adjusted.
To make this recipe completely gluten-free, replace the tamari with a gluten-free brand or use liquid amino.
Nutrition: 1 of 8 servings
Calories 321| Total Fat 9.5 g | Saturated Fat 2.0 g | Cholesterol 0mg | Sodium 821 mg | Total Carbohydrates 49.1 g | Dietary Fiber 10.7 g | Total Sugars 10.6 g | Protein 12.3 g | Calcium 104.7 mg | Iron 3.8 mg | Potassium 760.3 mg |