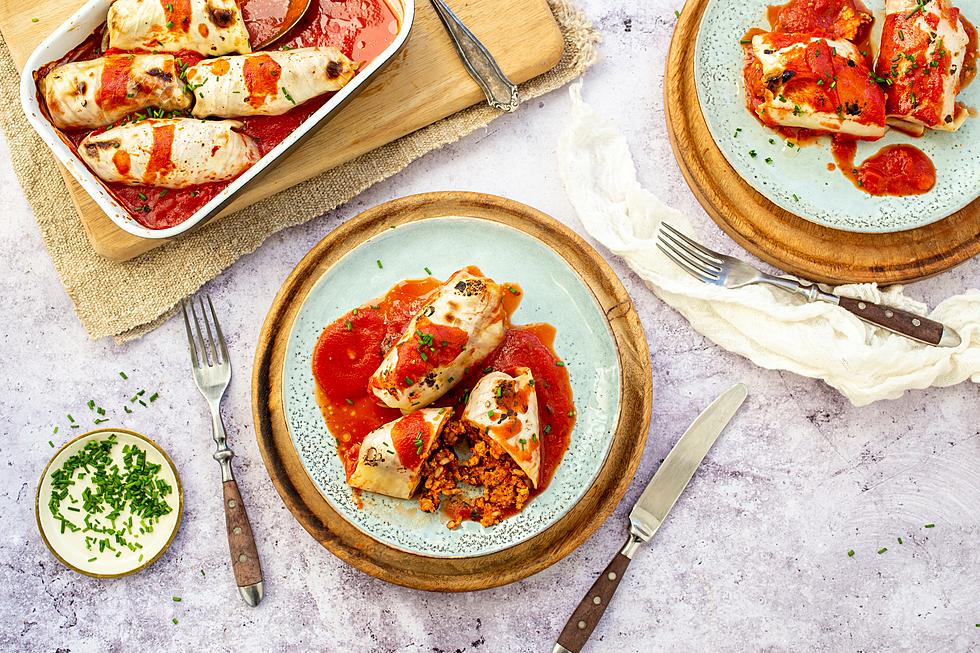 Vegan Stuffed Cabbage Rolls with Smoked Tofu
Cabbage rolls in various forms are very popular across Europe: They are usually stuffed with meat and grains and then are cooked, steamed, baked, or fried, and served with different sauces.
Luckily a plant-based version can be just as hearty and satiating as a traditional one. Our vegan cabbage rolls are stuffed with a flavorful mix of smoked tofu, kidney beans, tomato, rice, almonds, and lots of spices. Then they are baked until nice and crispy with some tomato sauce.
These cabbage rolls are very customizable, so don't be afraid of playing around with different ingredients and spicing.
For example, use quinoa or millet instead of rice, add mushrooms or eggplants, and swap lentils for kidney beans. Add turmeric, your favorite meat seasoning, hot sauce, soy sauce, vegan Worcestershire sauce, or red wine for extra flavor. And use savoy, red, or Napa cabbage instead of white cabbage, if you like a more exciting look.
Cabbage rolls are also freezer-friendly. Some actually even say cabbage rolls are getting better each time you reheat them. So feel free to make a large amount and then freeze for later.
Prep time: 35 minutes
Cook time: 5 + 20 + 45 minutes
Vegan Stuffed Cabbage Rolls with Smoked Tofu
Makes 10 rolls
Ingredients
1 head of cabbage
10 oz/280 g tomato sauce or marinara sauce
chopped fresh chives
For the filling:
1 tbsp vegetable oil
1 onion, diced
3 cloves of garlic, minced
5 oz/150 g smoked tofu, crumbled or grated
1/2 can of kidney beans, rinsed and drained
1 tbsp paprika puree
1 tbsp tomato puree
1 tsp sweet paprika powder
1/2 tsp oregano
1/2 tsp smoked paprika
1/4 tsp cumin
1/4 tsp chili powder (optional)
2-3 tbsp ground almonds or hazelnuts
1/2 can diced tomatoes
4.5 oz/125 g cooked brown rice
salt, pepper
Instructions
Heat up oil in a large skillet, then add onion, and sauté for 5 minutes, or until translucent. Add garlic, and tofu, and sauté for another 10 minutes, stirring occasionally.
Roughly mash bean with a fork, then add to tofu together with paprika and tomato puree, and spices. Cook on for 5 minutes together.
Add diced tomatoes and rice to the skillet, and stir everything well together. Cook for 5 minutes again, stirring occasionally. Stir in ground almonds or hazelnuts, and season with salt and pepper to taste. Set aside to cool until cold enough to handle.
Remove 10 leaves of the cabbage. Blanch cabbage leaves in boiling water for 2 to 3 minutes, then transfer immediately into ice water. If leaves are hard to remove from the cabbage, simply place the whole head in boiling water for 1-2 minutes, or until leaves come off easily.
Drain leaves and layout on a plate or board. Remove any thick stem on cabbage leaves with a knife.
Lay a cabbage leaf out on a work surface. Place a handful of filling on the base of the leaf, then roll up, tucking in sides. Repeat with the rest of the leaves and filling.
Pour 2/3 of the tomato sauce or marinara sauce into an oven-safe dish. Arrange cabbage rolls in the dish, seam side down, then pour remaining sauce on top. Cover with aluminum foil.
Bake cabbage rolls at 350F/180C for 30 minutes, then remove foil, and bake for another 15 minutes, or until tender and start to brown.
Serve cabbage rolls immediately sprinkled with fresh chives or parsley.
Nutritionals 
Calories 145 | Total Fat 3.7g | Saturated Fat 0.7g | Sodium 456mg | Total Carbohydrate 23.2g | Dietary Fiber 4.8g | Total Sugar 4.7g | Protein 6.5g | Calcium 55mg | Iron 2mg | Potassium 436mg
Want an even more budget-friendly version?
Skip the ground nuts and any spices you don't have on hand
Double or triple the recipe, and freeze the rest for later
Serve cabbage rolls with baked or mashed potatoes or rice
Looking for a very healthy version?
Make this dish oil-free by sautéing onion in a non-stock skillet without any oil
Instead of brown rice you can try millet, quinoa or buckwheat
Add some chopped greens to the filling for extra nutrients
Want to impress your guests with an especially indulgent version?
Chop up some wild mushrooms to sauté alongside onion and tofu.
Add a little red wine to your filling when cooking.
Vegan Worcestershire sauce, soy sauce, liquid smoke, or brown miso paste will give even more flavor as well.
Mix some grated vegan cheese into the filling, then sprinkle some over the rolls before baking too.
Serve cabbage rolls with vegan sour cream or thick coconut yogurt.