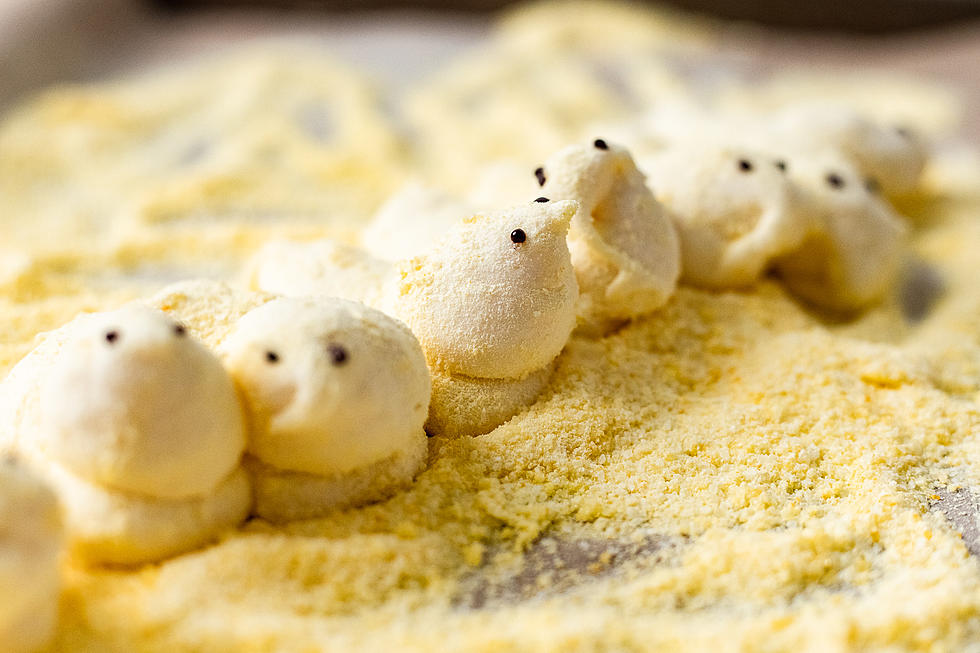 4-Ingredient Vegan Peeps That Taste and Look Just Like the Real Thing
Adding a package of peeps to your cart around Eastertime time feels like a tradition, but if you're following a vegan diet, flip over the package and check the ingredients label – the puffy, adorable chicks are not animal-free. Peeps are made with gelatin, an animal-based ingredient, but we have you covered with a totally vegan version.
This Easter, make your own peeps from scratch with that same festive feeling with this easy-to-make, four-ingredient recipe that calls for vegan marshmallows from the brand Dandies, or your favorite brand of choice. Dandies and other vegan marshmallows are made with soy protein, and look and feel just like your usual store-bought marshmallows, sans gelatin. Here's how to make sure your peeps are vegan and as sugary, chewy, and fluffy as you remembered.
Prep: 5 minutes
Cook: 10 minutes
Vegan Peeps
Makes 10 peeps
Ingredients
4 ounces vegan colored sparkling sugar, such as 365 Brand
1 large bag of vegan marshmallows, such as Dandies
3 tbsp water
¼ cup vegan chocolate, melted
Instructions
Prep: Line a baking sheet with parchment paper. Prepare a piping bag by snipping the tip of the bag.
Blend the sugar: Add the sugar to a food processor or blender, and blend until more finely granulated. Sprinkle onto the prepared baking sheet.
Melt the marshmallows: Pour the marshmallows and water into a medium saucepan, and heat on medium heat. Continue to stir the marshmallows with a silicone spatula or whisk for about 10 minutes until fully melted. Do not stop stirring, as stopping stirring may caramelize the marshmallows.
Pipe the marshmallow: Once melted, carefully fill a piping bag, being aware that the marshmallow will be very hot. You can use oven mitts or place the piping bag into a large jar and carefully spoon the melted marshmallows into the piping bag. Then pipe 8-10 1" tubes of marshmallow that connect to each other onto the sugared baking pan. Carefully pinch off the marshmallow. Then to make the head, pipe about ½" of the marshmallow vertically on top of the marshmallow tube towards the front. Gently curve the marshmallow tip towards the ground to create the beak. Repeat for the remaining marshmallows (it will be sticky!).
Cover the marshmallows: Quickly cover the marshmallows with the remaining sugar before the marshmallows fully set. Then allow the marshmallows to set for 10 minutes.
Pipe the eyes: use a toothpick or spoon the chocolate into a piping bag and snip the tiniest corner off of the bag. Pipe the eyes onto the peeps. Serve and enjoy!
Nutritionals 
Calories 99 | Total Fat 1.6g | Saturated Fat 1g | Cholesterol 0mg | Sodium 6mg | Total Carbohydrates 22.1g | Dietary Fiber 0 g | Total Sugars 16.2g | Protein 0.4g |