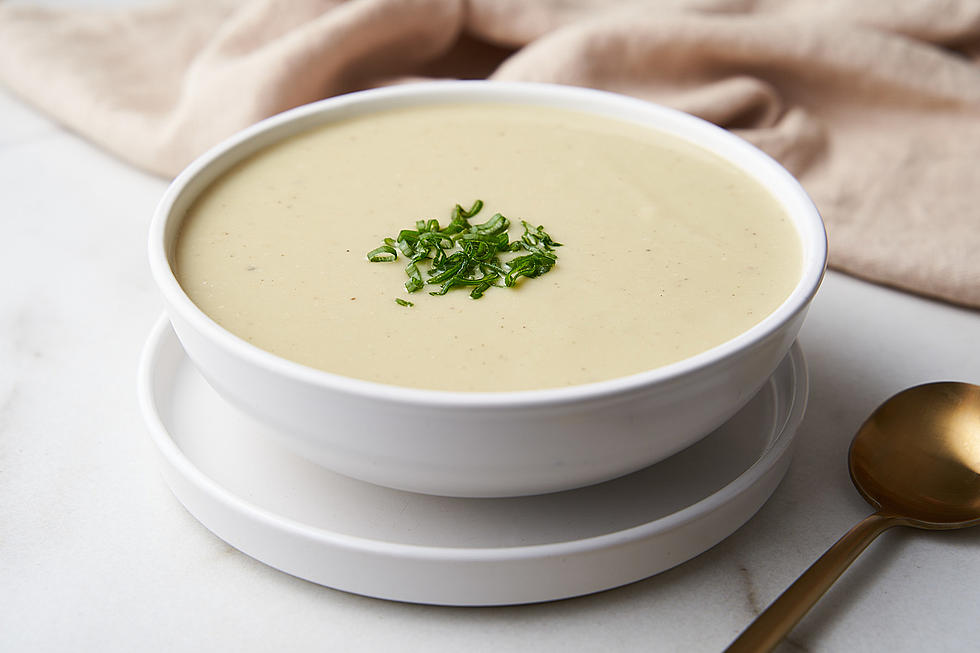 Creamy Dairy-Free Leek Soup for Under $1 a Serving
Broke Bank Vegan
Ready in under 45 minutes and requiring just 10 ingredients, this potato and leek soup is really going to hit the spot! It's naturally creamy (from potatoes and cashews), ultra-comforting, and extremely easy to make. Now that's a triple whammy!
Fresh leeks, crisp celery, and tender potatoes make up the bulk of the soup. Aromatics of thyme and garlic give each spoonful the perfect balance of earthiness and bite. Plus, your whole house will smell amazing as this soup simmers away.
Instead of replacing dairy-based cream with coconut milk, incorporate healthy unsaturated fats with cashew cream. You can rest assured, every silky-smooth bite will help protect your heart and lower your cholesterol at the same time!
Serve yours with fresh chives or green onions on top, croutons, or a hearty sandwich for more of a complete meal. While the weather is still chilly, warm up with a bowl of potato and leek soup!
Does Leek Soup Work for Weight Loss?
Read about the health benefits of leeks and whether they are a magical weight loss secret, and all the other reasons you should eat them – including to boost immunity.
Want to make this dip more budget-friendly?
Omit the cashews as the potatoes also provide a creamy texture.
Skip the vegetable broth and use water instead.
Save the dark green portions of the leeks to make your own vegetable broth.
Prep time: 15 minutes
Cook time: 30 minutes
Total time: 45 minutes
Cost: $3.96 recipe | $0.99 serving
Vegan Creamy Leek Soup
Serves 4
Ingredients
For the soup
1 tablespoon olive oil ($0.11)
2 large leeks, white and light green parts only ($1.82)
2 medium stalks celery, chopped ($0.10)
4 cloves garlic, minced ($0.16)
1 teaspoon thyme ($0.02)
1 teaspoon salt ($0.01)
½ teaspoon cracked black pepper ($0.01)
1 pound Yukon gold potatoes, peeled and cubed ($0.63)
6 cups vegetable broth ($0.23)
1 bay leaf ($0.01)
½ cup cashew cream (½ cup raw cashews blended with 1 cup water) ($0.86)
For serving optional
Sliced chives or green onions
Croutons
Instructions
First, slice the leeks in half lengthwise and thoroughly rinse each half, making sure to peel the layers apart to catch any dirt stuck in there.
Heat olive oil in a large stockpot over medium. Sauté the leeks and celery until tender, about 6-7 minutes (adjust the heat as needed so the vegetables don't brown).
Add in minced garlic, thyme, salt, and pepper, cooking for another 1-2 minutes, stirring frequently.
Add in the cubed potatoes, vegetable broth, and bay leaf, then bring to a light boil.
Lower the heat to simmer for ~20 minutes, or until the potatoes are tender.
In the meantime, make your cashew cream by blending soaked cashews with water until smooth and creamy.
Remove the bay leaf, then purée the soup either using an immersion blender or a stand-alone blender in batches. Transfer the soup back to the pot and mix in cashew cream. Simmer for another few minutes, then taste and adjust salt & pepper to your preference.
Notes
For a more rustic soup, leave the potatoes unpeeled and only blend ½-¾ of it.
The cashews should be soaked overnight in room temperature water, or for ~1 hour in boiled water.
Nutrition: 1 of 4 servings
Calories 327 | Total Fat 10.9g | Saturated Fat 1.8g | Cholesterol 0mg | Sodium 852mg | Total Carbohydrates 53.3g | Dietary Fiber 4.8g | Total Sugars 5.8g | Protein 9.1g | Calcium 85.4mg | Iron 4.0mg | Potassium 1240mg |