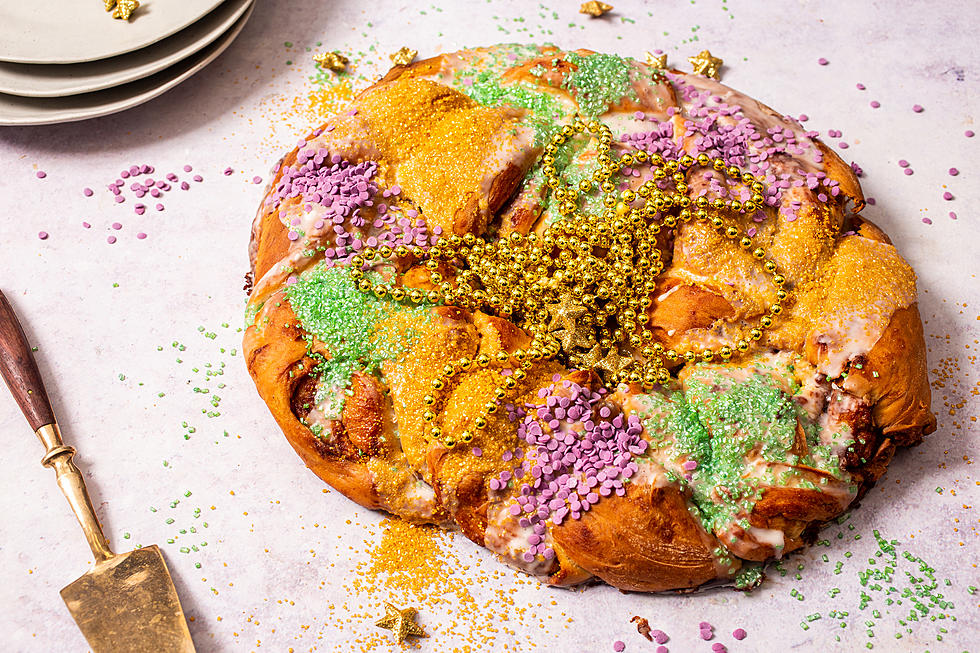 Vegan King Cake for Mardi Gras
Celebrate Mardi Gras with a colorful Vegan King Cake decorated with beads and sprinkles.
This King Cake is moist and tender, with a delicious cinnamon filling and sweet vanilla icing. Traditionally King Cake is made with butter, eggs, and milk, but our version is completely dairy-free and vegan.
This cake is easy to make with a few simple ingredients, however, it can take a while to make it (with proofing and cooling times), so it's best to prepare the cake the day before, then decorate it on the day of your party.
Don't forget to hide a little plastic baby inside your cake (or just decorate with it, to avoid any choking hazards)! Tradition says that whoever finds the baby will be brought luck and prosperity.
Options and variations:
Make smaller, individual cakes instead of a large one
For a super quick cheat version use store-bought pizza dough.
If you want a lighter and healthier version, swap half of the butter with more apple sauce. Also, experiment with different flours, such as whole wheat, rye, or your favorite gluten-free mix.
Add a little instant coffee and/or vanilla to your filling for extra flavor
Chopped nuts are also great additions to the filling
 Instead of butter, you can use homemade or store-bought vegan cream cheese for the filling as well.
For an extra fancy cake try 4 or 5 strands of braiding.
You can get creative with your colorful sprinkles if you want something healthier. Use chopped pistachio, crumbled dried kiwi, or spirulina for green; golden raisins, chopped dried apricots, turmeric, or apple chips for gold/yellow; and freeze-dried blueberries or beetroot chips for purple.
Prep time: 1 hour
Dough proofing: 1 hour 15 mins
Baking time: 30 mins
Vegan King Cake
Makes 1 cake
Ingredients
For the dough:
6 tbsp melted vegan butter
1.5 cups of lukewarm plant milk
1.5 tbsp sugar
1.5 tbsp instant dry yeast
3 tbsp apple sauce
4 cups of flour
For the filling:
1/2 cup vegan butter
1/4 cup apple sauce
3/4 cup brown sugar
3 tbsp cinnamon
For decorating:
1 cup of icing sugar (powdered sugar)
1/8 tsp vanilla
1 tbsp plant milk
Green, gold, and purple edible sprinkles (make sure they are vegan)
Instructions
Mix together butter, milk, sugar, and dry yeast in a large bowl. Let the yeast activate for 5-10 minutes.
Once the yeast starts to bubble, add apple sauce, and mix well. Start adding flour, 1/2 cup at a time, stirring to mix with a spatula as you go.
Transfer dough to a lightly floured surface, and knead for a few seconds.
Brush a bowl with oil, then place the dough into it. Cover with a kitchen towel, and place in a warm place for one hour, so it can rise.
For the filling mix together butter, apple sauce, sugar, and cinnamon.
Once the dough has doubled in size, punch it down gently, and divide it into 3 equal pieces.
Roll out a piece on a lightly floured surface into a large rectangle. Spread with 1/3 of the filling.
Roll up the dough from the long end into a large log. Repeat with the other two pieces of dough.
Press together the tops of the 3 logs, then braid the strips. Shape into a circle, and pinch the ends together.
Preheat oven to 350 F/180 C.
Place cake on a parchment paper-lined baking tray. Cover the dough with a kitchen towel until the oven preheats, about 10 minutes.
Bake cake for 25-30 minutes, or until golden brown. Let cool completely before decorating.
Once the cake has cooled down, mix together icing sugar, vanilla, and milk. Pour icing over the cake, then sprinkle immediately with edible sprinkles.