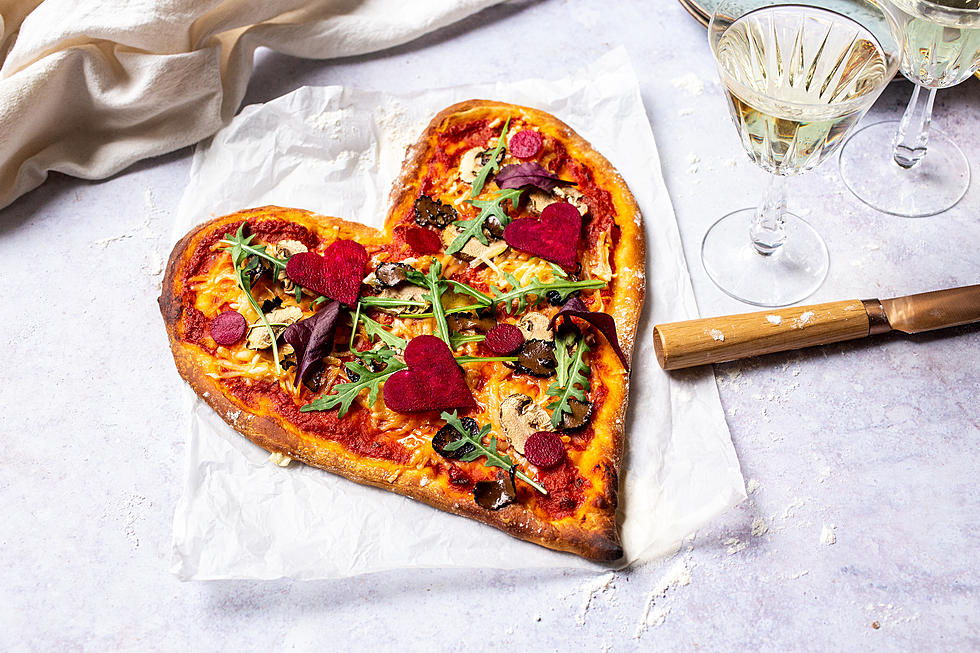 Vegan Heart-Shaped Pizza for National Pizza Day and Valentine's Day
This Valentine's Day pizza is the perfect food to share on a romantic night with its crispy, heart-shaped crust and cheese and truffle toppings. It's also a really fun recipe to prepare together with your S.O. if you like to cook together on a date night.
In addition to Valentine's Day, it just so happens to be that National Pizza Day is tomorrow Wednesday 2/9, so you can make this recipe on both occasions.
This pizza dough recipe is a foolproof one, and it's also totally customizable: You can use white, whole wheat, rye, or gluten-free flour here, and you can also add extra flavorings like chili, or fresh and dried herbs. This dough tastes best when it's really thin and crispy, but this recipe also works for a thicker crust, if that's what you prefer.
As with any pizza, you can choose whatever toppings you like. This cheese, truffle, fresh arugula, and mushroom version is a highly recommended combo to try.
For an extra cute finishing touch, cut out little hearts of thinly sliced beetroots or carrots, and top your pizza straight out of the oven with these.
On a budget this Valentine's Day?
You can use store-bought pizza dough for a quick and easy version
Use truffle oil instead of truffles for a cheaper flavor bomb
Or skip the truffle part altogether
Choose whatever toppings you like. Seasonal veggies will be always the most affordable options
Would prefer a healthier meal?
Instead of white flour choose whole wheat, rye, spelt, or a gluten-free flour
Or make your crust out of cauliflower, broccoli, or beet
Load your pizza with extra veggies
Serve it with a bowl of mixed greens
Want to take your pizza to the next level?
If you have a pizza oven (or at least a pizza stone), use that for the most amazing result
Make your pizza extra indulgent with lots of vegan cheese. Combine vegan blue cheese, feta, and parmesan for a truly amazing flavor.
Pine nuts, vegan chicken, fresh figs, chili threads, or microgreens are all delicious and pretty extras to add to your pizza.
Take your time and arrange your pizza toppings in a cute shape, or cut them into small hearts.
Serve your pizza with a good Chardonnay or Champagne
Prep time: 15 mins
Proofing time: 30 mins
Cook time: 20 mins
Valentine's Day Truffle Pizza
Serves 2 (large portions)
Pizza dough:
1 cup/5.3 oz/150 g whole wheat flour
1.5 tsp instant yeast
1/2 tsp garlic powder
1/2 tsp onion powder
1/2 tsp salt
1 tbsp oil
~1/3 cup lukewarm water
Sauce:
4 tbsp marinara sauce
1/2 tsp dry basil or oregano
or
3 tbsp tomato paste
1/2 tsp olive oil
1/2 tsp dry basil or oregano
salt, pepper
Toppings:
3 tbsp grated vegan cheese
2 button mushrooms, thinly sliced
2 tsp fresh or preserved truffle slices
A handful of fresh arugula and/or basil leaves
Instructions
In a bowl mix together flour, yeast, garlic and onion powder, and salt. Add oil, and water.
Stir with a fork to combine, then using your hands knead the dough a few times to form a smooth dough. Cover and let rise for about 30 minutes.
Preheat oven to 425 F/220 C.
On a floured surface roll out dough into a large pizza. Using your hands gently push the edges to shape it into a heart. Alternatively cut out a heart shape, then shape the edges a little.
In a bowl mix together tomato sauce ingredients. Add a couple of tablespoons of water to thin the sauce.
Spread pizza with sauce, then top with vegan cheese, mushrooms and truffle slices.
Place pizza on a baking tray, and bake for 20 minutes, or until cheese is bubbly and dough is golden.
Top with fresh arugula and/or basil.
Nutritionals 
Calories 405 | Total Fat 10.5g | Saturated Fat 1.4g | Cholesterol 1mg | Sodium 960mg | Total Carbohydrate 66mg | Dietary Fiber 4.6g | Total Sugars 3.8g | Protein 11.1g | Vitamin D 65mcg | Calcium 47mg | Iron 5mg | Potassium 329mg