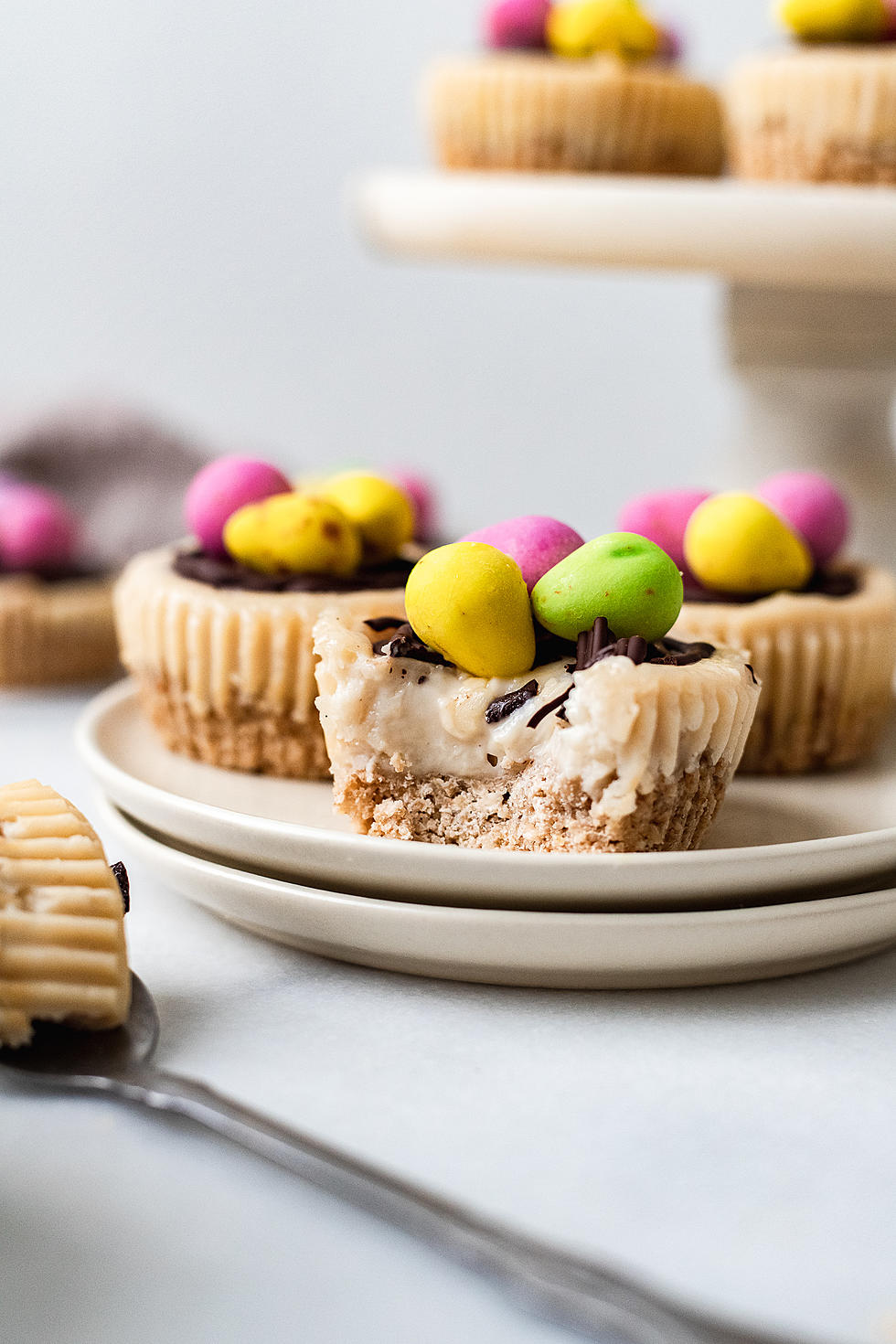 Vegan Gluten-Free Mini Cheesecakes for Easter
Britt Berlin
The perfect bite-sized dessert for Easter doesn't exist...until now.
These vegan and gluten-free mini cheesecakes are prepared in under 10 minutes and only take 25 minutes to bake. Many of the ingredients are pantry staples you're likely to already have on hand, like oats, cinnamon, maple syrup, vanilla extract, cornstarch, and dairy-free milk. The rest are easy to find at your local supermarket or online grocer.
You'll make these cheesecakes in mini cupcake tins with liners and prepare the crust in a food processor. Decorate these tiny treats with small vegan chocolate eggs made by a brand like Doisy & Dam's and serve them on a tray at your Easter brunch – don't forget to snap a pic!
Prep: 10 minutes
Bake: 25 minutes
Vegan Gluten-Free Mini Cheesecakes
Serves 12
Ingredients
2 cups (210 g) of oats
2 tsp ground cinnamon
1/3 cup (80 g) melted vegan butter or coconut oil
2 tbsp maple syrup
1 tsp vanilla extract
8 ounces (225 g) vegan cream cheese, room temperature
8 ounces (225 g) of dairy-free vanilla yogurt, room temperature
¼ cup (50 mL) dairy-free milk, room temperature
1/2 cup (50 g) organic granulated sugar
3 tbsp (24 g) cornstarch or arrowroot starch
1 tbsp vanilla
Vegan chocolate + mini vegan eggs for decoration
Instructions
Prep: Preheat the oven to 350F. Line a 12-muffin tin with cupcakes liners. Measure out all ingredients.
Make the crust: In a food processor, pulse the oats and cinnamon together until the oats resemble fine flour. Then add in the melted vegan butter or coconut oil, maple syrup, and vanilla extract, and pulse again until a sticky dough forms.
Fill the cupcake liners: Press about 1-1.5 tbsp of dough into the bottom of each cupcake liner.
Make the filling: In a food processor, blend together the vegan cream cheese, dairy-free yogurt, dairy-free milk, sugar, cornstarch, and vanilla. Blend until smooth.
Top the cheesecake crusts: Pour the filling just before the top of the cupcake liners, leaving about ⅛" of room to the top of the liner. Fill each liner.
Bake the cheesecakes: Place the mini cheesecakes into the oven to bake for 23-25 minutes, or until the middle of the cheesecakes is set. They will wiggle a little bit, but they shouldn't feel delicate nor wobble like jello.
Cool: Cool the cheesecakes at room temperature in their pan for 10 minutes, then place them into the fridge to completely set for 3-4 hours.
Serve: Melt the chocolate and swirl a circle of chocolate onto each cheesecake top like a nest. Place mini vegan easter eggs, like Doisy & Dam's, onto each cheesecake and serve!
Nutritionals 
Calories 242 | Total Fat 14.6g | Saturated Fat 9.5g | Cholesterol 0mg | Sodium 93mg | Total Carbohydrate 25.4g | Dietary Fiber 2g | Total Sugars 12.7g | Protein 3.4g | Calcium 66mg | Iron 1mg | Potassium 72mg |