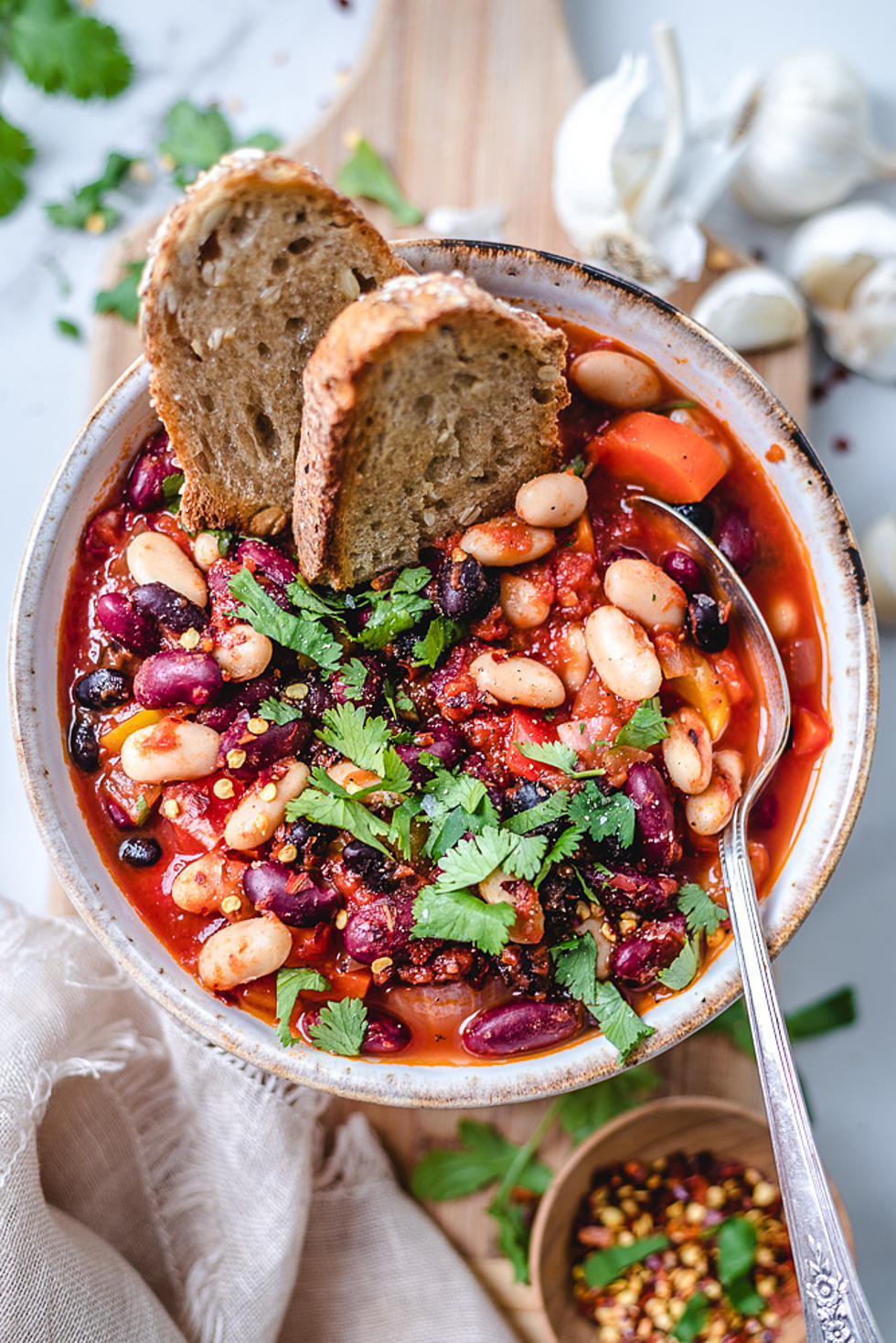 Spicy Three-Bean Chili With Tortilla Chips
@twospoons.ca
If you're looking for the best vegan chili recipe then you've come to the right place. This vegan chili is easy to make, healthy and wholesome. It's packed with protein using 3-beans: white beans, kidney and black beans. Needless to say, it's a hearty dish that you can enjoy for a quick dinner.
Best of all, this recipe is quick to make. You can have a piping hot dinner for six in just 40 minutes, with little work involved! It's flavor-rich and satiating. And makes for a great meal prep dish to enjoy throughout the week. Simply reheat and eat.
Vegan Three-Bean Chili
Prep Time: 10 minutes
Cook Time: 30 minutes
Total Time: 40 minutes
Servings 6 people
Ingredients
1 yellow onion diced
3 cloves garlic finely chopped
2 cups carrots chopped (about 3 carrots)
1 tbsp coconut oil
1/2 tsp sea salt
1 red bell pepper chopped
1 yellow bell pepper chopped
1 can kidney beans (400 ml)
1 can white beans (400 ml)
1 can black beans (400 ml)
2 can diced tomatoes (400 ml each)
2 cups water
1 tsp cayenne pepper flakes
1 tsp cumin
1 tsp paprika
1 tbsp lemon juice
pinch sea salt
Instructions
In a large pot add onion, garlic, carrots, coconut oil and sea salt. Bring to medium heat and cook to soften (10 mins). Add bell peppers and continue cooking to soften (10 more minutes).
Open canned beans, strain and rinse well. Add beans to pot with canned tomatoes and water. Stir to combine. Bring to a low simmer, then spice chili with cayenne pepper flakes, cumin, and paprika.
Add lemon juice and sea salt to taste. Serve chili in bowls with bread, tortilla chips or scooped onto rice.
Nutrition Notes: Nutrition information is a rough estimate.
Calories: 199kcal | Carbohydrates: 35g | Protein: 10g | Fat: 3g | Saturated Fat: 2g | Sodium: 247mg | Potassium: 913mg | Fiber: 10g | Sugar: 7g | Vitamin A: 8252IU | Vitamin C: 80mg | Calcium: 120mg | Iron: 4mg