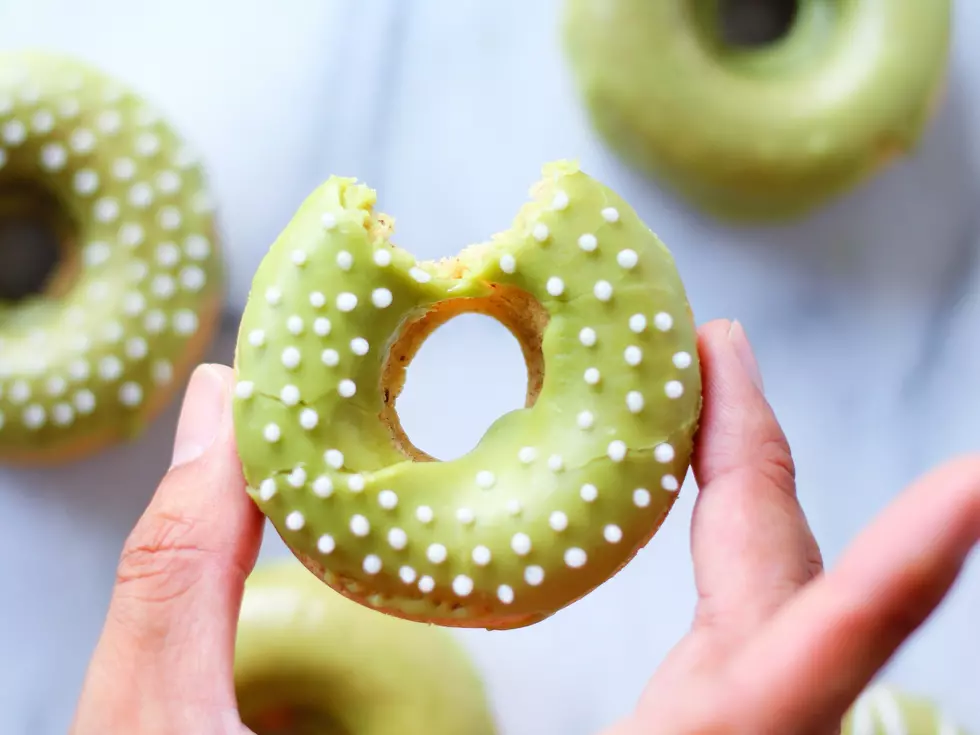 Step Up Your Dessert Game with Matcha-Glazed Vegan Donuts
What We're Cooking This Weekend: Matcha-Glazed Vegan Donuts
FROM: The Little Almond @the_little_almond
THE TREAT: Matcha Glazed Donuts
WHY WE LOVE IT: If you're a matcha tea lover, we turned your drink into a dessert! They taste incredible and are healthier than your average donut, so instead of "do-nut" eat these, you should enjoy every bite.
TOTAL TIME: Prep: 10 minutes, Cook: 15 minutes, To Cool: 25 minutes
TOTAL INGREDIENTS: 7 plus water
MAKE IT FOR: A breakfast treat or a hostess snack for Sunday morning brunch.
SPECIAL NOTE: You can buy matcha powder at any health food store, and it's a little on the expensive side, but well worth it! 
(If you need to start prep the day before or order ingredients online, we will let you know that here. Otherwise, assume the dish can be shopped, prepped and served the same day with readily available ingredients.)
INGREDIENTS:
Dry
1

Cup

All-Purpose Flour

(Can sub for gluten-free flour)

1/3

Cup

Sugar

1 1/2

Tsp

Baking Powder

1/4

Tsp

Cinnamon

1/4

Tsp

Salt
Wet
1/2

Cup

Non-Dairy Milk

1/2

Tsp

Apple Cider Vinegar

1/2

Tsp

Vanilla Extract

1/4

Cup

Vegan Butter

melted

1

Flax Egg

(1 Tbsp ground Flax Seed + 3 Tbsp Water)
Matcha Glaze
1 1/2

Cup

Vegan Powder Sugar

1-2

Tsp

Matcha Powder

2-3

Tbsp

Hot Water
INSTRUCTIONS:
Pre-heat oven to 350F. Grease your donut tray with oil or vegan butter.
In a medium-sized bowl, combine all your dry ingredients together. In a separate large bowl, mix all your wet ingredients together.
Stir in your wet ingredients with the dry ingredients until combined. Do not over mix.
Transfer your donut mixture into a piping bag or a Ziploc bag with the corner cut off.
Pipe the mixture into your greased donut tray, 3/4 full. Bake in the oven for 18-20 minutes.
Let donuts cool for 5 minutes before removing from the tray. Let it cool fully on a wire rack.
While donuts are cooling, prepare the matcha glaze by mixing the icing sugar with the matcha powder. Mix in 1 Tbsp of water at a time until you get a thick icing.
Once the donuts are fully cooled, dip your donuts into your matcha icing and place back on the wire rack. Wait 10-15 minutes until the matcha glaze is set.
Optional: Decorate your donuts with sprinkles or white icing by mixing 1/2 cup icing sugar with 1-2 tsp of water.
Check out this recipe by The Little Almond here.