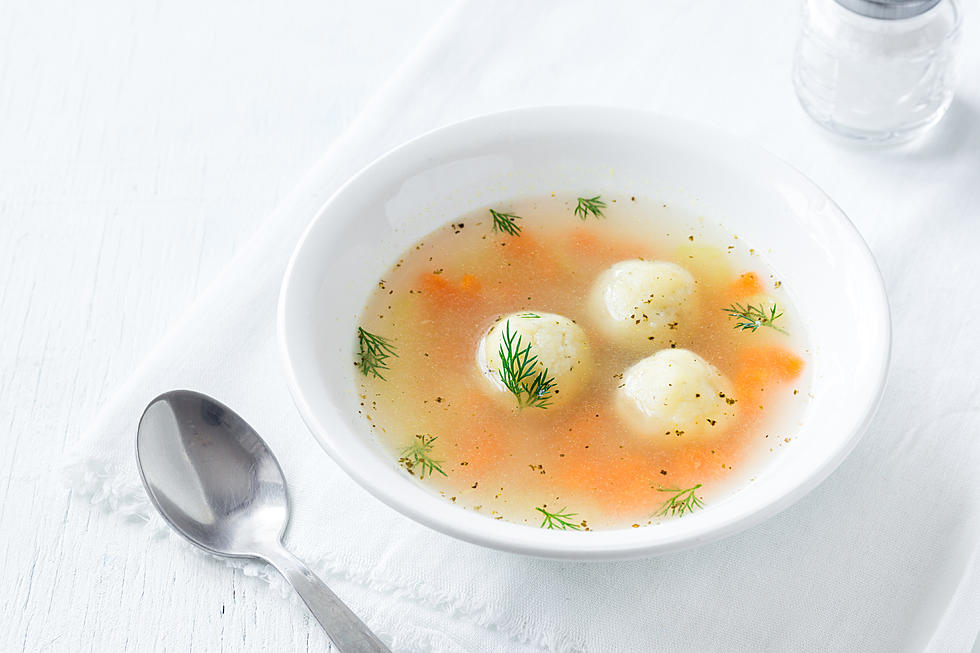 Vegan Hanukkah Recipe: Meatless Matzo Ball Soup
Getty Images/iStockphoto
Passover is here and even if you're eating more plant-based, you can still enjoy traditional Passover recipes. This Matzo Ball Soup is a vegan version of the classic recipe with simple ingredients and an amazingly healthy taste. This soup is very satisfying and surprisingly filling because of the Matzo Balls. It does take some time, a little over an hour, so plan ahead when making this recipe. We promise: It's worth it.
So, what exactly is Matzo? (You can also spell it Matzah.) Think of a large dense crispy sheet of toasted flatbread. It represents the unleavened bread the Jews ate while fleeing Egypt in a hurry to get to freedom, and it plays a central role in the Passover Seder. When making Passover recipes, since Jews don't eat leavened bread for the eight days of Passover, any recipes that would otherwise call for flour, instead you can grind up Matzo into a Matzo meal, which is what we're going to be doing here to make our soup. We'll be taking the blank canvas of the flatbread sheets and turning them into delicious, soft, flavorful Matzo Balls.
Matzo Ball Soup
Ingredients
Matzo Balls
1 Cup Matzo Meal, blend up some flatbread to turn it into a meal
2 Tbsp Chickpea Flour
3 Tbsp Tapioca Starch
1 Tbsp Fresh Dill, chopped
½ Tsp Salt
¼ Tsp Pepper
¾ Cup Plain Non-Dairy Milk, unsweetened
¼ Cup Neutral Oil of choice
Soup
2 Tbsp Oil to cook
½ Medium Onion, diced
2 Medium Carrots, diced
3 Cloves Garlic, minced
5 Litres Veggie Broth
1 Cup Frozen Peas, thawed
⅓ Cup Fresh Dill, chopped
Salt & Pepper to taste
Instructions
In a medium-sized bowl, mix together all your ingredients except for the non-dairy milk and oil. Mix until evenly combined. Add your non-dairy milk and oil to the dry ingredients and mix until combined. Cover with plastic wrap and store in the fridge for 30 minutes. It's okay if it seems a little liquidy, moisture will be absorbed by the dry ingredients.
While the Matzo mixture is in the fridge start making your soup. In a large pot overheat up your oil over medium-high heat. Add your onions and carrots, and cook for 5 minutes. Use a wooden spoon to keep your ingredients moving. Add your minced garlic and cook for another minute.
Add your veggie broth and bring it to a boil then down to a simmer. Grab your matzo mixture and, using a spoon, make 1-inch balls and carefully add them to the simmering soup. It's okay if they seem small, they will expand!
Once all the matzo balls are in the soup, continue to simmer uncovered for 45 minutes. Leave it alone and do not stir!
Once it's finished stirring, add in your peas and continue to simmer for 1 minute. Add your dill, salt, and pepper. Taste to adjust for any seasonings. Serve right away and enjoy!
Nutritionals 
Calories 434 | Total Fat 21.6g | Saturated Fat 2.1g | Sodium 926mg | Total Carbohydrate 53g | Dietary Fiber 7g | Total Sugars 10.5g | Protein 7.7g | Calcium 136mg | Iron 2mg | Potassium 276mg |