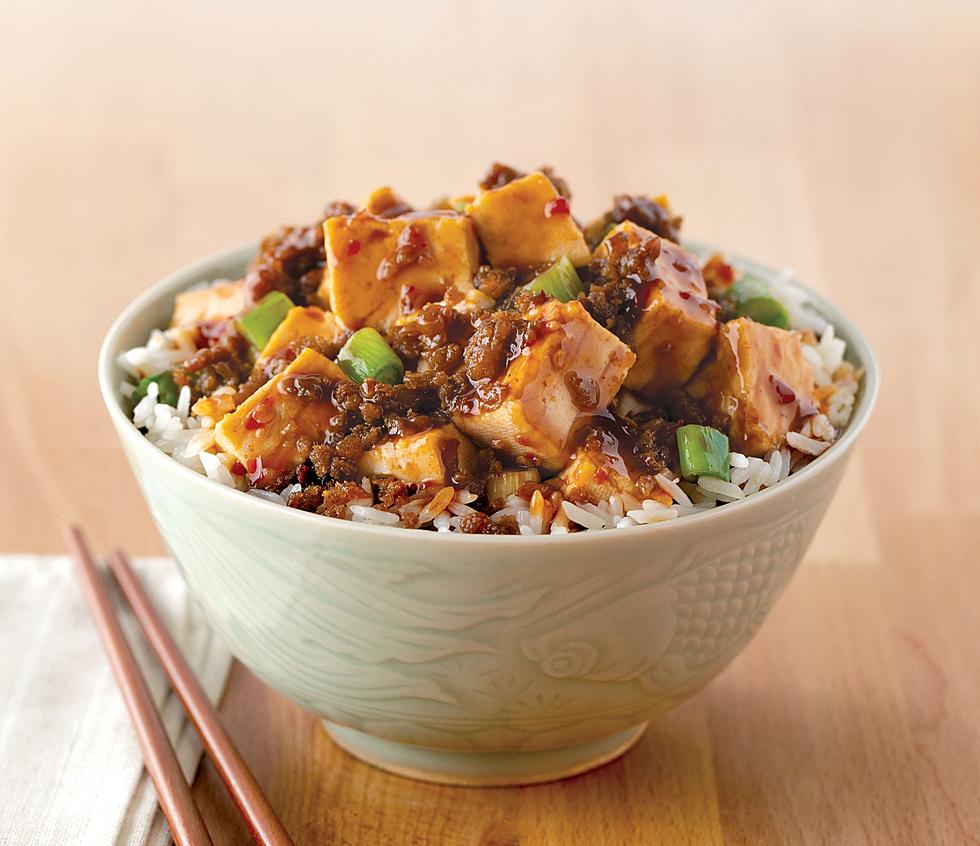 Panda Express is Testing Two New Plant-Based Dishes With Beyond Beef
Panda Express
Panda Express saw firsthand just how hungry customers are for meatless options when it debuted its Beyond the Original Orange Chicken. Following the sell-out success, Panda Express and Beyond Meat doubled down on their partnership, seeking to release new alternative protein dishes. Now, the fast-casual American-Chinese chain just launched two new plant-based dishes for a limited-time trial run at its Panda Express Innovation Kitchen in Pasadena, California.
The two experimental menu items include the Mapo Tofu with Beyond Beef and the String Beans with Beyond Beef. Whereas the company's inaugural plant-based protein dish featured Beyond's signature chicken product, Panda Express is now testing how customers respond to the plant-based beef products. The two new menu items will be available starting January 26 until February 23.
Both dishes will feature Beyond's iconic plant-based beef, sourced from peas and brown rice. The soy-, gluten-, meat-, and GMO-free protein boasts a versatile cookability, allowing Panda Express to easily incorporate it into signature dishes. The Mapo Tofu will contain Beyond beef and firm tofu tossed in a spicy Sichuan garlic sauce. The tofu dish will replace the company's second most ordered tofu dish – the first most popular being the Eggplant Tofu.
For the String Beans entree, Panda Express is developing a completely new veggie dish for customers. The plant-based menu item features hand-cut string beans alongside the Beyond Beef pieces, cooked in a savory garlic sauce. The company suggests pairing the string bean dish with Panda Express' signature Eggplant Tofu or Chow Mein.
"We're continuously looking for ways to innovate and provide new offerings to our guests and our Panda Express Innovation Kitchen serves as a living laboratory for exploring new menu items," Executive Director of Culinary Innovation at Panda Express Chef Jimmy Wang, told The Beet. "Beyond the Original Orange Chicken was one of our most successful regional launches ever, and we are thrilled to be working with Beyond Meat to diversify our plant-based offerings with these new dishes incorporating Beyond Beef."
Panda Express Goes Plant-Based
Panda Express' menu already features several plant-based items including the Chow Mein, Super Greens, and specialty Eggplant Tofu, but the partnership with Beyond brings the fast-casual chain into a brand new category. The company initially released the Beyond The Original Orange Chicken at locations in New York City and California, selling out almost immediately.
The new menu item then became available at 70 locations nationwide, bringing customers a vegan alternative to the company's highest-selling menu item since 1987. Customers can find the vegan chicken at select locations in California, New York, Illinois, Georgia, Texas, Florida, Washington, Pennsylvania, Maryland, and Virginia. Panda Express also develop a plant-based locator that helps people find the high-demand Beyond chicken.
Panda Express decided to partner with Beyond to meet rising interests in plant-based foods. While the company is catering to plant-based customers, Panda Express also recognizes the growing number of flexitarian customers. The company notes that "with the rise of "Flexitarians"-people who eat plant-based proteins as well as traditional meat- Panda's newest limited-time dishes offer guests more variety and ways to get their vegetable intake."
Flexitarianism is currently becoming a popular dietary trend among Millennials and Gen-Z consumers. While plant-based and vegan diets gain traction, flexitarianism provides people with an accessible gateway to reducing meat and dairy consumption. A survey found that nearly 32 percent of people identified as "mostly vegetarian," prioritizing sustainable products but allowing certain exceptions. The report also highlights that 60 percent of the participants believed that plant-based diets are a necessary step to addressing the climate crisis.
Vegan Fast Food and Beyond Meat
Beyond has experienced a significant downturn in the stock market over recent years, but the company aims to reverse the decline through the fast-food industry. Beyond's stock capped at $234 in 2019, but currently, valuations place Beyond at approximately $64 per share. The company is monopolizing the plant-based fast-food industry to boost its market valuations, partnering with industry giants such as Panda Express, McDonald's, and Taco Bell.
The vegan fast food market is expected to reach $40 billion by 2028, indicating that Beyond is most likely tapping into a successful market. Before the recent Panda Express announcement, McDonald's expanded the distribution of its new meatless burger, the McPlant. The new McPlant burger features everything that customers want from a McDonald's burger with a Beyond patty instead.
Following its successful US trial period, the McPlant is now available at 600 locations in the San Francisco Bay and Dallas-Fort Worth areas. The nationwide expansion encouraged investors to redirect their investments to the Beyond stock, rising nearly 3 percent after the announcement. Beyond increased involvement in fast-food is rapidly making plant-based protein a mainstream ingredient for the American public.
"Early days of a (McDonald's) launch could have more upside than we have been assuming, even if sales slow afterward," Market Analyst Michael Lavery said to Barrons. "We remain bearish on key fundamentals for BYND, but believe a continued US McPlant rollout at (McDonald's) is likely a near-term catalyst," the analyst said, cautioning that a further decline in prices may make faster growth difficult to achieve for the alternative meat producer.
The 6 Best Fast Food Chains With Plant-Based Options on the Menu
Fast-food restaurants have finally got the memo that their customer base isn't just coming through for a burger, fried chicken, or a beef taco. Many now have plant-based foods and are coming up with creative, delicious ways to get more greens on the menu. Here are the 6 best fast-food chains with plant-based options on the menu.