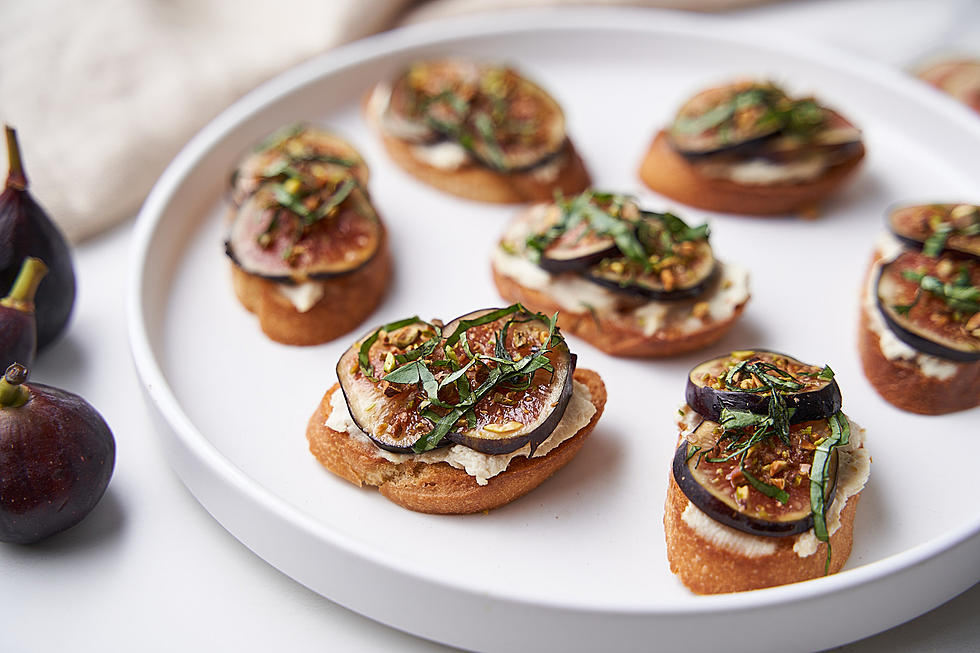 Fig & "Goat Cheese" Crostini Appetizer for Under 20 Cents a Serving
A tray of fig and "goat cheese" crostinis is just what you need to feed a large party or Super Bowl gathering. This appetizer is simple, elegant, and (most importantly) delicious!
It all starts out with golden-brown crostini smeared with creamy cashew cheese. Add slices of juicy figs to balance out all those salty and savory flavors, and tie everything together with a garnish of basil, toasted pistachios, and a drizzle of agave.
Even the pickiest of eaters will be satisfied with this fun and creative dish! For the health-conscious, you'll be happy to know cashews and pistachios are full of heart-healthy, unsaturated fats. Not only that, they are a great source of plant-based protein.
Who knew such a tasty appetizer could come with so many health benefits?! Watch the big game and enjoy this vibrant, plant-filled recipe.
Prep time: 30 minutes
Cook time: 20 minutes
Total time: 50 minutes
Cost: $8.58 recipe | $0.17 crostini
Fig & "Goat" Cheese Crostini
Serves 50 crostini
Ingredients
Vegan "Goat" cheese:
1 cup raw cashews, soaked overnight ($1.72)
½ block extra-firm silken tofu ($0.71)
1 ½ tablespoon apple cider vinegar ($0.07)
2 tablespoons refined coconut oil ($0.28)
1 tablespoon white miso paste or nutritional yeast ($0.24)
½ teaspoon sea salt ($0.01)
1 teaspoon agar powder + ¼ cup water ($0.05)
Crostini:
2 baguettes, thinly sliced ($0.98)
Toppings:
~1-pound fresh figs, thinly sliced ($3.12)
15-20 fresh basil leaves, finely sliced ($0.10)
⅓ cup toasted pistachios, crushed ($0.70)
3-4 tablespoons agave for drizzling ($0.06)
Instructions
For the Cheese
Soak the cashews in room temperature water for about 12 hours, or overnight. After they've soaked, drain the nuts and place them in a high-speed blender or food processor with tofu, apple cider vinegar, coconut oil, nutritional yeast (or miso), and salt.
Blend for approximately 3-5 minutes, or until the mixture is a meal consistency, stopping to scrape down the sides a few times.
Add water and agar powder to a small saucepan.
Bring mixture to a simmer over medium for 3-5 minutes, stirring constantly, until it thickens.
Transfer to the blender and mix for another few minutes until the consistency is smooth.
Line a bowl or mold with parchment paper or plastic wrap and transfer the cheese mixture in.
Cover and let the cheese chill in your fridge for around 4-6 hours.
For the Crostini
Preheat your oven to 400 degrees F. Lightly brush the slices of bread with olive oil on each side and spread out evenly on a baking sheet.
Bake for 5 minutes, then flip the slices and bake for another 5-6 minutes until both sides are golden brown and crispy.
Sprinkle the crostini with sea salt and set aside.
Turn the oven temperature down to 375 degrees F and spread pistachios out on a baking sheet.
Toast for 7-9 minutes, or until fragrant and browned to your liking.
Finely chop the toasted nuts.
Assemble
To serve, spread a layer of "goat" cheese on each crostino followed by a slice of fresh fig, pistachio crumbles, basil, and a drizzle of agave honey.
Enjoy!
Notes:
Prep time does not include soaking the cashews or chilling the cheese.
Budget tip: If fresh figs are ridiculously expensive near you, fig jam or dried figs also work well.
Try a balsamic glaze in place of the agave honey for a different take.
Nutritionals: 1 of 50 crostini
Calories 53 | Total Fat 2.3 g | Saturated Fat 0.8 g | Cholesterol 0 mg | Sodium 41.7 mg | Total Carbohydrates 6.7 g | Dietary Fiber 0.6 g | Total Sugars 2.6 g | Protein 1.7 g | Calcium 10.9 mg | Iron 0.5 mg | Potassium 66.3 mg |