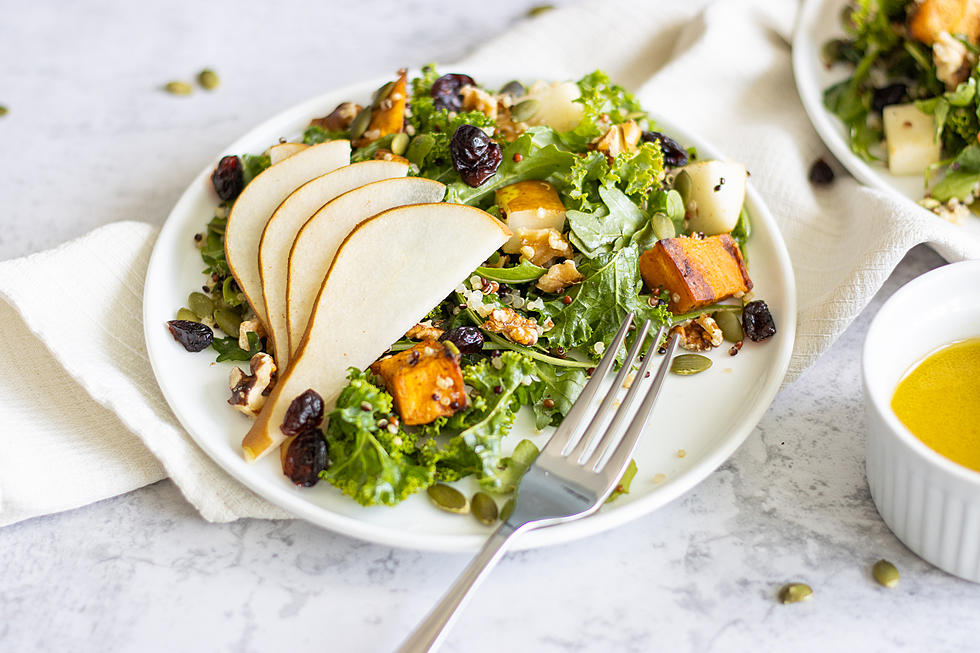 Pear Salad with Maple Mustard Vinaigrette
If you're not getting enough greens, this sophisticated fall salad will convince you to load up on a few more servings. Nourishing and festive, our Autumn Pear Salad is dressed with a Maple Mustard Vinaigrette, perfect to make during the fall season. 
This salad is loaded with fiber from all the veggies and is high in protein thanks to the quinoa. If you want to up the protein content, feel free to toss in a cup of chickpeas or some tofu. This salad will keep you full, satisfied, and energized with all the highly nutritious ingredients.
Autumn Pear Salad with Maple Mustard Vinaigrette
Prep Time: 15 Min
Cook Time: 30Min
Total Time: 45 Min
Servings: 4 People
Ingredients:
½ Cup Quinoa, uncooked
1 Tbsp Avocado Oil

 

½ Tsp Cayenne Pepper

 

½ Tsp Garlic Powder
½ Tsp Pepper

 

1 Large Sweet Potato, cubed
3 Cups Arugula
4 Cups Kale, de-stemmed
1 Medium Pear, sliced or chopped
¼ Cup Pumpkin Seeds
¼ Cup Walnuts

 

Dried Cranberries for garnish, optional
Maple Mustard Vinaigrette
1 Tbsp Maple Syrup
1 Tbsp Dijon Mustard
2 Tbsp Apple Cider Vinegar
3 Tbsp Extra Virgin Olive Oil
Salt and Pepper to taste
Instructions
Preheat your oven to 425F and line a baking tray with parchment paper. In a large bowl, add your cubed sweet potatoes along with your avocado oil, cayenne pepper, garlic powder, and pepper. Toss your sweet potatoes until evenly coated.

 

Transfer your sweet potatoes to the baking tray and bake in the oven for 25 minutes or until fork-tender.

 

While sweet potatoes are roasting, cook your quinoa as instructed on the package.

 

Get your dressing ready by combining all ingredients into a small blender, blend until combined and smooth.

 

In a large bowl, add your kale and massage it until it softens. Add your arugula, pear, pumpkin seeds, walnuts, cooked quinoa, and a drizzle of your dressing. Toss your salad until evenly coated and mixed.
Serve by adding more dressing if needed and garnish with some dried cranberries and enjoy!

 
Nutritionals 
Calories 385 | Total Fat 21.3g | Saturated Fat 2.8g | Sodium 98mg | Total Carbohydrate 42.5g | Dietary Fiber 6.6g | Total Sugar 10g | Protein 10.8g | Calcium 145mg | Iron 6mg | Potassium 912mg |
For more vegan Thanksgiving ideas, check out this guide to 25 plant-based holiday recipes.