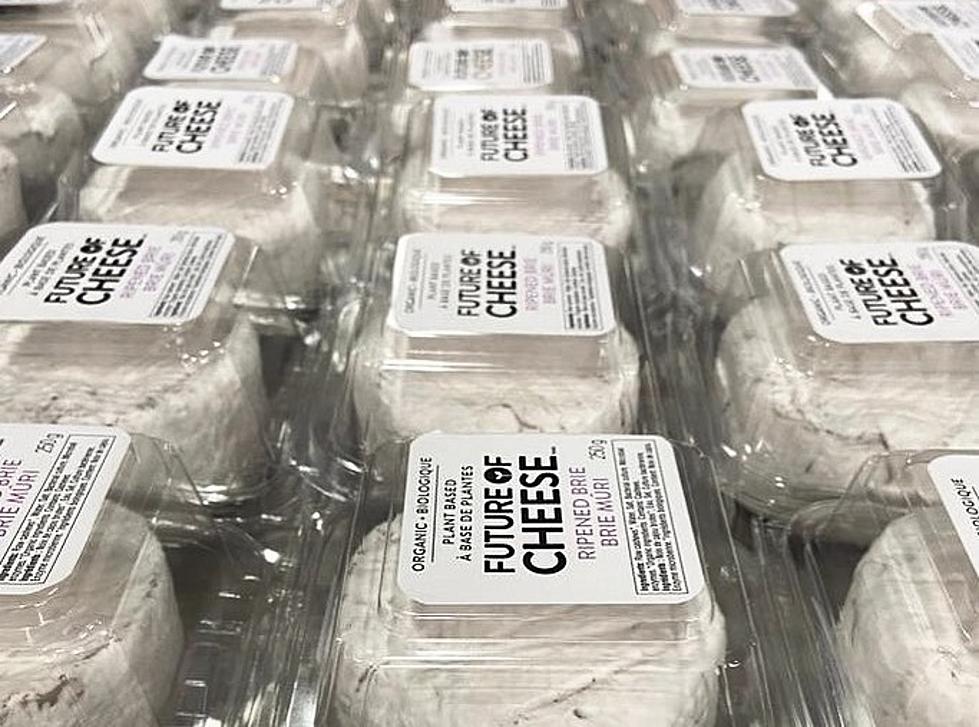 This New Super Cheesy Vegan Brie Sold Out in 24 Hours: Here's Where to Get It
Instagram / @futureofcheese
New food tech company Future of Cheese just released a vegan Ripened Brie that sold out within 24 hours of its pre-sale launch. The Canadian company developed a cashew-based brie alternative that accurately replicates the taste and texture of the beloved soft cheese. The new ripened brie alternative features a creamy texture complete with a ripe rind reminiscent of traditional dairy-based counterparts, naturally aged to produce similar qualities to animal-based brie.
Founded in 2020 by chef Craig Harding, entrepreneur Jen Wojtaszek, and Maitre Fromager (cheese master) Affirm Pristine, Future of Cheese set out to create dairy-like vegan products that maximized nutrition and sustainability without ethical or environmental consequence. Pristine helped develop a method of plant-based cheese making derived from traditional cheese production, using simple, vegan ingredients that boost nutrition and remove the need for dairy ingredients.
"With traditional cheese-making techniques and proper climate-controlled aging rooms, we have crafted an organic, all-natural ripened plant-based brie," Pristine said. "Every brie wheel is produced in our humidity-controlled environment for 21 days, and we are proud to expand our product line to include this world-class plant-based brie."
Pristine's expertise comes from 24 years of experience in traditional cheesemaking. Currently, the Maitre Fromager operates the Toronto-based Cheese Boutique, but now Pristine is working with Future of Cheese to change how consumers look at vegan cheese. Alongside Harding, the two esteemed food professionals have worked to develop a vegan cheese to surpass market competitors.
"We have spent a lifetime mastering the art of cheesemaking and gleaning our culinary expertise from the best in the world," Harding said. "And now we're applying this knowledge to produce the world's most exceptional plant-based cheeses, starting with our version of a traditional delicate brie, complete with a ripened rind, mild flavor, and velvety smooth texture."
Future of Cheese's vegan brie is the company's first vegan cheese product, but not its first foray into the vegan dairy category: The company also offers plant-based butter in salted and unsalted variations. The company's secret is that Harding and Pristine work to redesign traditional dairy-making practices, similar to cheese making, to create these alternative products. The company expects to continue developing vegan variations of traditional cheese, transforming the mastery into plant-based and sustainable alternatives.
"Our products are created by experts (Harding and Pristine) who have spent a lifetime mastering the art of cheesemaking and perfecting culinary mastery from the best in the world," Wojtaszek told VegNews. "Although we keep our upcoming products confidential, we can disclose that our focus is to develop plant-based variations of dairy products that have been traditionally in high demand by consumers, such as mozzarella."
The brand's brie sold out almost immediately, signifying the widespread demand for artisanal plant-based cheese. The company's retail distribution range currently extends to 20 stores in Toronto, but Future of Cheese is already partnering with foodservice operations. Restaurants and bakeries have started incorporating the plant-based brie products into several dishes and goods. The company believes that by 2022 it will team up with a distribution company to improve its retail range and production capabilities.
"The retail response is even better than anticipated. Selling out our first production run without incurring lost product costs is as successful as it gets in the CPG business," Wojtaszek said. "We are currently increasing production for all of our current products in anticipation of the holiday season, accelerated in part by increased interest from new retailers and potentially high-profile foodservice and restaurant partnerships."
The retail response coincides with the rapidly growing global cheese market. The vegan cheese category is expected to reach $5.64 billion by 2028, according to a research report from Grand View Research. The company's artisan vegan cheese products will meet consumer demands that have only minimally been catered to, tapping into a sector of the plant-based dairy market with significant room for growth.
Seeing the value of the company, Future of Cheese was acquired by the organic grocery company Organic Garage for more than $4.7 million. The acquisition will help propel the Future of Cheese products across both Canada and eventually the rest of North America. The company intends to ramp up its distribution and production in the coming years.
"We chose to acquire Future of Cheese because of the continued focus on plant-based foods not only in customer trends but also in the financial markets," Organic Garage President Matt Lurie told VegNews. "As a publicly-traded company, it is our job to look for opportunities to provide enhanced shareholder value, and with the product quality and management team behind Future of Cheese, it was too good an opportunity to pass up."
The 7 Best Vegan Instant Pot Recipes That Are Easy and Delicious