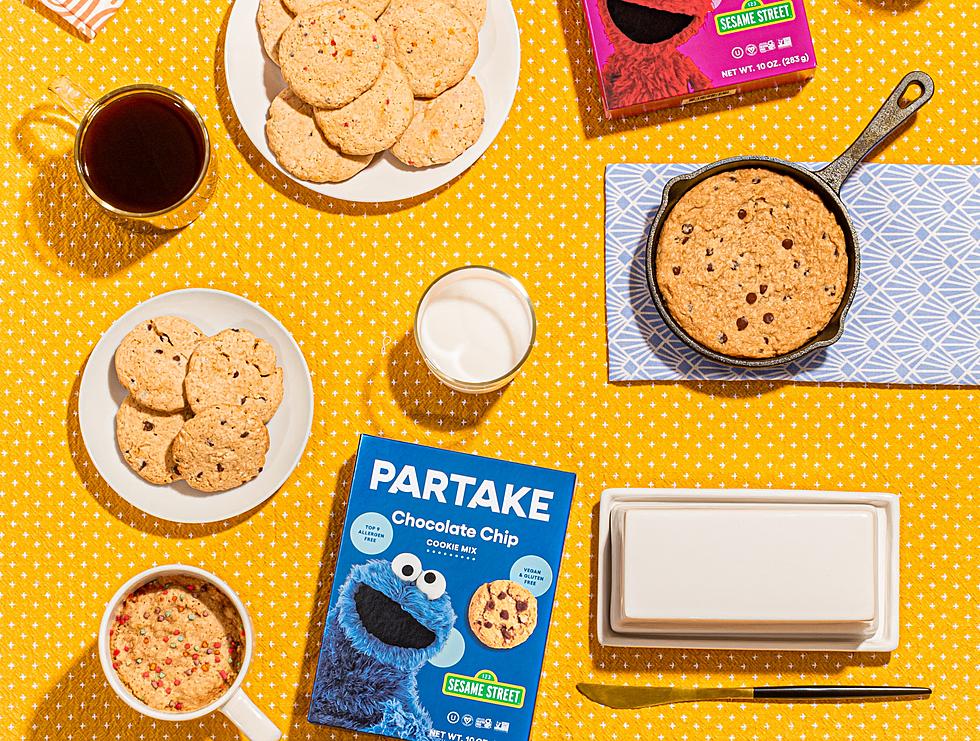 Cookie Monster Goes Vegan for New Sesame Street Collab
Art of Light Studio by Maria Squ
Is the Cookie Monster going vegan? In short, yes! Partake Foods – the Jay-Z-backed vegan cookie brand – is collaborating with Sesame Street to debut two new cookie mixes. With the help of the Cookie Monster, Abby Cadabby, and Elmo, Partake's new cookie mixes will be available nationwide, featuring the company's two most popular flavors: Birthday Cake and Chocolate Chip.
Founded in 2016 by ex-Coca-Cola executive Denise Woodward, Partake launched with the core mission to create an allergen-free, consumer-friendly cookie recipe. Inspired by her daughter, Vivienne, who has been diagnosed with several food allergies, Woodward developed a mouthwatering cookie recipe without dairy, gluten, or GMOs.
The collaboration also aims to communicate the importance of inclusivity – consistently discussed during Sesame Street's 53-year run and a message from the Black woman-owned vegan brand. Both Partake and Sesame Street aim to bring attention to food insecurity and how plant-based foods can offer a clear solution to a better, more accessible food system.
"Partake Foods is a champion of food inclusivity, a fighter for food insecurity, and a supporter of Black and female entrepreneurship—all of which we admire and celebrate," Senior Vice President of Global Product Licensing at Sesame Workshop Gabriela Arenas said in a statement. "We're proud to collaborate with them on this latest Sesame Street offering–bringing families together through the joy of baking and warm treats."
Since 2016, Woodward's plant-based cookie brand has attracted mainstream attention from vegan and non-vegan consumers nationwide. Her consumer-friendly cookie products help fuel a rapidly growing vegan confection market. For the first six months, Woodward sold her allergen-friendly cookies from her car. Now, her food company is helping propel the vegan confectionery market forward, an industry predicted to surpass $1.9 billion by 2027.
Partake's products and facilities claim to be free from the top nine allergens including peanuts, tree nuts, eggs, wheat, milk, soy, fish, sesame, and shellfish. As the demand for allergy-friendly foods rises (with approximately 5.6 million children having a recorded food allergy), Partake's products continue to become more popular. Currently, 8,000 retailers carry Partake products nationwide.
"When my daughter Vivi was diagnosed with food allergies, I started Partake so she would have delicious, better-for-you snacks to share that she and her friends without food allergies would enjoy," Woodward said in a statement. "When I think of brands who share this strong commitment to inclusivity, Sesame Street is at the top of that list. I am honored to create these limited-edition Cookie Baking Mixes in partnership with a brand that has taught generations the importance of friendship, kindness, and sharing."
Jay-Z and Rihanna Love Partake
Before the Sesame Street stars joined Partake, Jay-Z and Rihanna both invested in the noteworthy allergen-free cookies. Last year, Partake closed its Series A funding round with over $4.8 million, featuring investments from Jay-Z's Marcy Venture Partners and Rihanna. Other investors included Seahawks linebacker Bobby Wagner, Black Star Fund, and Black Capital's Kevin Johnson.
With the investment, Partake has managed to expand both its product portfolio and its distribution range. The limited-edition Sesame Street baking mixes will join the extensive cookie selection, including crunchy and soft-baked cookies in flavors such as Cookie Butter, Double Chocolate, and Ginger Snap. Partake has also developed pizza dough mix, waffle and pancake mixes, blondie mix, and baking kits for brownies. All products feature allergen-free and vegan ingredients. The Sesame Street line will be available on Partake's website for $7.99 per two boxes.
The 12 Best Non-Dairy Coffee Creamers For That Real Cream Taste