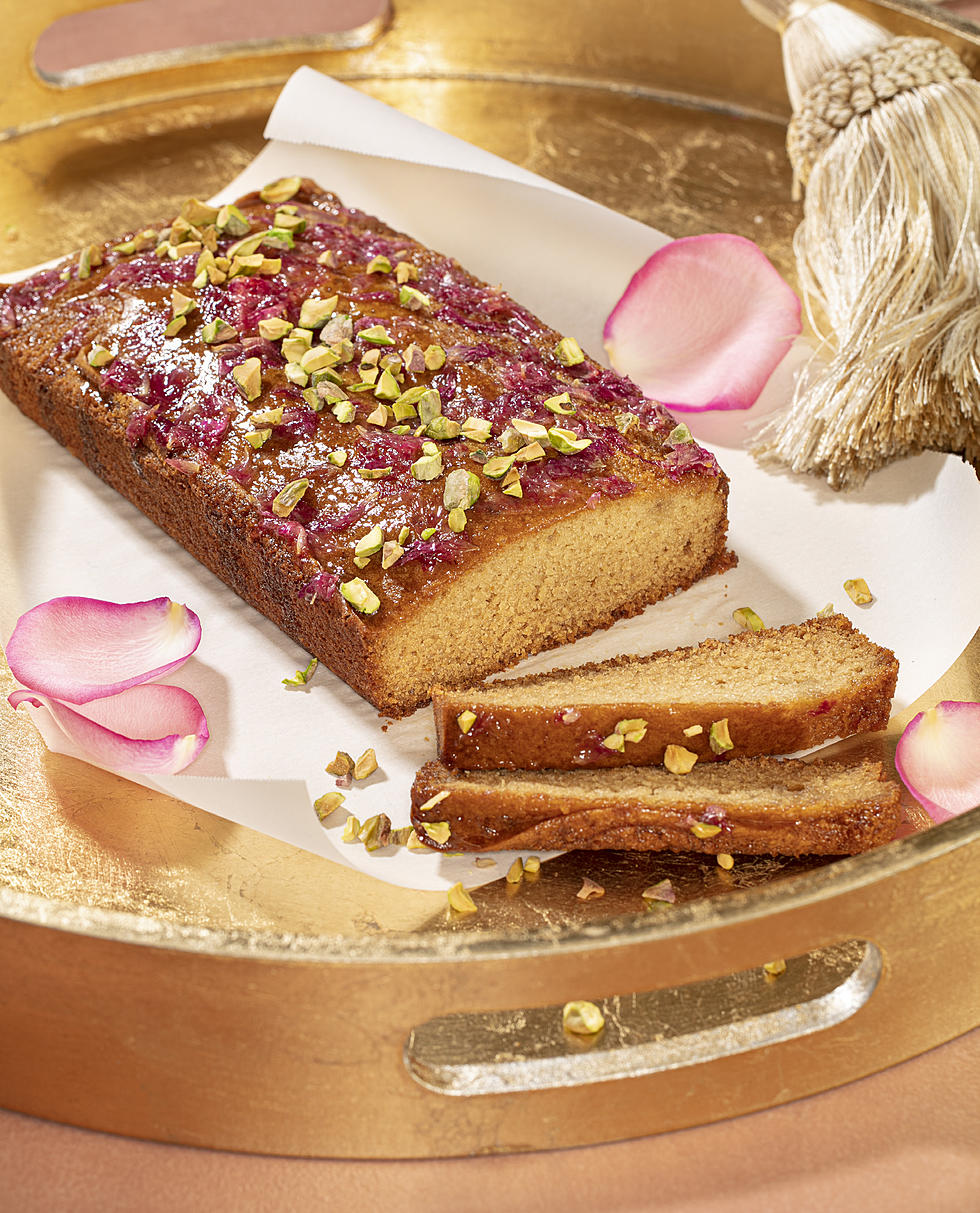 Priyanka Naik's Almond Tahini Cake with a Rose Glaze
Priyanka Naik
I love cake. I love indulging. I love baklava. But I don't want to spend the time making an entire traditional baklava - it's tedious and requires patience (I definitely need work on the latter), but I wanted all the flavors of baklava.
And thus my Almond Tahini Cake with Rose & Pistachio was born! This gives you the feel of indulging in the tastes of baklava, but without all the labor, and of course, it's vegan! You know what else is cool - it's half the size of a standard loaf cake!
So you can make this even if it's just yourself at home! It's the perfect balance of sweet, indulgent, and beautiful - all of the things I look for in a dessert, and it's perfect to make ahead of time too if you're trying to impress guests.
From a personal standpoint, this cake brings me back to my travels in Dubai - everything there is over the top, opulent and decadent. And that's how I feel about the combo of creamy tahini, delicate rose, and pistachios. So, if you're looking for that indulgence without all the labor, then you've come to the right place!
Prep time: 15 minutes
Cook time: 35 minutes
Almond Tahini Loaf
Makes 1 mini loaf or serves 2
Ingredients
Baking spray or vegan butter, for coating
1 cup plus 2 tablespoons all-purpose flour
1 teaspoon baking soda
1/2 teaspoon baking powder
1/4 teaspoon salt
2 tablespoons plus 2 teaspoons tahini, stirred
2 tablespoons plus 2 teaspoons vegetable oil or coconut oil
1 cup unsweetened plain full-fat almond or coconut milk
1/2 cup raw cane sugar
1/2 teaspoon almond extract
For the Rose Glaze: 
1/2 cup raw cane sugar
1 teaspoon rose essence or rose water
1/4 teaspoon fresh lemon or orange juice (optional, but helps prevent crystallization of glaze)
2 tablespoons dried rose petals, plus more for garnish
1 heaping tablespoon chopped unsalted pistachios
Instructions
Preheat the oven to 350°F. Spray or butter a standard 9 x 5-inch loaf pan.
Make the batter: 
In a large bowl or the bowl of a stand mixer, sift together all of the dry ingredients and set aside. In a medium bowl, using a whisk, mix together the tahini, oil, and almond milk until well combined. Using a hand mixer or the stand mixer fitted with the paddle attachment on low speed, pour the wet ingredients into the dry ingredients. Mix until combined—but do not overbeat! Add the sugar and almond extract and mix until combined.
Pour the batter into the prepared loaf pan (it will fill halfway up the pan to make it half the size of a standard loaf) and bake for 30 to 35 minutes, until slightly golden brown and an inserted toothpick come out clean.
Make the rose glaze:
In a small pot, combine the sugar with 1/2 cup water and mix over medium heat. Bring to a boil, then reduce the heat to low until the mixture is simmering. Stir in the rose essence, lemon juice, if using, and rose petals and simmer for about 15 minutes, until the mixture has reduced and is syrupy. Remove from the stove and cool.
Drizzle and garnish:
Once the loaf is baked, set aside to cool completely. Flip over on a serving dish. Using a toothpick, poke little holes all over the top and drizzle the rose glaze all over, allowing it to drop down the sides. Immediately sprinkle the pistachios all over the top. Let the glaze set for 5 minutes, slice, and serve or place into your tiffin. I'll admit, the longer this cake sits, the more delicious rosy juices it'll soak up. And my preferred way to eat this cake is at room temperature.