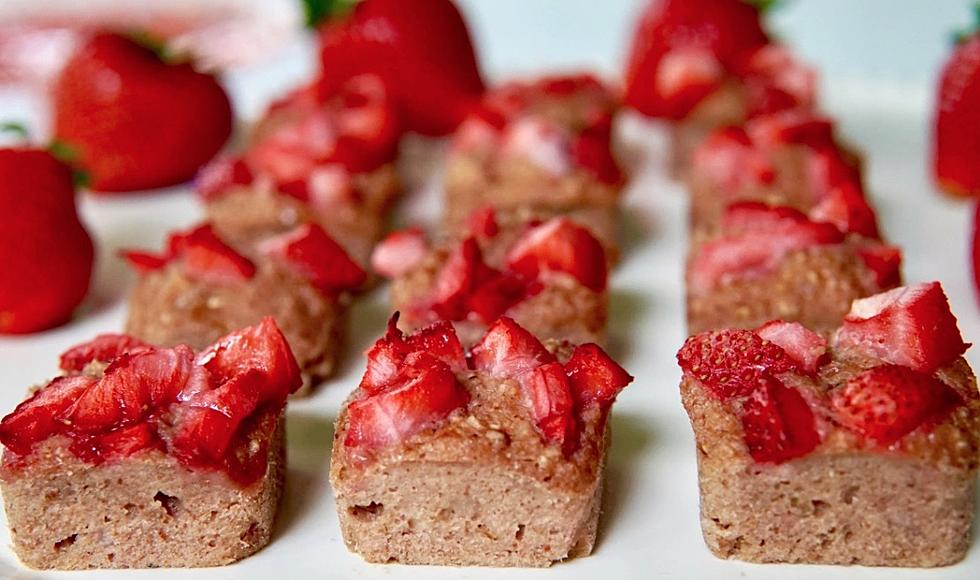 Low Calorie & Delicious Strawberry Shortcake Bars
@annarborvegankitchen
Get ready to enjoy this recipe all summer long! These strawberry shortcake bars are vegan and made with real ingredients that everyone can enjoy without worrying about diet.
Not only are these little bars delightfully moist and tender, but they're also vegan, gluten-free, flour-free, sugar-free, and oil-free.
Did I forget to say easy, too? The batter is made in a jiffy, and out of the oven in 15 minutes!
Why we love it: These shortcake bars are a perfect treat or snack to enjoy on the go.  They're made with all-natural plant-based ingredients, 100% guilt-free!
Make it for: A quick and easy snack. This recipe makes 24 to 30 bars so save the leftovers and store them in the fridge for up to 5 days, and enjoy them throughout the week.
Prep Time: 5-10 minutes
Bake Time: 15 minutes
Strawberry Shortcake Bars
Serves 24 to 30 bars
Ingredients
2 bananas
8 ounces, plus 4 ounces, fresh or frozen strawberries, divided (if frozen, they should be slightly thawed first)
3/4 cup rolled oats
1/3 cup Medjool dates, pitted
2 teaspoons baking powder
1 teaspoon vanilla
Instructions
Preheat oven to 350 F degrees.
Into the bowl of a food processor (I use a large Cuisinart), add bananas, 8 ounces strawberries, oats, dates, baking powder, and vanilla. Process until the mixture is well combined.
Remove bowl and blade from the base. Divide batter evenly, filling either a silicone brownie-bites pan or a nonstick miniature muffin pan. (If you have more batter than fits easily, just start a second pan. You won't want to over-fill because these will rise a little bit.)
Dice the remaining 4 ounces of strawberries, and dot them over the top of the batter, pressing just slightly so that they stay in place. Bake for 15 minutes, or until almost firm.
Remove from the oven and place it on the cooling rack. Allow to cool, at least a little bit, and enjoy!