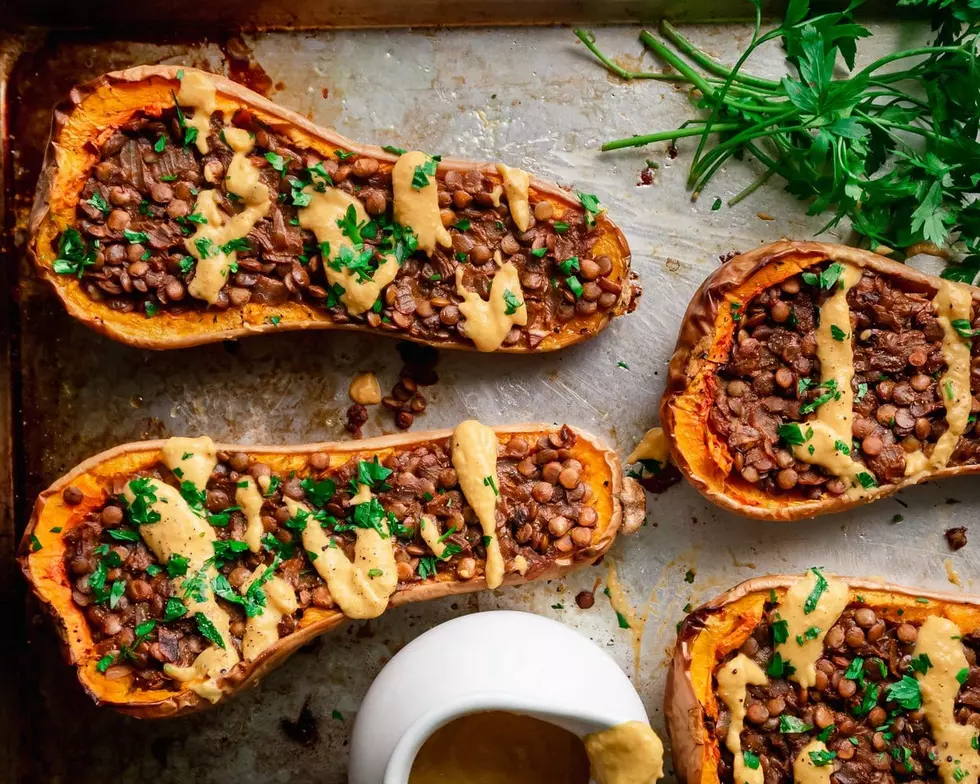 Creamy Vegan Lentil Stuffed Butternut Squash
Want the perfect sweet and savory main course for Thanksgiving? Make this Roasted Butternut Squash stuffed with the most flavorful, umami-packed lentil filling, then drizzled with a creamy sauce made from the scooped-out butternut squash. A hearty and satisfying main course for any winter dinner, especially holiday meals!
Lentils are a healthy source of plant-based protein with 9 grams of protein per 100 grams of lentils, helping our muscles repair after a workout. Lentils are also a good source of fiber, helping you stay fuller longer with 8 grams of fiber per 100 grams of lentils. In addition, butternut squash is an immune-boosting powerhouse with almost 30 grams of vitamin C per 100 grams, cooked and cubed of butternut squash. This tasty meal is as delicious as it is healthy.
For more great recipes from Nisha Vora, check out her blog Rainbow Plant Life.
Prep Time: 25 minutes
Cook Time: 1 hour and 10 minutes
Total Time: 1 hour and 35 minutes
Creamy Lentil Stuffed Butternut Squash
Serves 6
Ingredients
3 medium butternut squash
Regular olive oil or avocado oil for roasting
Kosher salt and freshly cracked black pepper
Creamy Lentil Filling
1 tablespoon olive oil (you will need more oil if not using a nonstick pan)
2 large yellow onions, diced
6 cloves garlic, minced
1 tablespoon roughly chopped fresh sage leaves
2 teaspoons roughly chopped fresh rosemary leaves
2 tablespoons tomato paste
1/3 cup (80 mL) dry red wine (such as Pinot Noir, Shiraz/Syrah, or Malbec)
1 cup (190g) of green or brown lentils
2 ⅔ cups (640 mL) vegetable broth
1 bay leaf
1 teaspoon sweet or hot paprika
2 ½ tablespoons tahini
2 teaspoons white miso paste
2-3 teaspoons of good-quality balsamic vinegar
Butternut-Tahini Sauce
1 cup roasted butternut squash (from the scooped-out halves)
2 tablespoons tahini
1 tablespoon extra virgin olive oil
3-6 tablespoons water or vegetable broth, more as needed to thin the sauce
Salt and pepper to taste
Chopped Italian flat-leaf parsley, for garnish
Instructions
Roast the squash. Preheat the oven to 425°F (218°C). Slice each butternut squash in half and scoop out the seeds and sticky stuff with a spoon. Place each squash half, cut side up, on a large baking sheet and rub each with a bit of the oil and season well with salt and pepper. Roast for 45-50 minutes, or until the flesh is fork-tender and lightly browned.
Make the Creamy Lentil Filling. Heat the 1 tablespoon olive oil in a large frying pan over medium-high heat until hot. Add the onions and season with a pinch of salt and sauté for 8-9 minutes, stirring occasionally to prevent burning but not too often so that they can brown, or until most of the onions are browned. Add the garlic, sage and rosemary and cook for 2 minutes, stirring frequently to prevent burning. Add the tomato paste and stir to combine into all of the ingredients, and cook for 2-3 minutes.
Reduce heat to medium and pour in the red wine and deglaze the pan, stirring up any browned bits, until the liquid has evaporated and the smell of alcohol has dissipated about 2-3 minutes.
Add the vegetable broth, along with the lentils, bay leaf, and paprika. Stir to combine and increase the heat to bring to a boil. Once boiling, reduce heat to maintain a rapid simmer, and simmer until the lentils are just tender and most of the liquid has been absorbed about 30 minutes.
Reduce the heat to low. Add the tahini, miso, and balsamic vinegar, and stir until well incorporated. Taste for seasonings, adding about 1/2 to 1 teaspoon kosher salt and black pepper to taste. Set aside.
When the roasted squash is cool enough to handle, use a large spoon to scoop out the flesh from each squash half, leaving a ½ to ¾-inch -thick border around the sides and bottom.
Transfer 1 cup of the butternut squash flesh to a food processor (set aside the rest for another use, such as risotto, pasta, oatmeal, or smoothie).
Reduce oven temperature to 350F° (175°C).
Stuff the lentil filling into each squash cavity. Add the stuffed squash halves to the oven and bake for 15 minutes, or until everything is warmed through.
Meanwhile, make the butternut tahini sauce. To the food processor with the 1 cup squash flesh, add the tahini, olive oil, salt and pepper to taste, and blend until smooth. Stream in the water or broth, scraping down the sides as you go, until you have a pourable but thick sauce.
To serve, drizzle the butternut tahini sauce on top of the stuffed baked squash. Garnish with chopped parsley, if desired.