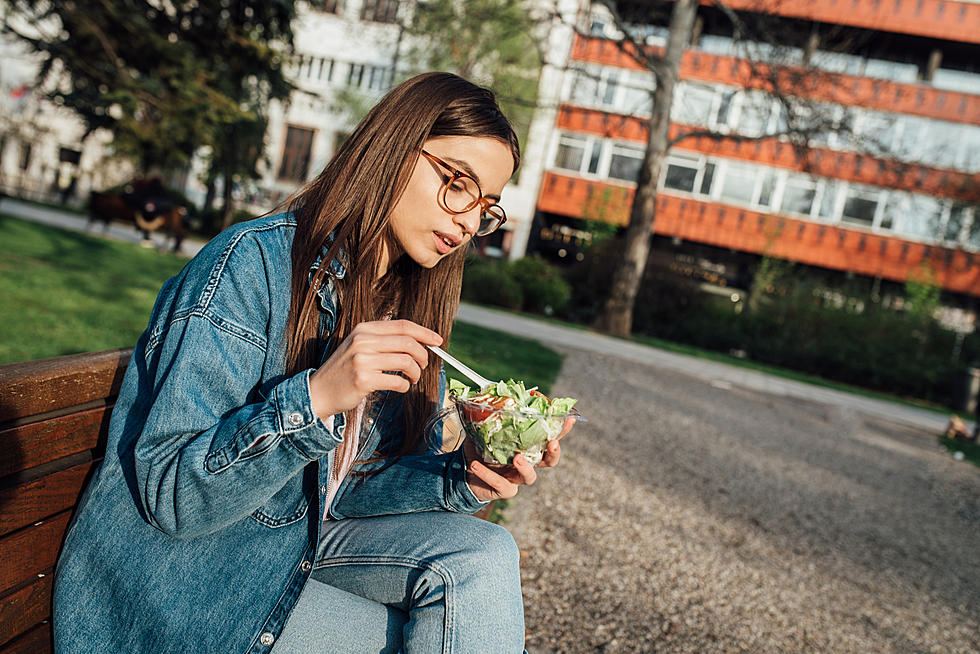 College Students Will Soon Have More Vegan Options to Choose From
Getty Images
Thousand of university students rely on meal plans and school cafeterias for food, but for many, finding sustainable or plant-based options can prove difficult. Now, the major food provider Sodexo is restructuring the menu of universities across the United States, announcing plans to increase plant-based meal offerings by 42 percent by 2025. Partnering with the Humane Society of the United States (HSUS), the foodservice giant aims to reduce its carbon footprint by creating a more sustainable company model.
Working with hundreds of colleges nationwide, Sodexo's sustainability campaign aims to cut its carbon emissions by 34 percent by 2025. Through its college and university arm, Sodexo Campus, the major company intends on reversing its detrimental impact on the environment. In 2020, the company found that 70 percent of its carbon footprint could be attributed to animal-based food products.
Sodexo's plant-based campaign is motivated by the general shift in favor of plant-based diets among younger people. The Innova Health & Nutrition Survey found that nearly 23 percent of 18-to-25-year-olds maintain a vegan or vegetarian diet. The survey also found that this number is rising, noting that nearly a third of young consumers increased plant-based protein consumption in 2021.
"It's important for us to receive feedback directly from the customer as it helps us identify which plant-based dishes will become permanent fixtures on our menus," Director of Culinary Innovation for Sodexo Campus and chef Jennifer DiFrancesco said in a statement.
Sodexo and The HSUS began working together nearly 15 years ago to improve the major food service company's supply chain and develop its plant-based sector. Now, this partnership has resulted in the Plant-Based Takeovers campaign that provides plant-based training to Sodexo chefs. Plant-Based Takeovers allow students, faculty, and staff to taste the new plant-based menu items and provide feedback.
"Any sustainability plan that's meant to create real change—and not just be greenwashing jargon — will center on shifting from a meat-heavy menu to one that's focused on plant-based entrées," Director of Food Service Innovation at HSUS Karla Dumas, RDN, said in a statement. "I'm thankful to Sodexo for being a leader in the industry by committing to the tangible changes required to meet greenhouse gas emission goals. By developing a plant-based initiative that includes menu goals, recipe innovation, and customer satisfaction, Sodexo has found a formula for success."
Plant-Based Options for Everyone
This announcement is just the latest development of Sodexo's massive plant-based campaign. Last June, the company partnered with MorningStar Farms to bring over 3,000 hospitals and schools Incogmeato vegan burgers. Recognizing the growing demand for vegan foods, the company's decision to serve schools is making plant-based protein options more accessible than ever before.
Sodexo also partnered with the Israeli food tech company SavorEat to introduce new plant-based tech straight out of science fiction: vegan burger cooking robots. The company announced that it plans to distribute the vegan robots to US colleges in 2022, providing students with an accessible and inventive sustainable option. Sodexo aims to help SavorEats enter the US market, commercializing the innovative technology.
School Systems Introduce Vegan Meal Programs
More school systems worldwide have started implementing plant-based meal programs, providing kids with healthier and more sustainable meals that they would otherwise not have access to. New York City public school recently announced a campaign to put children's health first, launching "Vegan Fridays" at every school in the system. The meal program will provide 1 million students with free plant-based meals, both providing healthier options and educating younger kids about vegan foods.
In Brazil, the municipality of Salvador just launched a meal program that will provide 170,000 students with sustainable meals filled with plant-based foods. The government plans to provide 10 million plant-forward meals to students per year while also considering the needs, tastes, and food traditions of the students. Focusing on the younger generations, these food programs will provide a better foundation for sustainable eating in the future.
For more plant-based happenings, visit The Beet's News articles.