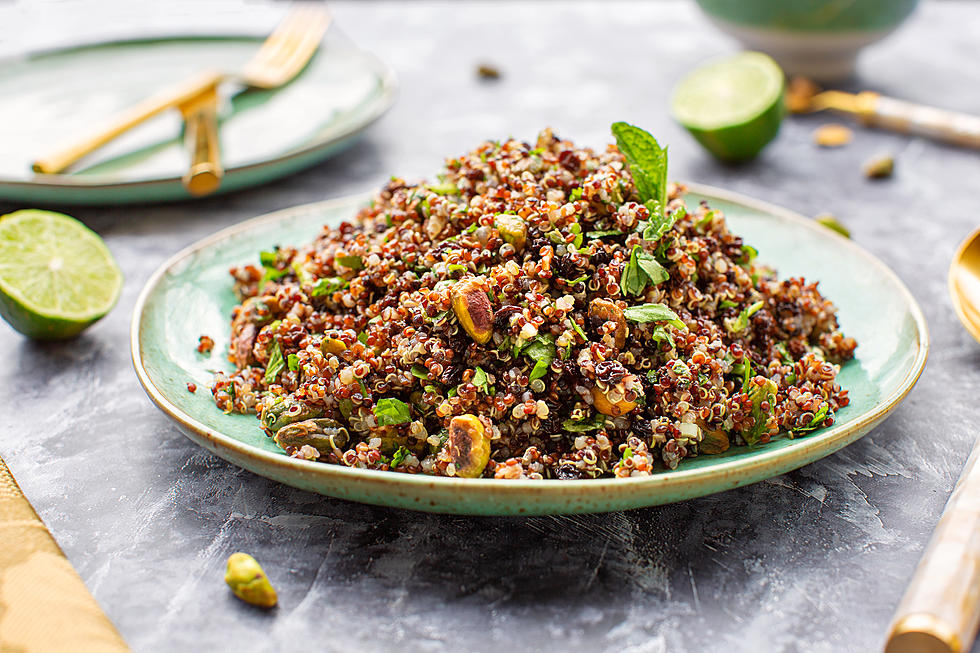 Chef AJ's Quinoa Salad With Fresh Herbs, Currants, and Pomegranate
Hannah Kaminsky
Whether you're attending a party, picnic, or potluck, this delicious and easy-to-make recipe is always a crowd-pleaser. While quinoa is technically a seed, it can be used in just about any recipe that calls for whole grain. Naturally gluten-free and high in protein (not that you would ever have to worry about that on a plant-based diet), quinoa has a subtle nutty flavor. Quinoa (pronounced KEEN-wah) is a good source of several minerals, including manganese, phosphorus, copper, folate, iron, magnesium, and zinc and it's exceptionally high in the amino acid lysine.
Quinoa comes in white, red, and black, and you can often buy all three of the colors already mixed together. Quinoa contains bitter-tasting compounds called saponins that keep insects away without the need for pesticides. They are especially concentrated in the outer coating of quinoa. Therefore, you should always rinse quinoa before cooking or buy a brand that says pre-rinsed on the box or bag. I find that the easiest way to rinse quinoa is to use a nut milk bag which you can find in many natural food stores or online.
A great alternative to a nut milk bag is to use a fine mesh paint straining bag, providing you haven't already used it for paint. You can find these very inexpensively at any hardware or paint store. You can also use these bags to make homemade nut milk and they are great for squeezing out the excess water in defrosted frozen greens like spinach.
Dried currants can be found on the same aisle of the grocery as raisins. They are often called Zante currants and are smaller than raisins. Sun-Maid is one of the brands that are widely available. Feel free to substitute raisins if you can't find them. If you live somewhere where pomegranate seeds aren't available all year round, consider freezing them when you do find them so you will always have them on hand to make this pretty and delicious dish.
Quinoa Salad with Fresh Herbs, Currants, and Pomegranate Arils
Serves 4
Ingredients
16 ounces of quinoa (approximately 4 cups dry quinoa), cooked and cooled
1 cup of lime juice and the zest from the limes (approximately 8)
2 ounces of finely chopped scallions, the green part (approximately 1 cup)
2 ounces of finely chopped Italian parsley (approximately 1 cup)
2 ounces of finely chopped mint (approximately 1 cup)
2 cups of dried currants
1 cup of pomegranate arils
8 ounces of raw pistachios (optional)
Instructions
Cook the quinoa using your preferred cooking method. I like to use my Instant Pot electric pressure cooker.  I simply use 1.5 cups of water for each cup of dried quinoa and cook at high pressure for 2 minutes, then let it come down to pressure naturally.
Place the cooked quinoa in a large bowl and allow it to cool.  Juice and zest the limes and pour over the quinoa.
Add remaining ingredients, except for the nuts, and mix well.
Chill. Stir in the nuts right before serving so they don't get soggy.
Chef's Tips:
Try substituting orange juice and orange zest for the lime juice and unsweetened dried cherries for the dried currants. You can also substitute fresh blueberries in place of the dried currants.
Nutritionals
Calories 495 | Total Fat 7.3g | Saturated Fat 0.9g | Sodium 21mg | Total Carbohydrates 91.9g | Dietary Fiber 12.9g | Total Sugars 10.1g | Protein 18.3g | Calcium 135g | Iron 9mg | Potassium 1092mg