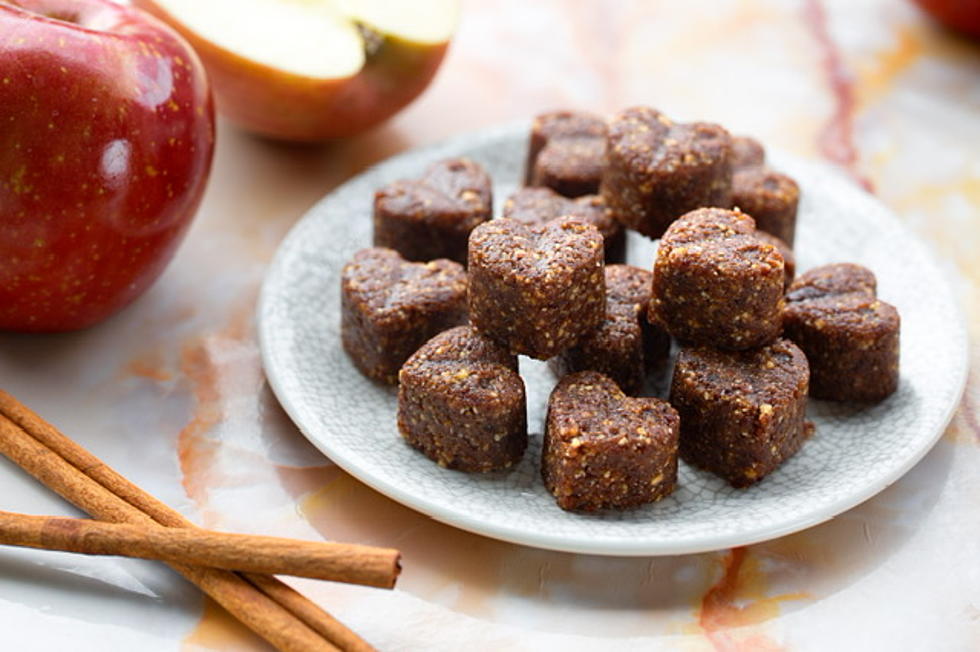 Chef AJ's Vegan Apple Pie Hearts for Valentine's Day
Hannah Kaminsk
I used to love making special sweet treats in a variety of holiday-themed shapes in celebration of each holiday. Pumpkins for Halloween, stars for the Fourth of July, Gingerbread Men for Christmas, Dreidels for Chanukah, four-leaf clovers for St. Patrick's Day, and of course, hearts for Valentine's Day. You get the idea.
Well, just because you're eating healthy now, that doesn't mean that all of the fun has to stop. That's what I was thinking when I came up with the recipe for Apple Pie Hearts. Even if I was going to create a dessert without sugar, flour, or oil, I wanted it to be a satisfying, sweet holiday treat.
These little gems are fun to make for Valentine's Day or any time of the year. They are free of refined sugar, sweetened only with dates and dried apples, and made from only whole food. They're easy to make in just minutes and they also freeze well. They are heavenly bite-sized morsels that are reminiscent of apple pie and fun to pop in your mouth even while still frozen!
For five years, I was the Executive Vegan Pastry Chef at Sante Restaurant in Los Angeles where I was known for my decadent vegan desserts free of refined sugar, oil, and salt. I sweetened all my confections with the fruit, the whole fruit, and nothing but the whole fruit.  I love using dates instead of processed sugar as they are whole food which means they not only contain water and fiber but vitamins minerals, phytochemicals, and antioxidants. Sugar contains none of these vital components. Dates are like nature's candy!
How to Make These Treats Allergy Friendly and Even Healthier
If you are allergic to nuts or want a lower-fat version, you can substitute 1.5 cups of rolled oats in place of the almonds, pecans, and walnuts. One cup of nuts has about 550 calories and 52 grams of fat whereas a cup of oats only has 300 calories and about 2 grams of fat.
Good quality cinnamon can really make a difference in dessert recipes. A Saigon cassia cinnamon, also called Vietnamese cinnamon, really tastes like it has been sweetened with sugar. I like to get mine from the Local Spicery.
What You'll Need For Molding the Bars into Hearts
I found heart-shaped silicone molds at a cake decorating store. You can also find them on Amazon or at many arts & crafts stores. The silicone molds not only give the treats a Valentine's Day-themed heart shape, but they also make it a snap to prepare non-stick treats without using oil or any kind of butter. If you can't find the heart-shaped molds, don't worry. You can also just roll them into balls.
The Apple Pie Hearts will make a great gift idea and the perfect sweet for your sweetheart.
Prep Time: 15 minutes
Total Time: 5 minutes
Vegan Apple Pie Hearts
Makes 12
Ingredients
1 cup raw almonds
1 cup raw pecans
1 cup raw walnuts
2 cups dried apples (sugar and sulfite-free)
2 cups pitted dates
1 teaspoon vanilla powder (optional but good)
1 Tablespoon cinnamon
1/4 - 1/2 teaspoon nutmeg
Instructions
In a food processor fitted with the "S" blade, grind nuts into a powder.
Add the dried apple and spices and process again.
Add the dates until the desired consistency is reached.
Press into mini silicone heart molds and chill.
Chef's Note: Heart-shaped silicone candy molds are available on Amazon, cake decorating stores, and many craft and fabric stores. If you don't have silicone molds, just roll them into balls.