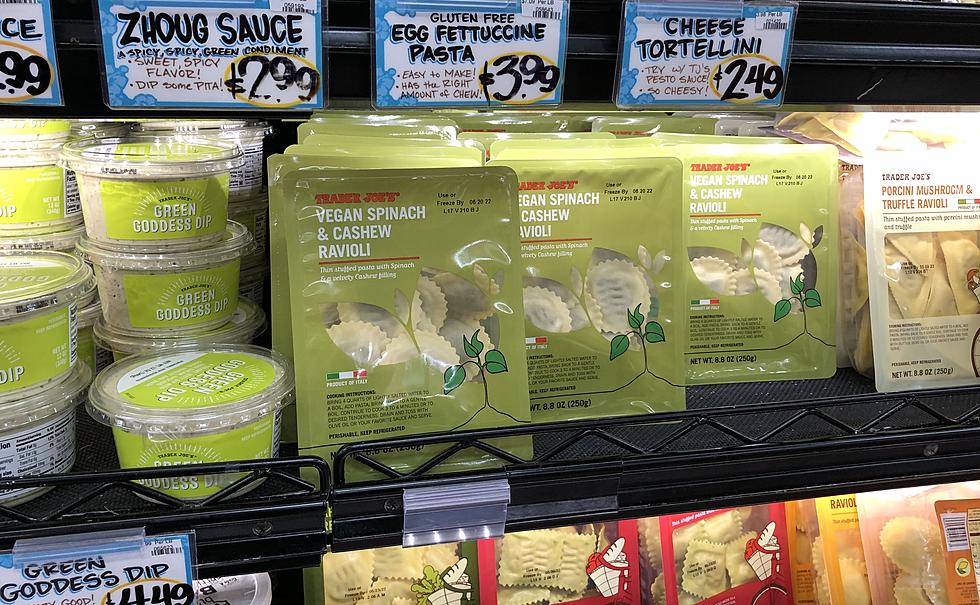 "I Tried Trader Joe's New Vegan Spinach & Cashew Ravioli and Here's the Scoop"
Pasta lovers, rejoice! Ravioli is no longer synonymous with cheese now that Trader Joe's is making plant-based pasta more accessible than ever. The cult-favorite grocer just dropped a new Vegan Spinach and Cashew Ravioli, perfect for anyone who doesn't eat dairy.
The Vegan Spinach and Cashew Ravioli contains three servings per container and can be found in the refrigerator section at $3.99 a pop. Instagram watchdog @BigBoxVegan found these ravioli in Florida, and I was able to snag some at my local TJ's in Brooklyn, so it's likely that they're already available nationwide. But you may want to double-check before you make a trip by giving your local Trader Joe's a call. While you're at it, check out TJ's other recent vegan drops: the Vegan Nacho Dip and the Vegan Buffalo Dip, both perfect for picnics.
After grabbing a pack of ravioli, I got home, threw a few of the puffy squares into some boiling water, and got ready for a taste test. Here's my review of TJ's new Vegan Ravioli
Taste
Hearty and earthy, the cashew does a great job of mimicking parmesan or ricotta. In my opinion, the flavorful filling leaves no need for a sauce, and with just a few shakes of onion salt and nutritional yeast on top, these pasta pockets were already a perfect, easy meal. For a more impressive, gourmet version, I could see adding sauteed mushrooms for a delicious accompaniment or a homemade dairy-free pesto sauce as a topping.
The ingredients contain bread crumbs, but the filling wasn't overly grainy or crunchy. With little need for additional sauces or add-ins, I would rate the taste nearly a perfect 10 out of 10. I think these ravioli are a great option for parents to make for their kids when they need a quick meal. If you're used to cheese-filled ravioli, these may be starkly less creamy, but for me (a vegan veteran of a few years) they were great.
Ingredients
Most of the ingredients on the package are recognizable, whole foods, which is great. Note that anyone with a nut allergy may have to avoid this product due to the fact that the filling is made of cashews. Each serving contains 250 calories, 28 grams of carbohydrates, 420 mg of sodium, 12 grams of fat, and 6 grams of protein. I ended up eating the entire container, and I didn't feel too bad about it, although I would probably not recommend that to those who are seeking a healthy meal.
Overall
My one complaint about this product is the heavy plastic packaging, which is difficult to open, not resealable, and definitely not eco-friendly. Like most of TJ's premade products, the packaging is heavy on the plastic, and I would love to see a more sustainable version in the future. I couldn't find a tab to lift the front seal from the corner, so I had to resort to stabbing the package with a knife.
Other than that, this vegan ravioli is delicious and helps to round out a distinct void in the market that is lacking in plant-based and vegan prepared foods.
Preparation couldn't be easier: All that's required of these ravioli is to pop them in boiling water for a few minutes and in virtually no time, at all, you have a delicious dinner!
For more vegan reviews, visit The Beet's New Product articles.